Description
GOODDLER Social Innovation Youth Summit
When: October 20, 2018 - Social Innovation Youth Summit
Where: Tresidder Memorial Union, OAK LOUNGE. 498 Santa Teresa St, Stanford, CA 94305
Promo Code to all students for FREE tickets: STUDENT (student ID is required at the event)
The Gooddler Social Innovation Youth Summit inspires a new generation of technology-oriented youth to invest their entrepreneurial brainpower into solving the world's acute humanitarian problems.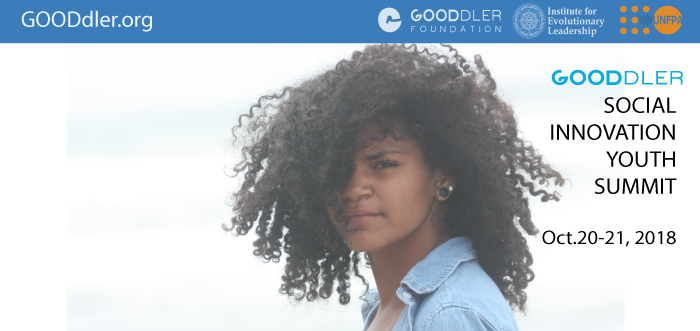 ABOUT THE SUMMIT

October 20, 2018.
Set annually by Gooddler Foundation (501(c)3), the Summit is a vibrant forum for university and high school student leaders to get challenged, learn, and connect with a global community of changemakers.
This year's Summit is held on October 20-21 (Saturday-Sunday), 2018.
The Summit brings together 500+ students to interact with successful entrepreneurs and corporate leaders and encourage the new generation to invest their knowledge and drive into the matters of social entrepreneurship.
Today's youth are tomorrow's executives and industry leaders. Gooddler Youth Summit 2018 teaches to use innovation and technology to tackle development challenges. Using the UN's Sustainable Development Goals (SDGs) as an entry point, the Summit aims to take up social entrepreneurship as an avenue for the driven young leaders to solve global issues.
ABOUT THE BOOTCAMP (by invitation only! Separate registration is required. Space is limited)
October 21, 2018.
Gooddler Social Innovation Bootcamp cohosted with Institute for Evolutionary Leadership.

--
* The Gooddler Foundation is a non-profit organization (501(c)3) that was established as a resourceful networking platform for young people to grow up with the desire to contribute to common good and become a part of solutions to the most pressing global issues.