Description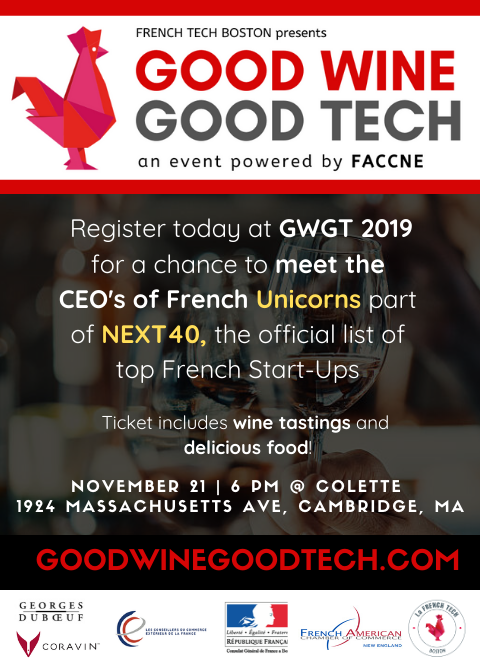 French Tech Boston and FACCNE is inviting you to meet the next French Tech Unicorns at this event:
"Good Wine, Good Tech" on November 21st @ 6pm at Colette.
What is "Good Wine, Good Tech"?
GWGT is an event happening every fall in Boston gathering successful French tech start-ups around good wine and good food on the occasion of the release of the Beaujolais Nouveau.
At GWGT 2019, you will have the opportunity to meet the most inspiring French Start-ups. Indeed, we are very proud to announce that Boston hosts 7 of the 40 French Tech Start-ups recently elected by the French Government as part of the Next40 Index. The Next40 index is a listing of 40 French startups with the strongest prospects of long-term growth based on economic performance criteria.
On top of this, at GWGT 2019, you will also taste some beautiful French wine and delicious food.
French Start-ups + Good Wine = Good Wine/Good Tech
Here are the 7 French Start-ups part of the Next40 index who will be present at GWGT 2019:
French Tech Boston represents more than 85 French entrepreneurs and C-level executives in tech startups with global or US headquarters in New England.
At GWGT 2019, you will also have the chance to meet those talented CEOs and Entrepreneurs, members of French Tech Boston, representing various industries such as MedTech, Travel, Big Data, AI, Finance, Transportation, IoT, Marketing, Waste Management, HR and many other fields.
France is not only renowned for GOOD WINE and good food but also for GOOD TECH!
An event powered by FACCNE, the French American Chamber of Commerce of New England.
FACCNE is one of the leading French-American Chambers of Commerce in the US, with more than 400 active members. FACCNE's mission is to develop business relationships between France and the United States and their respective business communities.
Ticket pricing and details:
Early birds - until November 7th
$45 Non Members
$35 Members (FACCNE, La French Tech Boston, Ivy)
General Admissions - November 8th to November 21st (10am)
$54 Non Members
$45 Members (FACCNE, La French Tech Boston, Ivy)
Tickets at the door (if not sold out) will be at the General Admission Price + $10
Tickets include: Soft drinks, Wine Tastings & Food. Cash Bar for beers and other alcohols
Bouchées
* Cheese Burger Slider, Merlot Aioli
* Mini Lobster Roll, Boston Lettuce, Saffron remoulade
* Mini Croque Monsieur
* Chicken Coq au Vin Croquette
* Roasted Jumbo Shrimp, Cilantro, cilantro and Lime Glaze
* Campari Tomato filled with eggplant Caviar and Basil
* Asparagus and Gruyere Cheese Gougere
Cheese & Charcuterie Board Fresh and Dried fruit Garnish, Crostini Basket
Cruditées Platter assorted dipping sauce
Desserts
Crème brûlée, mousse au chocolat, assorted cookies