Description
Join Michelle Berc, Skye Ray, and Special Musical Guest Nacho Arimany for a healing sound journey that will relax the mind, balance energy centers, and rejuvenate your spirit.

SOUND MEDITATION:
The program includes light breath work with vocal toning leading into a live and acoustic performance of sacred and rare instruments. A blissful sonic universe will be created with Crystal & Tibetan Singing Bowls, Sacred Drums & Percussion, Gongs, Didjeridoo, Tuning Forks, and more. Sounds and vibrations are tuned to 432hz – a natural frequency found in nature and sacred geometry which are more nutritional for the human being.

BENEFITS:
– Emotional Balance
– A Clear Mind with Increased Focus
– Feel Lighter in Your Body
– Deeper and Restful Sleep
– Stress Relief
– Harmony and Flow
– Deep Relaxation when other Meditation Techniques Fail

ASTROLOGY:
The Full Moon is a time of expansion, completion, and releasing. In particular, April's full moon lands in Libra which highlights a need for change, excitement, or freedom. Calibrating to the moon cycle is a great way to stay vibrationally in tune with the natural rhythms that surround us.

PINK MOON:
In ancient times, it was common to track the seasons by the lunar calendar (as opposed to the solar calendar which came later). Native peoples once observed the seasons by giving distinctive names to each recurring full moon. April's full Moon is called the Full Pink Moon, heralding the appearance of the "moss pink," —one of the first spring flowers.

ENERGY EXCHANGE:
Early Bird: $33
Door: $40 (if space is still available)

PREPARE FOR YOUR EXPERIENCE:
– Dress in layers so you are able to adjust your body temperature
– Eat a full meal 2 hours before or a light snack if closer to the workshop start time
– Many like to bring Crystals and a bottle of drinking water to be cleared and amplified by the powerful tones produced by the crystal bowls

ADDRESS & PARKING:
– The Church in Ocean Park is located at 235 Hill St., Santa Monica, CA 90405
– Arrival window is 8:00 – 8:25pm (we kindly ask that you don't arrive earlier or later), Doors lock at 8:25pm
– Meter Parking is available around Main St and if Parking in the lots behind shops on Main St. (Make sure to put your ticket on your dashboard)
- We encourage uber / Lyft
- Located just North of Venice - so why not consider riding a bike

Limited Space!
..........................................................................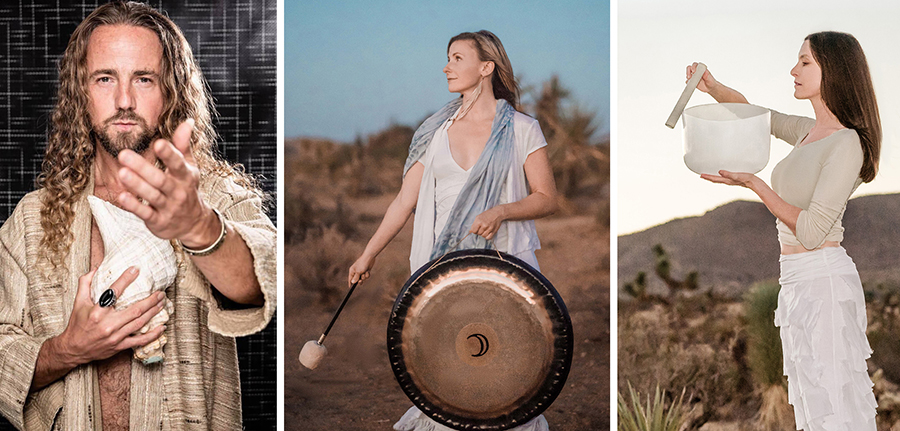 ~ About Us ~

SPECIAL MUSICAL GUEST:
--- Nacho Arimany is a master ethnic percussionist, multi-instrumentalist and composer whose music career began at age six as a classical piano student and singer with the Spanish National Choir and Orchestra. He possesses a highly unique blend of talents and diverse capabilities as a producer, performer, teacher, and musician for the brain. Beyond his early classical training, Arimany has been immersed in the study of traditional rhythms from around the world, specializing in North African and Flamenco rhythms, since his teens. Nacho has toured globally and collaborated with artists from a myriad of musical traditions over the years. His cross-cultural music and vocal style integrates and reflects his deep belief in joy and transformative power of natural rhythms and sounds.

Nacho has a degree in Pedagogy and Philosophy from the Universidad Complutense de Madrid and a certificate from the New York Open Center Music Institute for completion of a study of the principles of Healing with Sound and Music where he is now part of the faculty teaching sound healing principles. He is the composer of InTime, a fully orchestrated (9-CD) rhythmic based therapeutic listening program designed for brain health and brain performance co-produced with Sheila Allen and Alex Doman for Advanced Brain Technologies. InTime was presented and premiered at the Rockefeller University with a neuroscientist panel discussion along with a solo concert by Arimany.

"Elemental Sounds & Rhythms" is Nacho's workshop that he's been teaching around the world along with the "Arimany Method", a Voice and Movement Meditation Technique that promotes synchronicity and alignment between body and mind. This method creates a new architecture in the brain, that also allows a natural release of the true resonant voice of an individual. http://www.nachoarimany.com/

--- Michelle Berc has been practicing Sound Healing for over a decade and has received a certification in the field from the Sound & Consciousness Institute in San Francisco. Additional trainings include Vibrational Sound Therapy, self-studies, and multiple workshops from leaders in the sound therapy field. She is known for her 'Sonic Being' signature chakra balancing sound bath with the crystal bowls. She is also a certified HeartMath practitioner and certified Breathwork Facilitator. In late 2018, she decided to share her knowledge and launched the 'Sonic Being Sound Healing Training' which has had 4 sold out workshops since with an expanding program through 2019.

Michelle is also the founder and curator of the Create:Fixate Foundation, a nonprofit arts organization dedicated to supporting emerging artists and musicians. Exploring and understanding human energy through art and music has been a passion of Michelle's since her childhood. http://www.sonicbeing.com

--- Skye Ray is a Master & Teacher of the Usui system of Reiki. She is also a Massage Therapist that uses different wellness modalities to help people gain a deeper level of healing. She's been assisting Michelle for the past year providing sound support, reiki healing, and sharing her beautiful voice during the sound bath experience. http://www.sonicbeing.comDetails coming