Description
ADDITIONAL TICKETS AVAILABLE HERE!-------> PAYMENT LINK: https://cash.me/$GVT1 Include your ticket type and email address in the notes to be sent directions to the venue.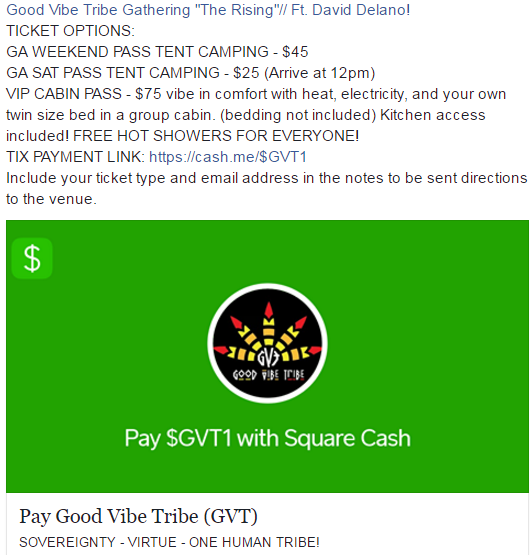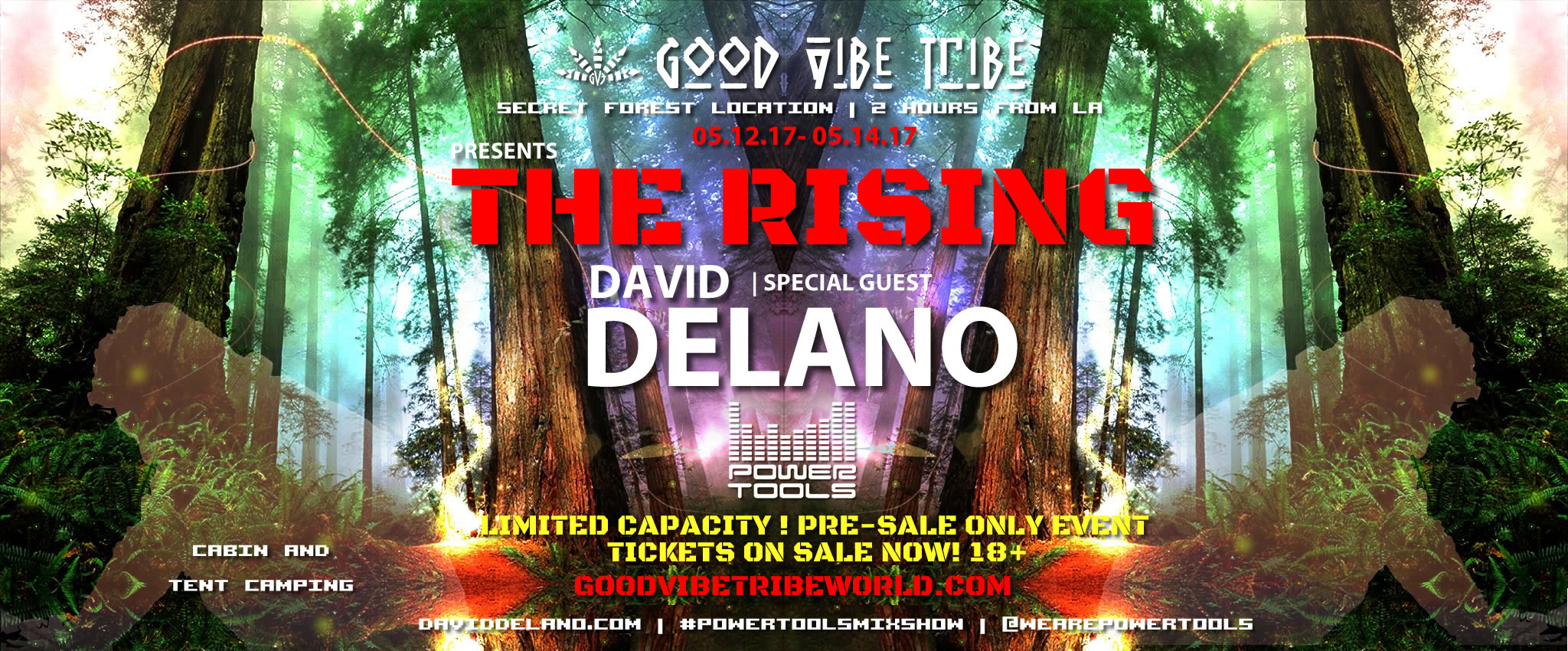 Together we Rise and unlock the Magic of the Forest with a weeknd of House, Techno and Good Vibes under the stars featering:
ONE STAGE ONE VIBE ON FUNKTION-ONE SOUND // OPEN DECKS & OPEN MIC LOUNGE // CABIN & TENT CAMPING OPTIONS // POTABLE WATER & SHOWERS // HIKING TRIALS // LIVE ART // DEEP HOUSE YOGA // SOUND BATHS // KUSHITES KUSH BAR 21+
♥ Want to contribute to the GVT experience? Send a email of interest to INFO@GOODVIBETRIBEWORLD.COM ♥
*This event is PRE-SALE ONLY with only 300 Tickets Available. *Secret location is only given to ticket holders *Gates Open Fri 4pm. Everyone must be clear of the grounds by 12pm on Sunday. *Parking is very limited so please CARPOOL! *This Gathering is Strictly 18+ with valid government issued photo ID. *FACEBOOK RIDE SHARE GROUP---->http://bit.ly/2lYXVEs
INCLUDED CAMPING AMENATIES
BATHROOMS & HOT SHOWERS TWIN BEDS FOR CABIN CAMPERS (bring your own bedding) ELECTRICITY & HEAT INCLUDED FOR CABIN CAMPERS BBQ GRILLS (bring your own coal)
MEALS OPTIONS
-BRING YOUR OWN (BBQ grills available at camp sites)
-FOOD VENDORS (meat & veggie optioins)
-GVT COOK-OUT SAT AFTERNOON (Prepare your best and lets feast! Kitchen access available)
SPECIAL GUEST DJ DAVID DELANO (PowerTools Mixshow Power 106 FM, LA)
https://soundcloud.com/daviddelano
♫ A²
https://soundcloud.com/a2squaredmedia2
♫ ADELLACOSTA (Minimal Sessions / Club House Events)
https://soundcloud.com/adellacosta
♫ BRITTON PAGE - (Space Taco House Tuesdays)
https://soundcloud.com/brittonpage
♫ CHAKA & MARTY
https://soundcloud.com/chakamartymusic
♫ DJIDEAL
http://djideal.com
♫ GERARD GROOVE
https://www.facebook.com/DjGerardGroove
♫ GIBSUN (
Divine Species
)
https://soundcloud.com/gibsunmusic
♫ JIMMY STUART - (Space Taco House Tuesdays)
https://soundcloud.com/jimmymstuart
♫ JOHNNY DARKO (LA)
♫ LARRY WISDOM (IMUNE)
https://soundcloud.com/marcusfairfax
♫ RISE LOUNGE OPEN DECKS
FRI 6-10pm // SAT 12-10pm
*THIS IS A LEAVE NO TRACE EVENT - We have ZERO tolerance for littering and it will enforced. Bring trash bags to collect your trash. Police each other and please respect the land.
*No ATM on site, please bring CA$H.
*Campfires OK (bring your own firewood).
*Leashed Pets OK.
*Secure your valuables in your vehicle, they are your responsibility!
***REFUNDS ARE DISABLED FOR THIS EVENT / NO REFUNDS ALL SALES ARE FINAL***
STAY CONNECTED WITH US VIA:
Facebook: http://facebook.com/goodvibetribemusic
Soundcloud:http://www.soundcloud.com/goodvibetribe
Instagram: http://instagram.com/goodvibetribeworldwide
REPRESENT THE TRIBE AND ORDER YOUR GVT GEAR TODAY!