Actions and Detail Panel
Good Vibe Getdown
Fri, May 5, 2017, 7:00 PM – Mon, May 8, 2017, 8:00 AM MST
Event Information
Location
Cowtown Keeylocko
Three Points, AZ 85735
Description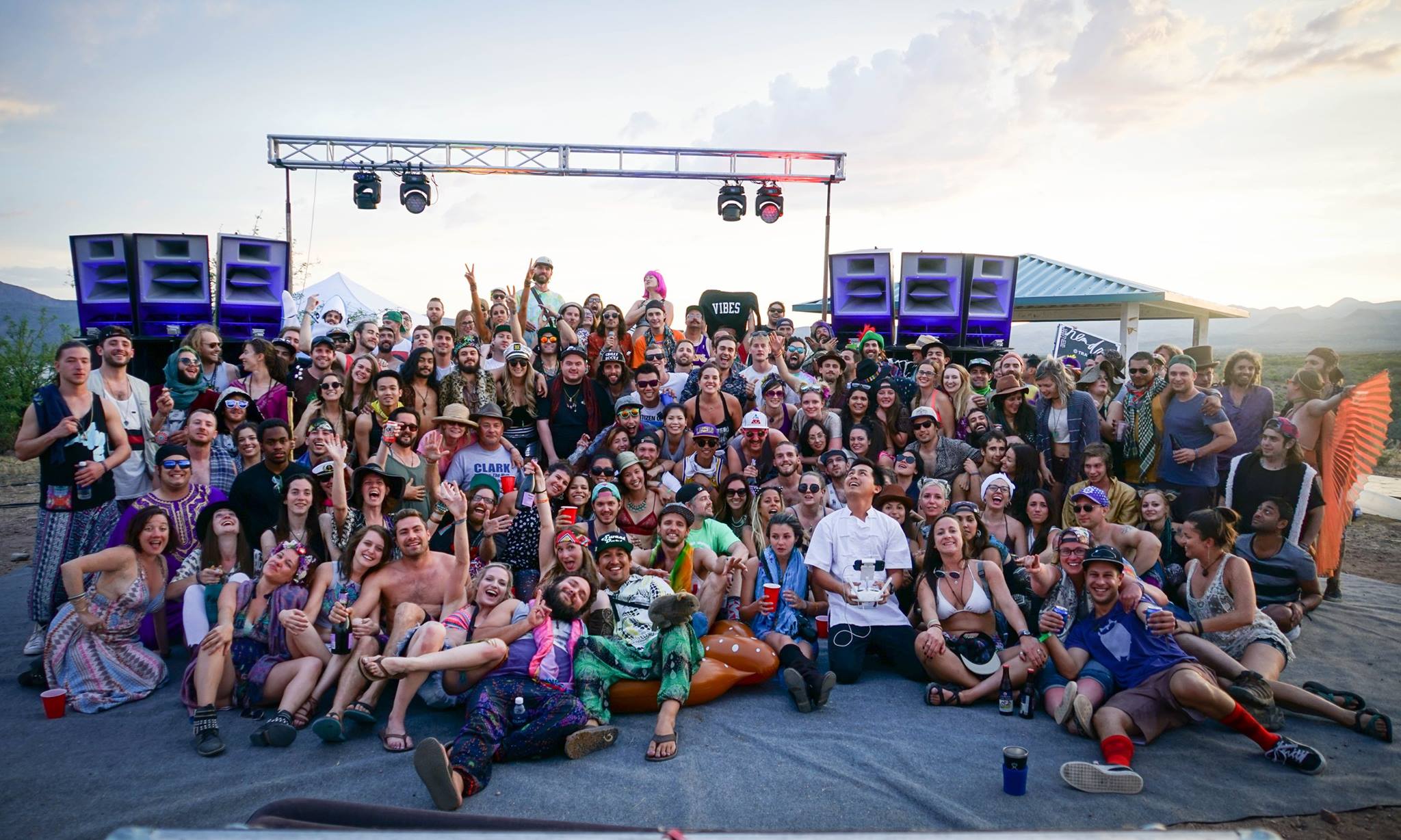 A three day camping event curated by your friends in Team Good Vibes!
GVG is back with a new PRIVATE RANCH venue for 2017!
Music, Art, Yoga, Workshops
No commercial sponsors, lots of love. NOT FOR PROFIT.
ABSOLUTELY LEAVE NO TRACE!
Limited Attendance and Vehicle passes, NO ENTRY WITHOUT PREPAID TICKETS.
NO CASH SALES AT GATE: YOU WILL NOT BE ABLE TO ENTER OR PARK OUTSIDE VENUE!

FAQs:
Are there ID requirements or an age limit to enter?
This will be a 21+ event. ID will be required at gate.

What are my transport/parking options?
You will need to supply/arrange your own transportation, passenger vehicles should be ok, 4WD not needed at all.
Please try to ride share/carpool, everything is more fun with friends!
What can/can't I bring?
Your prepaid ticket, and car pass. This will be strictly enforced.
Bring your camp gear, supplies, friends, party hats. BRING A REUSABLE CUP!
No Native American headdresses, pets, weapons, excessive disposable plastic, illegal drugs, or bad vibes.

There will be no violence permitted.
There will be a designated fire flow area, no fire play outside of the designated zone! Individual campfires are permitted in contained and elevated fire pits, and there will be also be a community fire. ROGUE GROUND FIRES WILL NOT BE PERMITTED! If you plan on having a campfire, please bring your own firewood, there will also be precut wood for sale.
If you smoke cigarettes, bring a butt holder, ANY litter will not be tolerated!

CAMPING (leave no trace)
Low impact is crucial to the location. This cannot be stressed enough, as we want to come back here and make it bigger and better every year. Please drive slowly on the dirt road to keep dust down and the neighbors happy.

•Camping is going to be primitive, on flat surface, with warm days, cool nights. There will be multiple camping areas, all with pros and cons.
•You will be able to camp with your vehicle. Please keep in mind that land grabbing isn't necessary.
•Never leave your campsite trashed, and make sure that you bring enough resources for yourself.
•There will be a food court area, but it's ALWAYS a good idea to bring your own food, water, shade and any other necessities (like a headlamp).
•RV camping does not have hookups. RV's will be allowed to dump at the on site dump location.
•This is a Leave it better event. There will be a small dumpster for your bagged trash (this saves the roadways from getting any more trash on them), but you are responsible for cleaning up your own campsite refuse. There will be bins for compost and recycle as well, but you are expected to be aware of your refuse.
•There will be portable toilets, USE THEM, NO NATURE POOPING!!!
•The road in will accommodate most stock passenger cars. Detailed directions will be provided in an email in the beginning of May.
MUSIC
There will be a Main stage area, as well as a live stage.
We will be going deep into the early hours of the morning with music on main stage, be mindful of where you're camped.
WORKSHOPS
There will be an array of speakers and interactive workshops to enrich your life at GVG and beyond. You always can carry knowledge forward.
YOGA
There will be a dedicated area for yoga throughout the daytime, don't forget your mat!
ACTIVITIES
•There will be multiple Community collaborative art projects, please contribute!
•There will be numerous things to do away from the stages, remember everything was set up for a purpose, we want to have fun!
ALCOHOL
There will be keg beer and liquor for CASH at the Blue Dog Saloon, so BRING A REUSABLE CUP, MUG, CHALICE, GOBLET, OR SHOE!!!
Where can I contact the organizer with any questions?
Is my registration/ticket transferrable?
Totally. You can transfer your registration until 5/1/17, just let us know who is taking your place. This is a limited attendance event!
Can I volunteer services for free passes?
Contact goodvibegetdown@gmail.com for more info. You will be required to purchase your pass as a deposit, and a refund will be issued after completion of your commitment.
Date and Time
Location
Cowtown Keeylocko
Three Points, AZ 85735