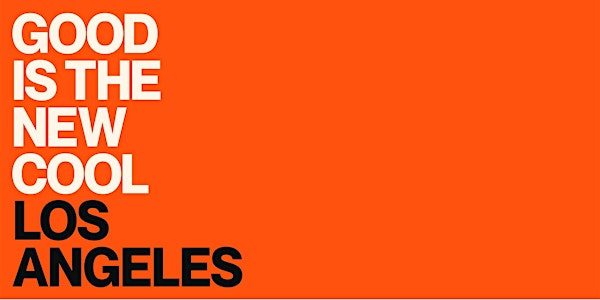 Good Is The New Cool Los Angeles
Good is the New Cool a global movement dedicated to serving world-changing creators & innovators using business & culture as forces for good
When and where
Location
TOMS HQ 5404 Jandy Pl Los Angeles, CA 90066
Refund Policy
Contact the organizer to request a refund.
About this event
GOOD IS THE NEW COOL LA - POSTPONED
We created our conferences to provide safe spaces for purpose-led people to find their allies, and learn how to use your talents and resources to make a positive from the leaders in business and culture who are changing our world for the better.
The health and well being of our community is of the highest importance to us. The COVID-19 coronavirus is having a global impact, which includes our community's ability to travel and feel safe together. Thus, we believe it is the best decision to move the event to later in the year when, hopefully, this virus no longer poses a significant threat.
We are looking at moving LA to Saturday, September 12th and are finding a new date for NYC.
At this stage, we would be happy to issue refunds to those who request it via Eventbrite - or if you would prefer, we can hold your space for the new date.
If you have any questions, please don't hesitate to reach out to us at goodisthenewcool@gmail.com.
Thank you again for your support. We will be back!
Afdhel and Bobby
Co-Founders of Good is the New Cool
__________________________________________________________________
Good is the New Cool presents a new kind of gathering, bringing together a warm, inclusive community of allies from the worlds of brands, non-profits, and culture for inspiring talks, and immersive masterclasses and workshops, which show you how to make a real impact in the world.
We kick off with Los Angeles on March 21st at the iconic TOMS HQ, with more events coming up in NYC (May) and Sydney and Melbourne, Australia (June).
Speakers
Good is the New Cool 2020 celebrates the passionate voices of game changers in every industry who are paving their own path where there's no rule book and no limits.
Shannon Sinunu - Head of Giving, Apple
Wendy Savage - Director of Supply Chain Social Responsibility & Traceability, Patagonia
Jason Mayden - CEO, Super Heroic
Caitlin Allen - Head of Communications for eBay N.A., GM, eBay for Charity
Mick Ebeling - Founder & CEO, Not Impossible Labs
Kim Culmone - SVP, Global Head of Design, Mattel Inc.
Jason White - CMO, Select + Curaleaf
Olympia Auset - Founder, SUPERMARKT
Kwame Taylor-Hayford & Sophie Ozoux - Co-Founders, Kin
Andy Freedman - Co-Founder and Managing Director, Miles4Migrants
Michelle Cirocco - Chief Responsibility Officer, Televerde
Tru Pettigrew - President, Tru Access
Kirk Souder - Co-founder / Leadership Coach, Enso Impact Agency
Lizbeth Mateo - Attorney, Law Offices of Lizbeth Mateo
Gabi & Ben Kay - Founders, Gigantic F**king Solutions
James Anderson - Hacedor, The Yerba Mate Company
Zach Ingrasci - Director & Co-founder, Optimist
To see our latest speakers and updates please visit our website: https://www.goodisthenewcool.org/la-2020/

FAQ:
When do I need to be there?
Doors will open at 8:00am. You'll want to be here from the moment we gather until our last goodbye. It is a full day of inspiring and uplifting talks and experiences with plenty of opportunities to meet new friends and allies. You will not want to miss any of it.
What is included in my registration fee?
• Access to seating in the main room for talks, and breakout sessions
• Coffee and light breakfast
• Lunch and snacks throughout the day
• Post-event reception
• New friends and instant community
• Los Angeles in March
• Access to all main stage talk
• Access to all breakout sessions
• Access to all post-event content
This is my first Good is the New Cool. What do I need to know?
When you attend Good is the New Cool, you will become part of our community. We will have connectors on hand to help with your questions, navigate the sessions, expand your network and even recommend the best place to hang out in LA.
Can I update my registration information?
Yes! If you want to change or add any details and don't have an Eventbrite account, simply email us at goodisthenewcool@gmail.com
UPDATE - How has the Coronavirus affected this event?
We are closely monitoring the Coronavirus situation and preparing for the Good is the New Cool event with your safety as our top priority.
Health and safety officials have not requested the cancellation or postponement of any gatherings at this time. 
We will also enhance precautions at the festival to support all attendees keeping themselves healthy, including:
• Increased hand washing and sanitizing stations throughout the festival
• Alternative greetings to physical contact will be promoted
• Staff and volunteers that are sick or feeling sick will not be allowed at the festival
• We will sanitize all mics in between speakers, panels, and talks
What is my plans change?
Please note there are no refunds. You are welcome to someone in your stead, but please let us know before you make the switch.
How can I become a sponsor?
We are hugely grateful to our partners. They provide critical support that makes it possible to offer our participants a more affordable registration fee as well as supporting the work of the Good is the New Cool community.
Contact us at goodisthenewcool@gmail.com on how to sponsor an event