Description
**SOLD OUT!!**
Nonprofit Talent Presents a Good Ideas Forum with Vu Le, Blogger, Nonprofit Executive Director, and Happy Unicorn: 10 Protected Pterodactyls (Formerly "Sacred Cows") We Nonprofits Need to Release into the Wilderness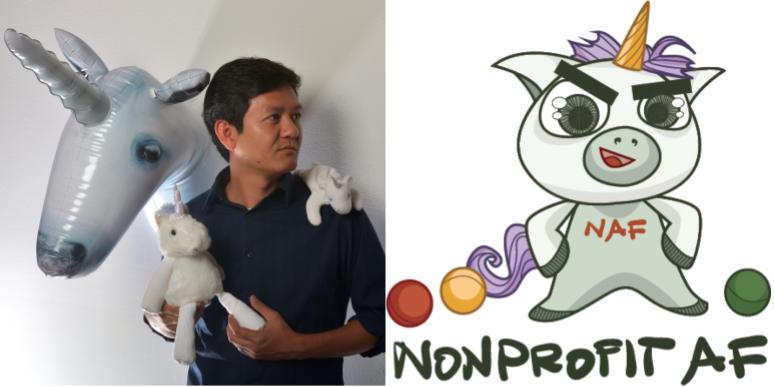 This session is being co-presented by the Association of Fundraising Professionals WPA Chapter, The Center for Philanthropy at The Pittsburgh Foundation, and The Forbes Funds.

Wednesday, October 25th, 2017
8:00 AM – 10:00 AM, Point Park University, Lawrence Hall Ballroom (Downtown Pittsburgh)
$25 per person / delicious breakfast and beverages provided.
No refunds will be given for cancellations within 24 hours of this event.
Session Description:
With the challenges facing our communities being more complex and more numerous, the nonprofit sector--both service providers and funders--is more needed than ever. But we face our own barriers to effectiveness. Demographics are changing, and the way that we have done things in the past may no longer work. We must examine the philosophies and biases that drive our work, abandon outdated thinking and practices, own the power and influence we have, and collaborate to make the world better. Vu Le is the dude behind www.nonprofitAF.com, formerly nonprofitwithballs.com, and Executive Director of Seattle-based nonprofit Rainier Valley Corps, which works to bring more leaders of color into nonprofit work. Prepare to laugh and think.
Schedule:
8 AM – Registration opens and breakfast buffet
8:30 AM – Vu Le program begins, including an interactive question and answer session
10 AM – Program concludes
FAQs
What's the refund policy?
No refunds will be issued for cancellations within 24 hours of the event.
What are my parking options?
We suggest parking in the Wood-Allies Garage:
228 Boulevard of the Allies
Pittsburgh, PA 15222
Questions? Email Todd Owens – todd@nonprofittalent.com