About this Event
Good Governance and Sustainable Investing: ESG for Small Businesses and Why it Matters!
Standing for environmental, social, and governance factors, ESG has become an immensely important aspect of a business strategy. Businesses that have addressed ESG issues related to their industry outperform their competitors and a recent study found a strong correlation between ESG performance and stock price. Many startups are not aware of the rising benefits of ESG implementation or the potential risks for not doing so. Startups have a great opportunity to implement ESG right from the start. This is something your investors, consumers, and suppliers expect of you - especially if you are interested in doing business with the government or large corporations. To be successful, it is important to set sustainability targets. track performance and of course understand how and where to report it. In this session we will discuss why ESG factors are important to your startup with a special focus on the government sector.
Topics Covered
Attracting more Investors
Building trust/Managing risks
Driving Better Profits
Partnerships, Contracts or Sales Opportunities
Sustainable Investing
Sustainability metrics collection
Target setting
Sustainability reporting frameworks
Content
What ESG factors are investors using when assessing your company's future financial performance
Establish an early reputation as a socially responsible business
How to track and report key ESG performance indicators
How basic principles of ESG will help you create a value-oriented corporate culture that will not only attract top talent, but also help you retain them.
If you want to work with (or sell to) big industry players, you need to build your corporate responsibility standards around the ESG factors and stick to them
Understanding sustainable reporting, metrics, platforms and targets
Sustainable Investing is a two-way street – An investor perspective
This workshop is the fifth in a series of sustainable business workshops. Other topics such as marketing your green business, green business certifications and social entrepreneurship will be covered in the remaining workshops. You may attend one, a few, or all of the workshops and can view the full schedule below: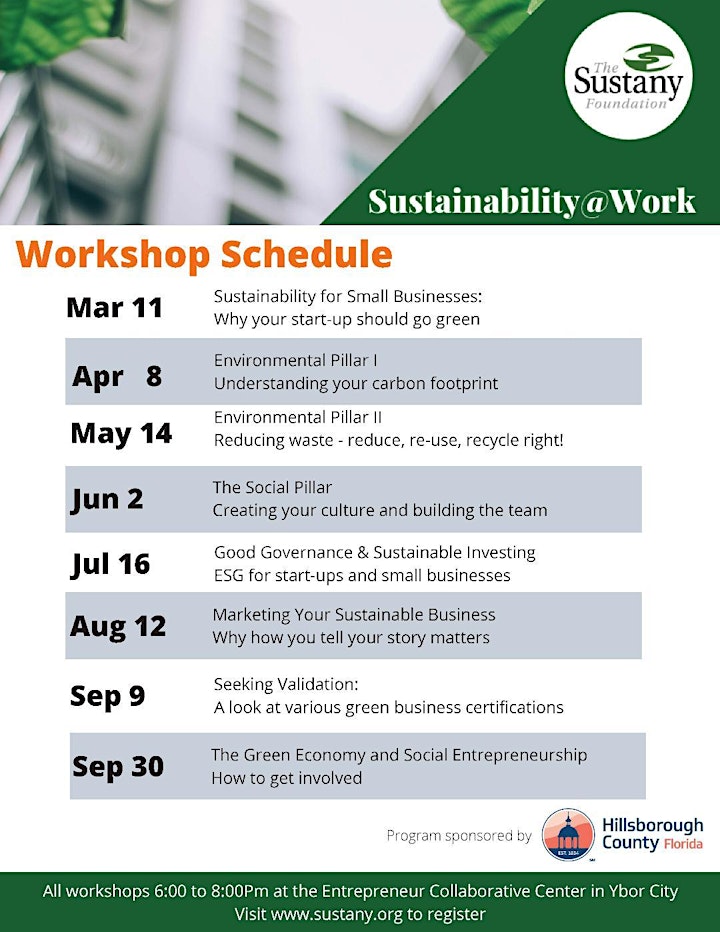 About the Program
Sustainability @Work is a series of workshops designed for start-ups and small businesses interested in learning more about how to become more sustainable and why it is not only important, but profitable. Each workshop will cover an important aspect of becoming a sustainable business.
The workshops are designed as stand-alone sessions and attendees may choose to attend one or all of them depending on their particular challenge or interest. The program is also designed to work as a cohesive series so a participant attending all sessions will be well prepared to create a comprehensive sustainability plan or work towards one of many certifications in the industry upon completion.
Attendees who are interested in pursuing a certification or getting a more formal assessment are eligible to apply for a free one-on-one consultation.
THIS PROGRAM IS MADE POSSIBLE WITH THE GENEROUS SUPPORT OF HILLSBOROUGH COUNTY GOVERNMENT