PLEASE CAREFULLY READ BELOW
About this Event
I state by registering to attend that neither I, nor any of those attending with me, have tested positive for COVID-19 in the past 14 days
That I, nor anyone with me, have not felt sick in the past 14 days (sick includes: fever, sore throat, cough, runny nose, muscle aches, chills, shortness of breath, loss of smell or taste, etc.)
That if I, or anyone with me, develop any of the above symptoms within 14 days of attending service that I will alert the church immediately
That I, and everyone with me, will stay at least 6 feet away from any person that is not a member of our family
That I, and everyone with me, will wear a mask that covers my nose and mouth while in the church
That I, and everyone with me, will keep our hands clean by using sanitizer or soap and water
If I am with my family, especially my kids, that we will all stay together
That I, and everyone with me, will abide by all requests made of me by church staff and leaders
I state, by completing my registration, that I have read the above and agree to follow all listed procedures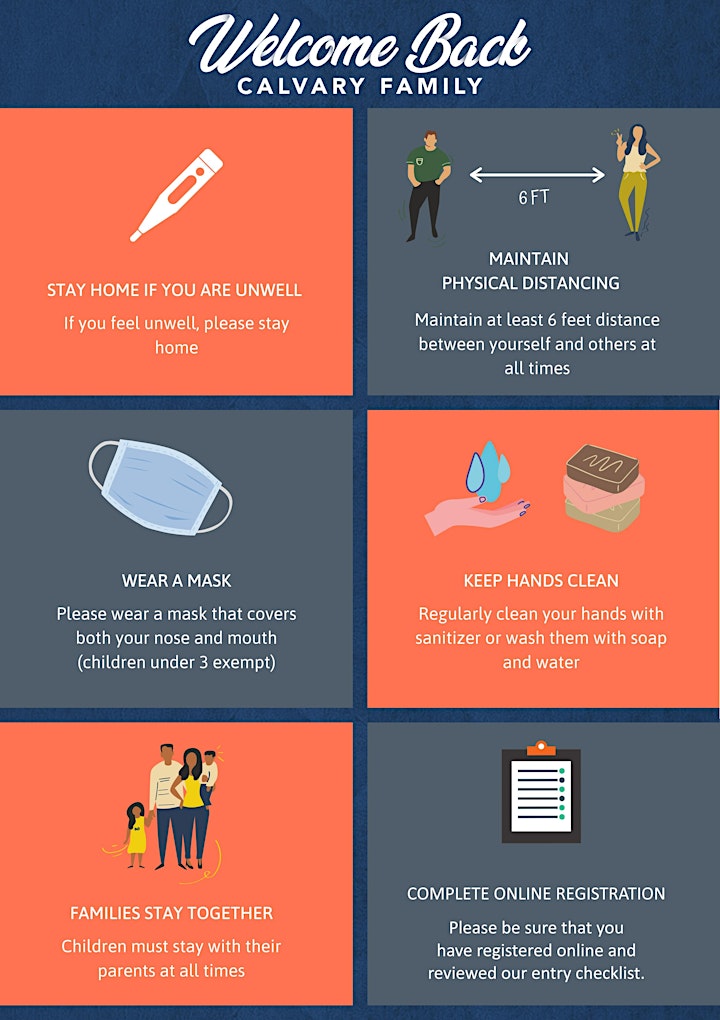 IMPORTANT DETAILS:
Registration: You will need to register in advance with the exact amount of people who will be attending. Walk-Ins risk the possibility of zero seating availability.
Cancellations: Please be considerate and click the blue view and manage button in your confirmation email. You can adjust and cancel your reservation with that button.
Confirmation: You will receive a confirmation email immediately after you register. (Please check your Junk or Spam folder if you don't see the email in your Inbox).
Any questions, please contact the church office at 781-592-4722 or office@calvarychristian.church.