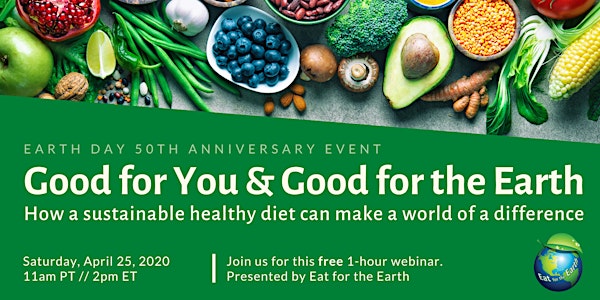 Good for You & Good for the Earth
Celebrate the 50th Anniversary of Earth Day with Eat for the Earth!
Refund Policy
Contact the organizer to request a refund.
Eventbrite's fee is nonrefundable.
About this event
Can All of the World's People Eat a Healthy, Sustainable Diet?
Is it possible to feed our growing human population a healthy diet while simultaneously respecting the environmental limits of our Earth? Can our diets hold the key to reducing the incidence of human disease and helping to prevent worldwide environmental catastrophe?
A growing body of research has arisen to answer these questions.
The consensus is that it is possible! We can do it, but it will require a radical transformation of global human dietary patterns.
Diet, Environment, and Health
In this webinar Rev. Beth Love of Eat for the Earth will share about the connections between our diets and the wellbeing of the Earth system. She will be joined by nutrition consultant Sandi Rechenmacher, who will illuminate the basics of nutritious eating. It turns out that eating in a way that is good for the earth is also good for you!
What You Will Get:
You will learn about the particular human dietary pattern that holds tremendous benefit for human health, environmental sustainability, and the cause of a world in which all people can be adequately nourished. You will have the opportunity to have your questions answered and to find out how to get involved in the movement for change.
A sustainable healthy diet is good for you, good for the Earth, and confers tremendous additional benefits.
Are you ready to reap the rewards?
About Our Presenters:
Rev. Beth Love is the author of the Tastes Like Love book series. A gifted speaker, facilitator, teacher, and ordained New Thought minister, Beth has motivated and educated people in diverse contexts such as nonprofit organizations, schools, churches, businesses, and the California State Prison system. She has inspired large and small audiences, in-person and through radio and television, from local community TV to the Oprah show. Due to her concern about the negative impact of animal agriculture on the environment, Beth started Eat for the Earth in 2019. Learn more and find out how you can get involved at EatForTheEarth.org.
Sandi Rechenmacher is a Nutritional Consultant, Educator, Plant-based Chef, and PCRM* Food for Life instructor. Her 40+-year venture into nutrition science, starting in the 70's as the owner of a natural foods store, has generated for her a deep understanding of the subject, a wealth of enlightening narratives, and a variety of platforms from which she shares with others the Simply Nutritious way of attaining optimal health and wellness. It's a delicious adventure in which she works closly with Mama Nature!
*Physicians Committee for Responsible Medicine