Location
The Market at Santa Monica Place
395 Santa Monica Pl, Santa Monica, CA 90401
Dining Deck on Level 3
Santa Monica, CA 90404
Description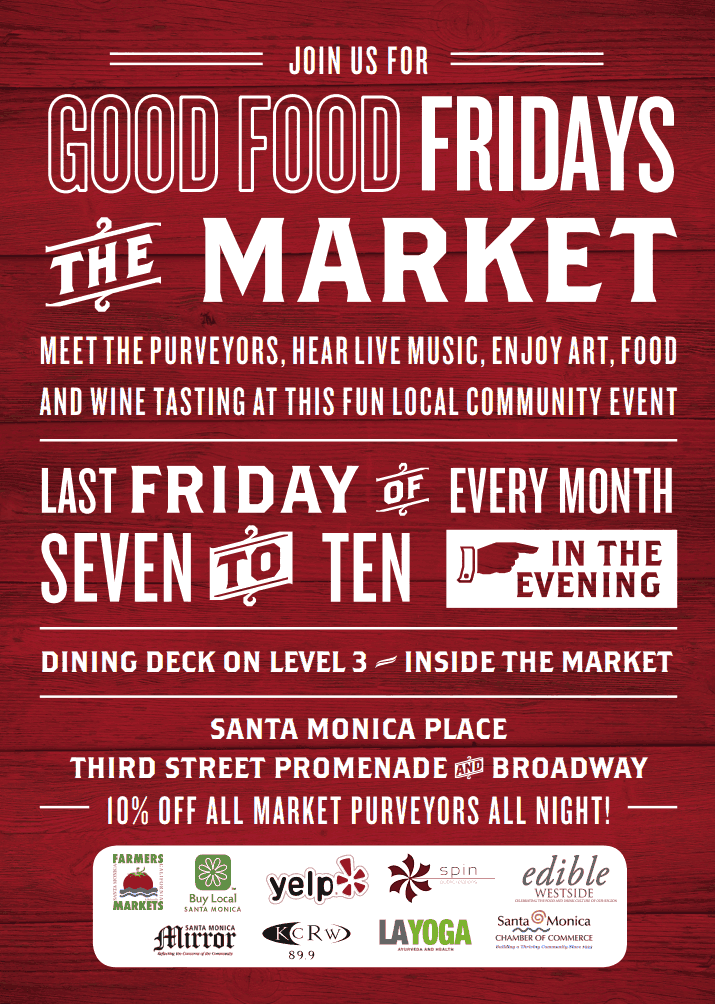 GOOD FOOD FRIDAYS CELEBRATES HALLOWEEN ON OCT. 25 IN ITS FINAL NIGHT AT THE MARKET AT SANTA MONICA PLACE
Enjoy An Evening Of Shopping, Live Music, Arts & Crafts, Wine Tasting,
Pop Up Boutiques From Local Designers and Artisans

WHAT:
The Market at Santa Monica Place announces the FINAL installment of
Good Food Fridays on Friday, October 25, bringing the community
together for arts and crafts, special cooking demos and more family
fun. This FREE, interactive event takes place the last Friday of every
month and allows guests to mix and mingle with friends and meet the
local purveyors from The Market at Santa Monica Place and beyond.
Festivities include live art, music, food sampling, wine and beer
tastings and pop up boutiques from local designers and food
purveyors. Guests will also enjoy 10% OFF all purchases from the
purveyors in The Market during the event.

WHEN:
Friday, October 25, 2013 from 6 to 9 p.m.

WHERE:
The Market, 3rd Floor Dining Deck of Santa Monica Place
395 Santa Monica Place, Santa Monica

TICKETS:
Free
RSVP at: http://goodfoodfridays.eventbrite.com/
The Market Purveyors:
Venokado Wine & Gifts, COOK by Venokado, N'Ice Cream, Benedetta
Farm-Sourced Skin Care, M.A.K.E. By Matthew Kenney, M.A.K.E. OUT,
Matthew Kenney Culinary Academy, The Curious Palate, The Curious
Baker, The Curious Cheese Shoppe, Chocolate Opulence, The
Gourmandise School of Sweets and Savories, Groundwork Coffee
Company and photography by Santa Monica Close-Up.

SPONSORS:
Santa Monica Farmers Market, Santa Monica Mirror, LA Yoga Magazine,
Santa Monica Chamber of Commerce, Edible Westside, Buy Local and
Yelp.

ABOUT THE MARKET
Situated in the world famous city of Santa Monica and created as an
artisan food destination, The Market is located on the third-floor Dining
Deck at Santa Monica Place. The Market debuts high quality purveyors
featuring a delicious collection of organic, artisanal gourmet foods,
wines and celebratory gifts. It appeals to a community passionately
connected with food, travel and entertainment and offers shoppers a
compelling and convenient location to indulge in creative culinary
pursuits. For more information, visit www.themarketsmp.com.

ABOUT SANTA MONICA PLACE
Santa Monica Place is a three-level, all-open-air shopping and dining
destination located just two blocks from the beach in Santa Monica.
Opened in August 2010, Santa Monica Place features Bloomingdale's,
Nordstrom, CB2, Nike, Louis Vuitton, Tiffany & Co, Burberry, Love
Culture, AllSaints Spitalfields and many other exciting retail attractions.
The center offers a unique and popular "valet and play" parking
program complete with three separate valet locations - Broadway, 4th
Street and 2nd Street -and all Dining Deck guests receive three hours
complimentary Valet parking.o get the latest news about the new Santa Monica Place,
visit www.santamonicaplace.com and become a fan on Facebook
at www.facebook.com/SantaMonicaPlace.
###