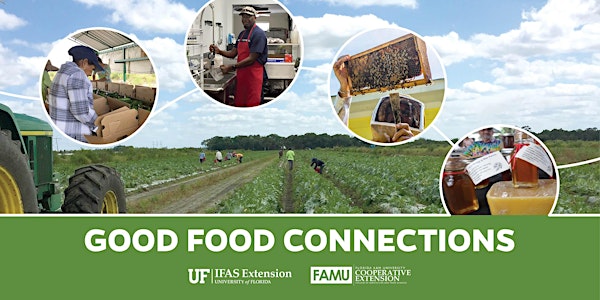 Good Food Connections 2021-2022
Good Food Connections is an opportunity for farmers, chefs, food pantries, distributors, and others to meet and learn about one another.
About this event
Farmers and ranchers, do you need more outlets for your products this growing season? What do you wish the public knew about our local agriculture? Food retailers, are there local products you wish you could offer to your customers? Food pantries and food banks, what do you need to make nutritious local food more accessible to underserved populations? Chefs and distributors, do you wish you knew of more local sources for produce and proteins? Come and check out our Good Food Connections growing season meetings!
The Good Food Connections is a virtual space for different players in Florida's local food systems to connect and learn about one another. Come and share with us and others what you are looking to source or need to move quickly. Networking can help you find local resources and community support you might need to increase your impact in your community. It's another great way to increase business opportunities.
Agenda
4:00-4:15PM: Informal networking and Introductions
4:15-4:30PM: Introduction to the Good Food Connections Program
4:30-5:15PM: Main sharing space with leaders in the local food systems through various visual means.
5:15-5:30PM: Wrap-up
Registrants will receive the zoom link and the specific topic to be shared during the meeting via email one week before the event.
We look forward to virtually and safely connecting with you!
The Good Food Connections Team