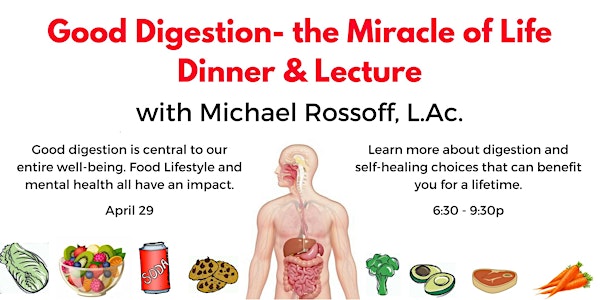 Good Digestion—The Miracle of Life Dinner & Lecture with Michael Rossoff, L...
Description
This lecture includes a full vegetarian buffet catered by Healthy Living, Inc.
Menu:
Appetizer: Mushroom/Tomato Tartelette

Entrée: Cod Fish/Mustard Sauce OR Tempeh Burger/Mustard Sauce; Sweet Potatoes Fries; Stir-fry Asparagus and Radish; Poached Ginger Pears and Raspberries
Schedule:
Doors open at 6:30 pm
Dinner from 7:00 to 8:00 pm
Lecture: 8:00 – 9:30 pm
Lecture:
Digestion is the power of transformation—of foods and liquids into our blood and qi (energy). Strong blood and qi are the foundations of our health.
Michael will focus on the unique powers of the stomach, because all digestion and elimination depend on the stomach's ability to receive and begin orderly digestion. It is not only what you eat that makes health, but also what you digest and absorb that counts.

It's easy to take this primal function for granted until there are problems. Heart burn, acid reflux and ulcers are rampant in modern life, with 20-30% of people in America having weekly symptoms. And of course, there are more serious conditions such as diabetes, pancreatitis, gallstones and stomach and pancreas cancers.

You will learn about the true nature of digestion from Western and Oriental understandings. While the focus is on the stomach, there will be important references to the pancreas, liver and gall bladder. You will see why certain foods cause different stomach problems and which foods can remedy these conditions.

We'll explore the impact of emotions and lifestyle on digestion. And you'll learn new insights into lifestyle changes and simple approaches to stress and its emotional responses.

You'll leave this lecture with satisfying information to digest!
About the Instructor:
Michael Rossoff, L.Ac. is a long-time acupuncturist and macrobiotic, natural foods counselor and teacher. His dedication to natural health and healing has continued for over 45 years. Originally from Washington, DC, he now lives in Asheville, NC and returns to the DC area regularly.
Organizer of Good Digestion—The Miracle of Life Dinner & Lecture with Michael Rossoff, L.Ac.