Description
Book Chat Live - March 14, 2019
Join me, Lauren Margolin, a.k.a. Good Book Fairy, on Thursday evening, March, 14th from 7:00 to 9:00 p.m. at Barbara's Book Store in Hawthorn Mall on the first floor. Meet other readers and book lovers for an engaging and enriching discussion. Bring a friend...you won't be sorry!
One (1) glass of wine and light appetizers are included as an added bonus to this fun night! All are welcome, from the seasoned book group folks to first-timers - everyone is invited! This event is limited so reserve your seat as soon as possible. Tickets need not be printed; I'll have a list with attendees.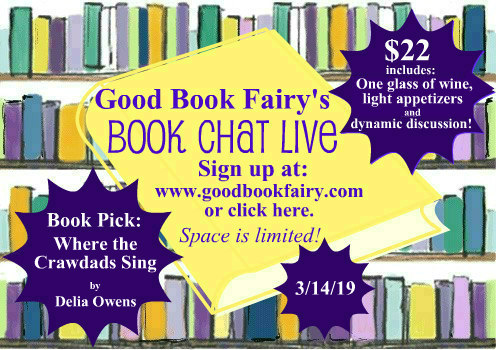 I've selected Where The Crawdads Sing by Delia Owens as this month's book selection. This book is about a young, solitary girl a.k.a 'marsh girl' who lives among nature. So much is packed into this book: coming of age, art, charity, education, love, murder and abondonment. So much to talk about!
I encourage you to order your copy through this highlighted link: Where the Crawdads Sing - so you can start reading right away! Of course you can also visit the the brand new Barbara's Book Store in Hawthorne Mall for a copy.
Please do not hesitate to contact me with any questions via email at goodbookfairy@gmail.com.
I look forward to seeing you there. Happy Reading!