Description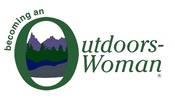 The Becoming an Outdoors-Woman program brings you the 10th annual weekend of Dog Sledding, Skijoring, Cross-Country Skiing, Snowshoeing and more at Two Moons Kennels on Fawn Lake in Springstead, Wisconsin (near Park Falls).
This one-of-a-kind, special Beyond BOW event will provide an opportunity for 10 women to immerse themselves in unique winter activities. Your Hosts, MJ Slone and Chad McGrath are long-time BOW instructors and dog enthusiasts.
Workshop registration fee: $499. Includes 2 night's lodging, 7 meals, instruction, use of all equipment (does not include cross-country skis. Information on where to rent skis will be provided), lots of camaraderie, and dog time!
Cancellation policy: A $100 processing fee will be assessed to all cancelled registrations. Registrants who do not cancel by December 16, 2016, will be assessed the full program fee.
Lodging: Included in your registration fee. Participants will stay in modern, heated hotel rooms at The Birches Resort near Two Moons. We will have 2 people per room with two queen beds. Each room is furnished with a full kitchenette, which includes refrigerator, 2-burner stove, microwave, coffee pot, toaster and all the utensils.
Special needs and physical exertion levels: If you have any special needs, including dietary needs, please contact Peggy Farrell at 715-346-4681. We will do our best to accommodate you. This workshop includes activities that require a moderate amount of physical exertion. If you can ski at a leisurely pace, you will be able to have fun at this event. If you have any questions or concerns about the level of fitness recommended in order to participate, please contact Peggy.
Participants understand that: 1) photographs and/or video may be taken during sessions and may be used in future support of the program, and 2) in the event of an unavoidable circumstances, portions of the program and instructors may change. BOW will provide excellent alternatives if this situation arises.
Additional workshop notes: This event will be held regardless of weather. However, the activity schedule will be flexible in order to adjust to weather/temperature conditions. Participants will receive information on what to bring and how to dress for success in winter with their confirmation letter. Snowfall in this part of northern Wisconsin varies between 20 to 90 inches, with an average of 50 inches per winter. Average daily temperature in January is about 10 degrees with an average daily high of 20 degrees. Travel will be along major state highways that are well maintained in winter.