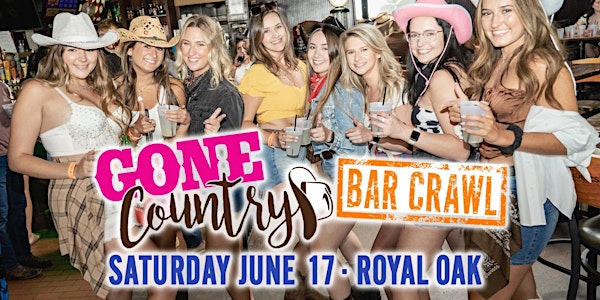 GONE COUNTRY BAR CRAWL 2023 - Royal Oak
YEEE HAWWW! Get out your Cowboy Boots and 10 Gallon Hats for Royal Oak's Country Music Themed Bar Crawl.
Date and time
Saturday, June 17 · 2 - 7pm EDT
Location
Royal Oak Main st Royal Oak, MI 48067
About this event
GONE COUNTRY BAR CRAWL 2023 - Royal Oak
Saturday, June 17th, 2023 | 2 - 7 PM
Downtown Royal Oak | Event 21+
GoneCountryBarCrawl.com
Grab Your Cowboy Hat, Grab Your Boots & Get Ready to Go Country All Night at Your Favorite Royal Oak Bars! 🤠
𝗣𝗔𝗥𝗧𝗜𝗖𝗜𝗣𝗔𝗧𝗜𝗡𝗚 𝗟𝗢𝗖𝗔𝗧𝗜𝗢𝗡𝗦:
Ye Olde Saloon, City Tavern, Motor City Gas, Jolly Pumpkin, Bar Louie, Tequila Blue, The Morrie, O'Tooles, Fifth Ave, Pronto, Royal Oak Taphouse, Rock on 3rd
We Encourage Guests To Come to Town Early. Royal Oak Has Many Great Restaurants & Retailers to Start the Afternoon Off Before You Check in For Your Crawl!
𝗥𝗘𝗚𝗜𝗦𝗧𝗥𝗔𝗧𝗜𝗢𝗡 𝗟𝗢𝗖𝗔𝗧𝗜𝗢𝗡𝗦:
City Tavern, Royal Oak Taphouse, Fifth Ave (Registration 2-6 PM)
Over 1500+ Country Fans, Your Favorite Country Music, Cowgirls, Cowboys, And You! Let's Go Country!
𝗧𝗜𝗖𝗞𝗘𝗧𝗦 𝗜𝗡𝗖𝗟𝗨𝗗𝗘:
⭐️ Wristband for $3-$4-$5 Beer, Cocktails & Shot Specials at all Participating Locations (WRISTBANDS REQUIRED for all Bar Crawlers)
⭐ No Cover & Expedited Admission to All Participating Locations
⭐️ Entry into our Faster Horses Festival Ticket Giveaway
⭐️ Contests and Free Drawings to Win Prizes
⭐️ Gone Country Wristband & Bandana
⭐️ Over 1000+ Dressed in Their Best Country Style
⭐️ Event Photographer Capturing Memories
⭐️ Keepsake Photobooth
⭐️ Karaoke
🤠 Guests Must Wear Their Wristband To Receive Drink Specials, No Cover & Expedited Admission at All Participating Locations
𝗟𝗜𝗩𝗘 𝗠𝗨𝗦𝗜𝗖 𝗘𝗡𝗧𝗘𝗥𝗧𝗔𝗜𝗡𝗠𝗘𝗡𝗧:
• TBD
𝗗𝗝 𝗘𝗡𝗧𝗘𝗥𝗧𝗔𝗜𝗡𝗠𝗘𝗡𝗧:
• TBD @ The Morrie (music videos)
• TBD @ Tequila Blue
• TBD @ Fifth Ave
• TBD @ O'Tooles
𝗣𝗛𝗢𝗧𝗢 𝗕𝗢𝗢𝗧𝗛:
• Craft Bar
𝗞𝗔𝗥𝗔𝗢𝗞𝗘:
• City Tavern
• Pronto!
𝗚𝗔𝗠𝗘𝗦:
• Shuffleboard, Darts, and Pool @ Ye Olde Saloon
• Pool, Darts, Pop-A-Shot @ Fifth Ave
• Darts @ Rock On 3rd
• Darts @ O'Tooles
𝗘𝗡𝗧𝗘𝗥 𝗧𝗢 𝗪𝗜𝗡 𝗙𝗔𝗦𝗧𝗘𝗥 𝗛𝗢𝗥𝗦𝗘𝗦 𝗧𝗜𝗖𝗞𝗘𝗧𝗦:
• TBD
𝗘𝗡𝗧𝗘𝗥 𝗧𝗢 𝗪𝗜𝗡 𝗖𝗢𝗡𝗧𝗘𝗦𝗧𝗦:
• HALLOWCRAWL Tickets @ Bar Louie
• MONSTER'S BALL Tickets @ Ye Olde Saloon
• BOURBON & BREWS Tickets @ Rock On Third
• DETROIT SEAFOOD FESTIVAL Tickets @ Oak City Grille
• BOATHOUSE BEER FEST Tickets @ City Tavern
• RO VODKA FEST Tickets @ Pronto Lounge
• LITTLE BLACK DRESS Tickets @ The Morrie
• WHISKEY N WINE FEST Tickets @ Motor City Gas
• SANTACON BAR CRAWL Tickets @ RO Taphouse
• NEW YEARS EVE Tickets @ Tequila Blue
𝗦𝗨𝗚𝗚𝗘𝗦𝗧𝗘𝗗 𝗔𝗧𝗧𝗜𝗥𝗘:
LET'S GET COUNTRY!!! 🤠
Suggestions: Cowboy Boots, Plaid, Jeans, cut offs, Bandanas, All things 'Merica, Bolo Ties, Spurs, Annie Oakley, John Wayne, Calamity Jane, Billy the Kid, Sheriff Stars, Dusters, Wyatt Earp, Doc Holiday.
Group Ideas: Your Favorite Country Band, Wild Wild West Characters, Sheriffs and Outlaws, Rodeo Clowns, Horses, Steers, Dallas Cowboys Football Team... get Country Creative!
Don't want to dress in the theme? No worries… not required, just strongly suggested.
SOCIAL MEDIA COSTUME CONTEST: 📷
We want to give you CASH and PRIZES! 💸 Tag us (@royaloakbarcrawls AND #royaloakbarcrawls) to be featured on our social media platforms.
The best photos/videos will win Cash and Prizes! So come fresh and ready to impress we can't wait to bar crawl with you!
𝗣𝗔𝗥𝗞𝗜𝗡𝗚 𝗜𝗡𝗙𝗢:
Parking Structures around Downtown Royal Oak. ROYAL OAK PARKING MAP HERE
𝗥𝗜𝗗𝗘 𝗦𝗛𝗔𝗥𝗘:
Please Arrange For A Safe Ride Home w/ Uber or Lyft
𝗛𝗢𝗧𝗘𝗟 𝗦𝗣𝗢𝗡𝗦𝗢𝗥:
Enjoy 20% Off your stay at Hotel Royal Oak when booking online at HotelRoyalOak.com with promo code: 𝗥𝗢𝗕𝗖𝟮𝟬
We look forward to having a great time with you!
𝗥𝗢𝗬𝗔𝗟 𝗢𝗔𝗞 𝗕𝗔𝗥 𝗖𝗥𝗔𝗪𝗟𝗦
ps. Friends and Attendees, Nothing Makes An Event More Special Than Your Genuine Support. Please Invite And Share This Special Event. Great Memories Ahead!
𝗢𝗙𝗙𝗜𝗖𝗜𝗔𝗟 𝗛𝗔𝗦𝗛𝗧𝗔𝗚𝗦:
#GoneCountryBarCrawl #GCBC23 #RoyalOakBarCrawls #ROBC
𝗕𝗘𝗡𝗘𝗙𝗜𝗧𝗜𝗡𝗚 𝗖𝗛𝗔𝗥𝗜𝗧𝗬:
• Royal Oak Youth Assistance
𝗣𝗢𝗪𝗘𝗥𝗘𝗗 𝗕𝗬:
• Royal Oak Bar Crawls, RO Social Events, Detroit Social Events, The Social Connection, Hyype Boyz, Blaz Detroit, Elive Media and Entertainment
QUESTIONS ?
EMAIL: RoyalOakBarCrawls@gmail.com
TEXT or CALL: (248) 543.1000
JOIN THE TEAM! GET PAID TO PARTY!
- If you are social and fun-loving fun loving and want to join our team sign-up on our website at RoyalOakBarCrawls.com
ALL TICKET SALES ARE FINAL – NO REFUNDS
- Scannable tickets will be emailed in the purchaser's name. If a purchaser is unable to attend, tickets are transferable.
OTHER UPCOMING EVENTS: