Description
11.10

Friday

(Latin/Reggae)
10-piece Chilean roots reggae legends:
Fayuca
Sol Seed
$15 - $25adv
Nectar Lounge
412 N 36th St
BOOTH RESERVATIONS NOW AVAILABLE!
We are a majority standing-area venue with seating on our heated and covered patio as well as our newly remodeled mezzanine. All seating is first come first serve however, we do have eight booths available for reservations on our mezzanine. Booths 1-6 seat two to four people, booth 7 seats five and booth 8 seats six to eight.
All table reservations are now made at checkout.
Booth reservations are sold on a first come first serve basis.

Reserve multiple booths for larger parties and we will seat you together.

See "Additional Items" on the bottom of checkout page for available booths. If you do not see "Additional Items" unfortunately all booths are SOLD OUT.

We try our best to guarantee your reservation all night, though we ask you to arrive within 2 hours after doors open.

We no longer reserve high top tables behind booths but we encourage people to arrive early to claim available space.

We offer food service once doors officially open. See listing above for specific door time.
GONDWANA
For years, the Chilean band Gondwana has been spreading the word of Jah Love. Emerging from the Latin root in reggae, Gondwana brings forth a fresh blend of Latin and Jamaican rhythms. With pulsating energy and a smooth sound, nine polished musicians are the soul of Chile's number one reggae band.
Songs of love, social commentary and spiritual praise, Gondwana reveals positive messages that serve as an uplifting vibration for fans of all musical genres. Spirit moving falsetto notes, bubbling bass, hard drums, tight horns and guitars with the ability to move with ease in a sound ranging from calypso to hard rock; are the skillful ingredients found in the highly acclaimed Gondwana.
Without a doubt, Gondwana is one of the most prestigious, solid reggae bands to emerge from South America. With a constant movement across the continent and an endless myriad of vibrant live shows, Gondwana continues to deliver a bullet-proof repertoire of hits and new material. The band is internationally recognized as Chile's most successful musical act.
Already superstars in their native Chile and throughout South America, Gondwana has been gaining very enthusiastic fans throughout the world one by one. From humble beginnings in La Pincoya, a northern Santiago ghetto, to a leading position in Chilean pop music, Gondwana has remained true to their original posture, standing tall and strong in a peace-loving position of musical and lyrical creation.
Formed in 1987, Gondwana has been awarded several multi-platinum albums throughout its 24 year career. Additionally they've performed numerous times in what are known to be some of the most important festivals throughout the continent. Recently, Gondwana has performed at the legendary "Reggae on the River Fest" earlier in 2011 in California, "Rock Al Parque" Colombia, "Vive Latino" Mexico, "Pepsi Music Fest" Argentina, "Cosquin Rock" Argentina, "Quito Fest" Ecuador and on numerous occasions at the prestigious "Vina del Mar Festival" in Chile. Upcoming shows November 17th at The Social (www.thesocial.org) in Orlando Florida followed by "Bayside Rocks Music Fest" (www.baysiderocksfestival.com) in Miami, Florida on November 19th, sharing the stage with the legendary Bunny Wailer, the original Wailers and Cultura Profetica to name a few.
A surprising aspect of Gondwana is their notable digital activity as demonstrated by their ever-growing YouTube fan base that's currently over 40 million views with an average of 30,000 monthly visitors accessing the band's official website www.gondwana.cl. This can only be attributed to a rarely witnessed romance between the band and its fans. The fact that the band maintains such incredible web fan base demonstrates what a massive impact the band has in order to reach millions of young hearts across the world, especially considering that the band has lacked the support from prominent producers or the support of any one of the major record labels during recent years.
At the beginning of 2011 the band released their first official best-of, titled "Pincoya Calipso" (Sony Music). The 17 re-mastered tracks are compiled from the band's catalog along with 2 new songs that are an anticipation of their new studio album scheduled for a 2012 release.
After an extensive 2011 touring schedule that included several dates in Chile, Argentina, Uruguay, Venezuela, Canada, Mexico and the US, Gondwana began pre-production of their upcoming new studio album (not yet titled).
The new album will be recorded at Gondwana's own studio and will feature their new lead singer, MC Jona. Additionally Gondwana was invited to participate on 2 tracks "Could You Be Loved" & "Concrete Jungle" for the upcoming 2012 release "Tribute to Bob Marley 2" featuring
GONDWANA is comprised of the following members:
I-Locks Labbe on bass, MC Jona on lead vocals, Yayo Loyola on drums, Leo Dread on percussion and background vocals, Pancho Contreras on trumpet, Keno "Fingaman" Valenzuela on keyboards and background vocals, Hugo Prado on trombone, Gato Ramos on saxophone and Pez López on guitar.
Fayuca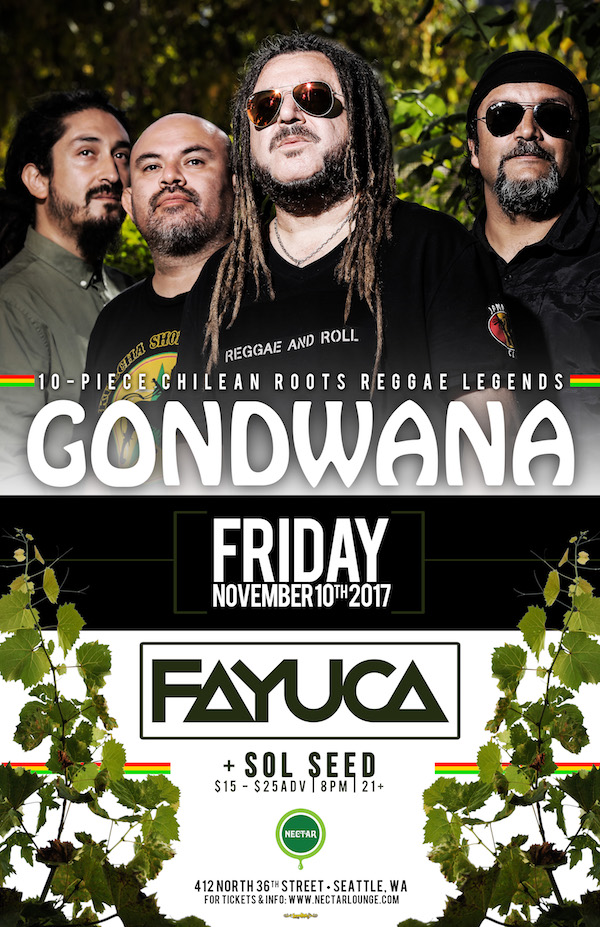 Date and Time
Location
Refund Policy