GOLLY GEE WHIZ!-Only 7 shows!
GENERAL INFO ONLY
THUR Jul 1 @ 7:00pm
FRI Jul 2 @ 7:30 pm
SAT Jul 3 @ 1:00 pm
THUR Jul 8 @ 7:30 pm
FRI Jul 9 @ 7:30 pm
SAT Jul 10 @ 1:00 pm
SUN Jul 11 @ 3:00 pm
Event Details
This page is for general information.  To purchase tickets, click on the link below.  On that webpage, you will see each show date and time.  This webpage displays the performances in random order.  
Please look carefully at the date you select and double check that it is correct before you finalize your order.  --Thanks!

CLICK HERE to get your online tickets NOW!  All Tickets General Admission $15 See below for Saturday special!
Show Dates:  July 1 - 11
Showtimes:  Thursday & Friday @ 7:30 pm, Saturday @ 1:00 pm and Sunday @ 3:00 pm   (No Show on Sunday, July 4.)  Opening Night, July 1, 7:00 pm Showtime!  One night only at that start time! 

Golly Gee Whiz is a fun and frolicking family musical based on the classic Judy Garland and Mickey Rooney films of the 1930's. It is 1939 and even the town of Happyville is depressed, especially the kids. But what can a group of kids do to change the town's economy? "Hey, kids let's put on a show!" says Mickey. "I know my father's got a barn!" exclaims Judy. They are sure it will be such a great show that folks will come from miles around to see it, and re-establish Happyville as the bustling town that it once was. This musical in its New Orleans' premiere from the TADA! Youth Theater in New York City, has a book and music by Eric Rockwell and book and lyrics by Joanne Bogart.
The show features Madeleine Bourgeois as Judy and William Hahne as Mickey featuring Miles Ballard, Calli Farrell, Tristin Harrell, Faith Marie Jackson, Alexis McQuarter, Clara Souvignier, Annie Taffaro, and Mitzi Zitler.  Rounding out the cast are Kayla Alvarez, Azmar Eli, Mary Kaitlyn Kimbrough, Kayla Lewis,  Madeline Moore, Tyrus Norcise, Anre' Robichaux and Jayla Williams as the "kids on the set crew" and Mimi Bernard, Amaayah Bryant, Taylor Collins, Molly Gaffney, Kerry Lewis and Brynna Robert as the "little kids."  
The NORD/CCLYT production staff includes Samantha King, director; Myisha Dunn, choreographer; Julie Condy, music/vocal director; Olivia Long with Carolina Gallop, costumers; Michael Dixon, scenic designer; and Mark Montalbano, lighting designer. 
Only 7 performances!  HERE'S the link to get your tickets NOW!
Saturday Special - 1 Adult & 1 Child age 12 and under  -  $23! Quantities are limited.  Buy now to get this special price!
Ticket sales are only via this website up to 3 hours before showtime or at the NORD Ty Tracy Theater one hour before show time. (Sorry no phone sales or reservations.)
If this performance is sold out online, there will still be 15 tickets available at the door including standing room.  First come, first served.  The box office opens one hour before showtime.  All seating is general admission.  Handicapped seating is available. 
Get your tickets early for this fun family event!
For group sales of 20 or more, please call 504-598-3800 or email info@crescentcitylights.org.  Your call or email will be returned as soon as possible. 
The show is suitable for ages 3 and up. 
Show length:  1 hour 15 minutes (we think!)
Parking:  Available on the street and in nearby lots on St. Charles Ave. and on Carondelet St.  Meter parking before 6 pm weekdays and Saturday.
Tickets are nonrefundable.  Ticket exchanges for a different date are only possible if there are tickets remaining online and are not possible for sold out performances.  There is a $1.36 per ticket surcharge for tickets purchased online. 

Have questions about GOLLY GEE WHIZ!-Only 7 shows!GENERAL INFO ONLY THUR Jul 1 @ 7:00pm FRI Jul 2 @ 7:30 pm SAT Jul 3 @ 1:00 pm THUR Jul 8 @ 7:30 pmFRI Jul 9 @ 7:30 pm SAT Jul 10 @ 1:00 pm SUN Jul 11 @ 3:00 pm?
Contact Crescent City Lights Youth Theater
Where
545 St. Charles Ave.
New Orleans, 70130


Organizer
The Crescent City Lights Youth Theater is New Orleans' only community theater presenting musicals with casts of children ages  8 - 17.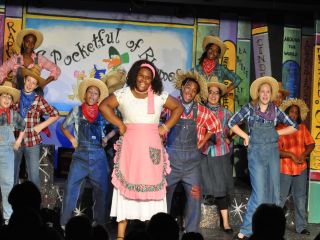 Since 1993, CCLYT has presented over 40 productions since its inception in 1993 with 20+ productions held at the NORD Ty Tracy Theatre from 2006-14.  Hundreds of children have come through the program with thousands of audience members.  CCLYT alums become successful adults in various fields including professional entertainment.
 AWARDS:  
January 2013, Most Outstanding Achievement in Music, Junior Theatre Festival, Atlanta GA
May, 2012 Best Kept Secret Award, Downtown Awards, Downtown Development District
January 2012, Most Outstanding Achievement in Acting, Junior Theatre Festival, Atlanta GA
March 2011, 3rd Place Overall, Best Costume, Best Youth Actor, Best Youth Singer, Louisiana AACT Festival
January 2011, Most Outstanding Achievement in Music, Best Actor, Junior Theatre Festival, Atlanta, GA