Description
Thank you for your $100 down payment for the Spa & Golf Getaway!
You have secured your spot.
*This is a non-refundable down payment. For further information contact Azucena at (657) 549-2808.
Read Details Below ***Your following payments will be taken via VENMO or you can mail a check.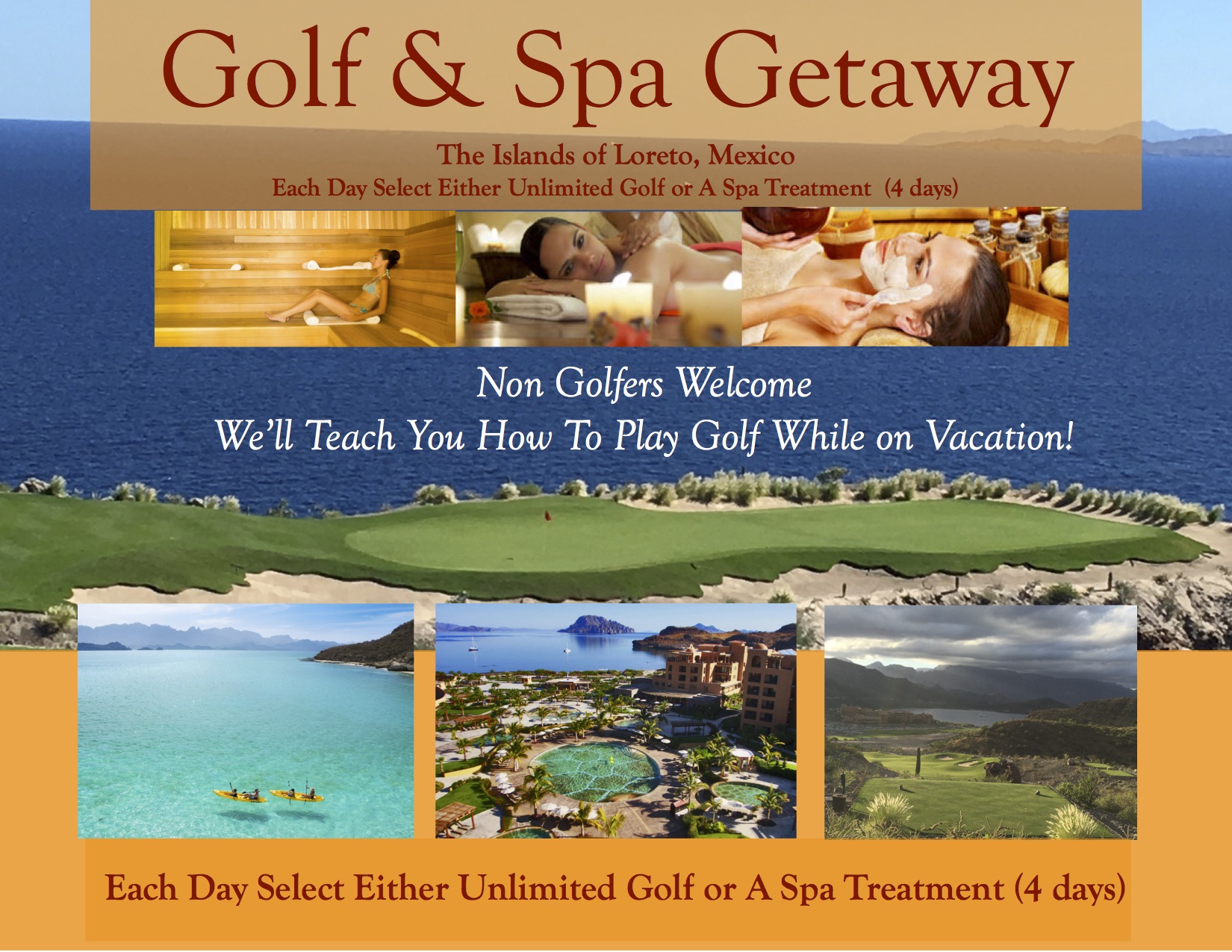 Package Includes:
4 days of Daily Unlimited Golf or A Daily Spa Treatment (You select every day between golf or spa)
Golf Clinic/s (Lessons) for Non-Golfers (You select every day between a golf clinic or a spa treatment) Novice Golf Agenda
Round-Trip Airfare from Los AngeleS (LAX) (2 hour flight from LAX - Alaska Airlines)
1 Transportation to and from the resort to airport - gratuity
Thursday, Friday, Saturday Resort Accommodations Including Taxes of 29%


Basic Package
Double Occupancy $1,500 Per Person (No Food or Beverages Included)


All Inclusive
Double Occupancy $1,725 Per Person (Includes Food & Alcoholic Beverages)


Basic Package
Single Occupancy $1,825 (No Food or Beverages Included)


All Inclusive
Single Occupancy $2,050 (Includes Food & Alcoholic Beverages)
Payment Schedule After $100 Down Payment:
$300 - Due by May 10, 2017
$300 -
Due by June 20
$500 - Due by August 1, 2017
Final Balance due by September 1, 2017
Cancellation Policy:
The $100 deposit is non refundable.
A cancellation prior to September 1, 2017 will receive a 50% refund on past payments.
No refunds will be paid after September 1, 2017.
Substitutions are allowed until October 13, 2017


All packages include:
Daily you will select either Unlimited Golf Play or 1 Spa Treatment (one per day but not both). Golf Play includes, golf cart, use of driving range, use of putting green, bottled water and hand towels OR the one (1) visit to the Spa per day (to choose from: Classic, Swedish, Chocolate Delight Massage, Wine Therapy, Deep Tissue, Manicure & Pedicure. We will have a program for Novice Golfers.
*All-Inclusive Plan includes:
Breakfast, lunch, and dinner at Market and Casa Mia restaurants. Danzante restaurant is not included.
Domestic and international beverages at our restaurants, Market and Casa Mia.
Room Service 7am - 11pm (a USD $2.50 surcharge will be applied for delivery)
Coffee kit (1 daily by request)
Show & theme nights
Daily turn down service
Jacuzzi / Roman Tub amenities (once per stay and only in suites)
Resort free activities and entertainment
Wireless internet access in public areas
Fitness center and wet areas at Sabila Spa
Use of kayaks and Paddle Boards, upon availablility
DOES NOT INCLUDE: Telephone calls, room service from 11pm - 7am, holiday and special event functions , lobster & fine cuts, complimentary premium liquors, wines and liquors by the bottle, laundry and dry cleaning service, snorkeling equpment, tours & excursions, Spa services.
October 19 - 22, 2017
Everyone Welcome!
***Alaska Airlines allows 2 carry-on bags. They also allow 2 check-in bags for a fee of $25 each. They must weigh less than 50 lbs or you will be charged an overage fee. One of these bags can be a golf bag even if it is an oversized bag.
Please check with Alaska Airlines for further details: https://www.alaskaair.com/?semid=f3b4760b-9f53-4146-b951-8fce66d40e10::19528066::||Evergreen||&gclid=CK319ID9otMCFYa4wAodgrsKNw