Sales Have Ended
Ticket sales have ended
Thank you for your interest in the Goldwater Institute's Annual Dinner. At this time, the event is sold out but please keep an eye out for future events by visiting goldwaterinstitute.org. For questions or concerns, please contact Shannon Stovall at (602) 633-8984 or events@goldwaterinstitute.org
Sales Have Ended
Ticket sales have ended
Thank you for your interest in the Goldwater Institute's Annual Dinner. At this time, the event is sold out but please keep an eye out for future events by visiting goldwaterinstitute.org. For questions or concerns, please contact Shannon Stovall at (602) 633-8984 or events@goldwaterinstitute.org
You Are Cordially Invited to the Goldwater Institute 2021 Annual Dinner! The Premier Liberty Event Returns for an In-Person Celebration.
About this event
Rising to the Challenge: The Fight To Save America
Featuring Florida Governor Ron DeSantis
In a year of significant economic, health, and educational trials, the Goldwater Institute continues to rise to the occasion, keeping up the fight to protect the American Dream.
Our mission is to work daily in capitols, communities, and courtrooms to defend and strengthen freedoms guaranteed to all Americans by the constitutions of the United States and all 50 states.
In celebration of our accomplishments, we invite you to attend the 2021 Goldwater Institute Annual Dinner - "Rising to the Challenge" - on Friday, November 5, 2021, at the Omni Scottsdale Resort & Spa at Montelucia.
All donations will support the Goldwater Institute's efforts nationwide to defend your right to life, liberty, and the pursuit of happiness.
Keynote Speaker
Florida Governor Ron DeSantis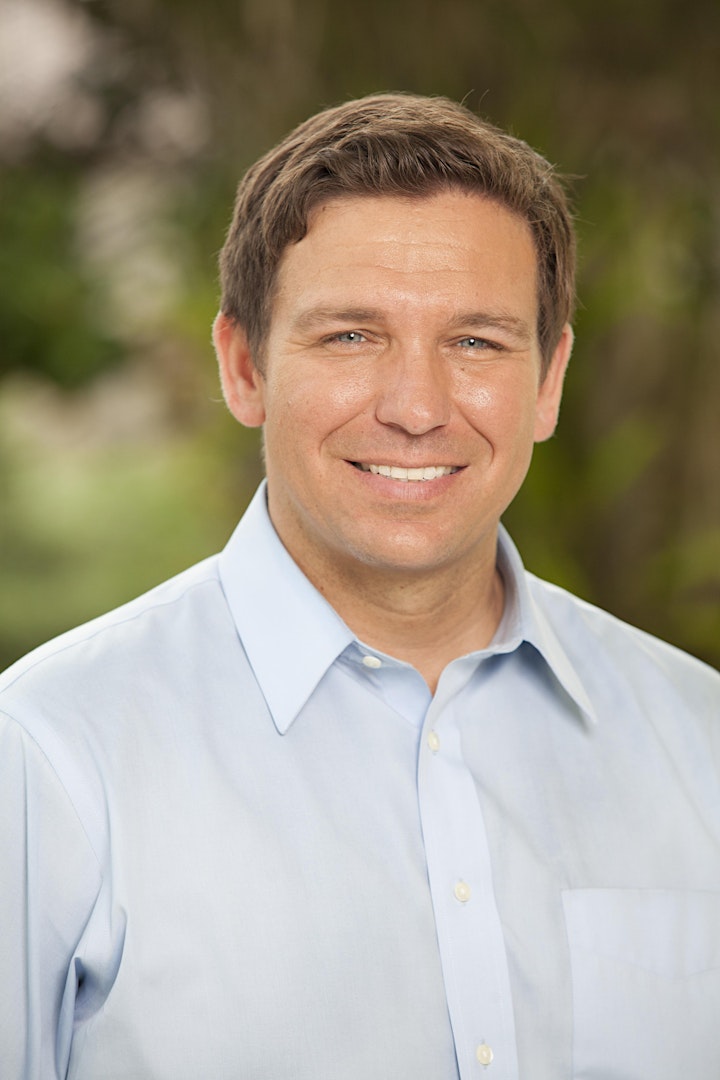 We will have an exciting announcement very soon about an additional speaker for this year's annual dinner!
Schedule
5:30 pm           General & VIP Receptions
6:30 pm           Formal Program Begins
Dinner
Goldwater Freedom Award Presentation
Kevin Jackson, Guest Speaker Address
Pledge Drive
Florida Governor Ron DeSantis Keynote Address
8:30 pm Formal Program Ends
Followed by Liberty on the Terrace After-Dinner Cocktail Reception
Event and Table Sponsorships
We offer exciting event and table sponsorship packages! Please note that tables will be limited to 10 guests. if you have any questions about event or table sponsorships please contact Shannon Stovall at events@goldwaterinstitute.org or by phone (602) 633-8984.
Accommodations
For hotel reservations at the Omni Scottsdale Resort & Spa at Montelucia, please call the hotel directly at 480-627-3200 or book your room using this link and enter the group code to make a reservation (located under Special Rates): 110521GOLDWATER
Parking
There is complimentary valet as well as complimentary self-parking available. Self-parking is in the underground garage and the private valet station is set up for you and your guests at the ballroom circle - which is just outside the main doors of the conference center. There are a couple turn offs from Lincoln that will take guests on to the property, and signage will point you towards Goldwater Institute event parking. Either turn off from Lincoln will lead to the same place.
RSVP
Please RSVP no later than Monday, November 1. For more information, please contact Shannon at (602) 633-8984 or email events@goldwaterinstitute.org.
Attire
Cocktail Attire
Deductibility
The Goldwater Institute is a 501(c)(3) tax-exempt research and litigation organization. A portion of all event contributions will be tax-deductible. The exact tax-deductible amount will vary by sponsorship level.
Dietary Restrictions
When registering for the event, a prompt will ask you to include any dietary restrictions you have towards the end of the registration form. If you have any additional questions or concerns, please email events@goldwaterinstitute.org.
Guests
Guests must be confirmed two weeks prior to the event. Seats will not be reserved without guest information. Names can be submitted through the online Eventbrite form, or by email to events@goldwaterinstitute.org.
REFUND POLICY: Refunds are issued up to 10 business days prior to the event, but will not be issued after that. 
Organizer of Goldwater Institute 2021 Annual Dinner
The Goldwater Institute is a leading free-market public policy research and litigation organization that is dedicated to empowering all Americans to live freer, happier lives. We accomplish real results for liberty by working in state courts, legislatures, and communities nationwide to advance, defend, and strengthen the freedom guaranteed by the constitutions of the United States and the fifty states.
Founded in 1988 in Phoenix with Senator Barry Goldwater's blessing, the Institute focuses on advancing the principles of limited government, economic freedom, and individual liberty, with a focus on education, free speech, healthcare, equal protection, property rights, occupational licensing, and constitutional limits.
The U.S. Constitution provides a basic minimum of protection for individual rights, while leaving states free to enact laws that protect those rights more broadly. That's why we direct our efforts at the states, the "laboratories of democracy," to introduce innovative ideas that expand freedom. And that's why we litigate in state courts to defend individual liberty.