About this Event
Stamina & DJ Dials resent
GOLDIE with MC ARMANNI REIGN
JAMAL - METHOD ONE
Thursday December 12th -- 10pm -- Ages 21+
Table Reservations: BottleService@1015.com // 415-988-3099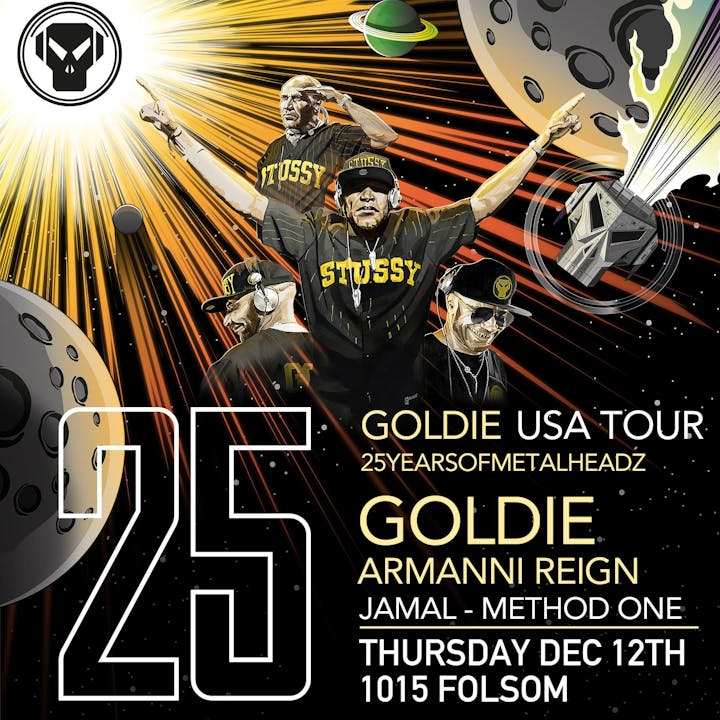 GOLDIE
Goldie emerged as the breakout superstar of jungle/drum'n'bass during the '90s, and remained the genre's most visible figure throughout the following decades. While many electronic music producers during the '90s were content with facelessly pumping out tracks designed for DJs and club play, Goldie was a true personality, combining roots in hip-hop and graffiti culture with jazz and soul influences, as well as a sense of ambition grand enough to rival most classical composers. While he has often worked in collaboration with other producers and engineers, including Rob Playford, Optical, and Technical Itch, he's responsible for envisioning ideas far beyond the scope of most drum'n'bass artists. Early singles such as 1992's "Terminator" (as Metalheads) pioneered the timestretching technique and ushered in the darkside movement. Goldie's full-length debut, 1995's Timeless, remains his crowning achievement, as well as one of the few jungle releases to reach a wide audience outside of the underground scene. Its 1998 follow-up, the misunderstood SaturnzReturn, was even more ambitious and personal. Since then, his celebrity status in the U.K. has only increased, as he's appeared in several movies (including the 1999 James Bond flick The World Is Not Enough) and television programs (particularly reality shows). He was appointed a Member of the Order of the British Empire in 2016. While he's continued releasing music as Rufige Kru in addition to running the crucial Metalheadz label, his third proper solo album, The Journey Man, didn't arrive until 2017.
A native of Walsall, England, Goldie was born to a Scottish-Jamaican couple and put up for adoption. He bounced around child-care homes and several sets of foster parents during his childhood years, and became fascinated with the rise of hip-hop, breakdancing, and graffiti art. By 1986, he was involved with breakdancing crews around his home of Wolverhampton; after making several trips to London for all-day breakdancing events (and to see hip-hop pioneer Afrika Bambaataa), Goldie appeared in the English documentary on graffiti art called Bombing. He also spent time in New York and Miami (working in a market stall selling customized gold teeth), but returned to England by 1988. For a time, Goldie worked at the Try 1 shop in Walsall (also selling gold teeth), then moved to London. He began hanging out with two fellow heads from the British hip-hop scene, Nellee Hooper and 3-D (later of Massive Attack), and by 1991 he'd been introduced to the breakbeat culture that birthed jungle; at the seminal club night Rage, DJs Grooverider and Fabio pitched ancient breakbeats up to 45 rpm, blending their creations with the popular rave music of the time. Goldie was hooked on the sound of raw breakbeat techno, and he gradually switched his allegiance to jungle from the British hip-hop scene that later generated trip-hop.
Through his girlfriend DJ Kemistry (later to make her name as part of the mixing duo Kemistry & Storm), Goldie hooked up with Dego and Mark Mac, two of the most influential figures in the emerging drum'n'bass scene. The duo's Reinforced Records and recordings as 4hero were fostering an increasingly artistic attitude to the music, and Goldie learned much about breakbeat production and engineering at their studios. He appeared on an obscure white label 12" by Icelandic breakbeat hardcore duo Ajax Project, then debuted on Reinforced as Rufige Kru with two 1992 EPs: Killa Muffin and Darkrider. As Metalheads, the title track to his Terminator EP (released the same year) broke him into the jungle scene -- besides pioneering the crucial jungle concept of time-stretching (basically extending a sample without altering its pitch) the single evinced the growing separation between the uplifting rave scene and its emerging dark side, reliant on breakbeats and restless vibes.
The name was later taken for his influential Metalheadz Records, which released material from a legion of crucial jungle artists: Photek, Doc Scott, Dillinja, Source Direct, Peshay, J Majik, Alex Reece, Lemon D, and Optical, among others. Later singles such as "Angel" and remixes for 4hero's Reinforced label spread Goldie's fame, and in 1994 he signed a contract with London Records' dance imprint FFRR. His first major-label single was "Inner City Life," sung by British soul singer Diane Charlemagne. The song appeared on Goldie's 1995 full-length debut Timeless as part of the album's 20-minute title suite. He gained additional fame in early 1996, when an American tour supporting Björk sparked a relationship between the two and led to a brief engagement period before they called off a wedding. Goldie resurfaced in 1998 with a high-profile follow-up, SaturnzReturn, an epic two-disc set including one track, "Mother," that in itself broke the 60-minute barrier. The album received mixed reviews and didn't sell nearly as well as its predecessor, but three of its singles (including collaborations with KRS-One and Noel Gallagher) hit the U.K. Top 40, and the album has remained a favorite among some of the artist's most loyal fans. Goldie followed the album with the considerably more stripped-down Ring of Saturn EP.
Save for a handful of mix albums (most notably 2011's Fabriclive 58), two studio efforts credited to Rufige Kru (2007's Malice in Wonderland and 2009's Memoirs of an Afterlife), and Sine Tempus, the 2008 soundtrack to an unreleased film directed by the man himself, Goldie's career over the next two decades became less and less music-focused. He turned his hand to acting, appearing in Guy Ritchie's Snatch, the James Bond film The World Is Not Enough, and the perennial BBC soap opera Eastenders. He also appeared on a number of reality TV shows, including Maestro, where he learned how to conduct a symphony orchestra, and Goldie's Band: By Royal Appointment, where he put together a band of unknowns to perform at Buckingham Palace. He was awarded an MBE on the Queen's 2016 Honours list for services to music and young people. A career-spanning compilation, The Alchemist, was released by Rhino in 2013. Goldie's third solo studio album and first in nearly two decades, The Journey Man came out in 2017 through Cooking Vinyl. Guest vocalists on the album included Terri Walker, Naomi Pryor, José James, and Natalie Duncan, whom he had discovered while making Goldie's Band TV show. Later in the year, he collaborated with grime pioneer Skepta on the single "Upstart." 2018 saw the release of 25 Years of Goldie, a collection of remastered rarities, remixes, and unreleased tracks.