GVHC will be hosting an open house alongside the Merced County Hispanic Chamber of Commerce to celebrate 50 years of service.
About this event
Golden Valley Health Centers (GVHC) will be hosting an open house alongside the Merced County Hispanic Chamber of Commerce to celebrate 50 years of service, the second anniversary of opening the Northview location, and an unveiling of our Donor Wall.
We invite you to tour the facility, visit, meet new friends, enter give-away drawings, and help us kick-off our celebration of 50 years of GVHC's unwavering commitment to providing quality healthcare services to the underserved in Merced, Stanislaus, and San Joaquin counties.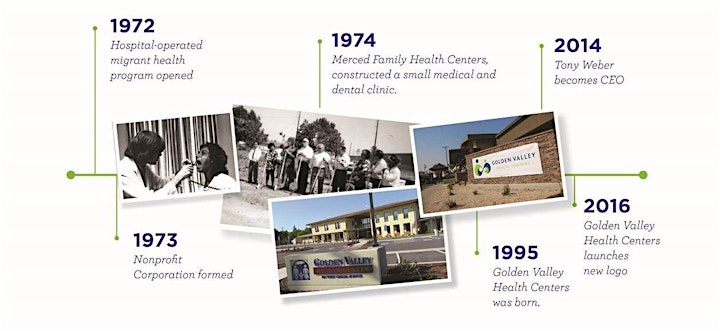 Golden Valley found humble beginnings as a hospital-operated migrant health program. When Mike Sullivan took charge as coordinator in 1972, it was the start of a long history of change and innovation.
The hospital separated from the county in 1972, and a nonprofit corporation was formed separately from the hospital to receive federal funding for migrant health.
This new nonprofit, Merced Family Health Centers, constructed a small medical and dental clinic and hired its first full-time medical doctor and dentist in 1974.
From there, the clinic blossomed, opening 11 satellite clinics and branching out to include services for those in Stanislaus County. The organization realized they needed to change their name to represent all those they served and in 1995, Golden Valley was born.
Throughout its history, Golden Valley became known for growing by leaps and bounds in terms of quality and services. Golden Valley has not only spearheaded the development of patient registries and population management for improved patient outcomes, but they've also developed cultural competency programs and continued to open new sites throughout the region.
In 2014, the current CEO, Tony Weber joined the organization and provided a fresh vision for the future. Under his leadership, Golden Valley has continued to increase in both the number of sites and patients served. The organization now has 44 sites and serves over 143,000 unique patients per year. In 2016, Golden Valley modernized its logo to revive its purpose in the community. Additionally, Weber's commitment to being the employer of choice has allowed for the hiring of the best and brightest providers to care for our patients. Join us to write the next chapter in Golden Valley's history.
GVHC is now 44 sites and growing, with over 143,000 patients being served every year—and Weber is eager to ensure that this is one legacy of care and commitment that will keep on growing.
While raising funds, we will also raise awareness of Golden Valley Health Centers, and celebrate the amazing work the doctors, nurses and administration staff provide to the community on a daily basis.
Golden Valley Health Center's Foundation reaches out to the community to secure resources in support of our mission to provide quality primary health care services to those who need us most, regardless of the financial ability. As a not-for-profit foundation, we now turn to you our community, to ask you to join us as partners of caring for those who need us most. Help us to meet critical needs, increase patient engagement, implement new delivery models, improve chronic disease management, and provide true community benefit to those who need us most.
Golden Valley Health Centers has served the health care needs of our growing communities, creating partnerships to diagnose and treat disease, as well as enhance health and overall well-being of the underserved.
Philanthropy is driven by the power of collective action to create a lasting change in health care. Golden Valley Health Centers respond to critical medical needs in our communities and invites you to join us in doing so. Donations, charitable contributions and gifts help improve health services and enhance the quality of life of people in your family, your neighborhood and your community.
Organizer of Golden Valley Health Center 50th Anniversary Open House