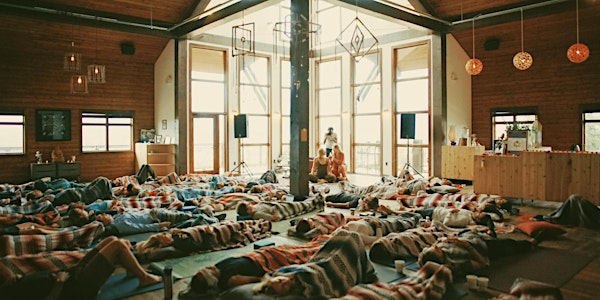 Golden Ray: A Breath and Sound Experience
Join us for a transformational breath and sound experience from the comfort of home. Ease stress, release limiting beliefs, detox the body.
When and where
Location
Zoom! Where else?
Refund Policy
Contact the organizer to request a refund.
Eventbrite's fee is nonrefundable.
About this event
How you breathe can transform your state of mind and your life. Join us for a virtual breathwork class that for many is a powerful and life-changing experience. Golden Ray is designed to rapidly move you into connection with your purpose, your intuition, and to personal empowerment.
What is breathwork, anyway? Breathwork is a practice that utilizes conscious breathing techniques to optimize the functioning of our mind, body, and nervous system. Many say that it is more effective than years of therapy. It is one of the world's most powerful tools in quieting the mind, unlocking creativity, releasing unresolved emotional blocks, and detoxing the nervous system. Some say it is the gateway to effective meditation.
This session is accompanied by music curated specifically for this practice. 
*If you are unable to attend the live session, we will send you the recording upon request which will be live for 24 hours. Please request the recording within one hour of the live session start time.*
Among the many benefits of this style of breathwork, this practice can help to:
unlock clarity, creativity, focus, insight and intuition
release stress, anxiety, pain, emotional blockage, grief, past trauma
create feelings of wellness, ecstasy, bliss
restore a connection to purpose
strengthen the lungs and diaphragm
stimulate the lymphatic system
detoxify the body
improve immune function
ALL OF OUR OFFERINGS ARE CURRENTLY BY DONATION.
Suggested donation is a sliding scale of $20 - $45, but we want to make sure that all are welcome and able to access this powerful experience. We trust that our participants will donate what they are able to - we are a small, independent business and are grateful for your support.
20% of all proceeds will be donated to the National Indigenous Women's Resource Center - a Native-led nonprofit organization dedicated to ending violence against Native women and children. For more information, visit https://www.niwrc.org/
Some important things to note for before this class:
You will need a phone or computer, and make sure you have the Zoom app downloaded (the Zoom link will be sent to you in your confirmation email). 
You will need headphones for the music (the most high quality that you have), if you have high quality speakers, that works too. 
Create a yummy and cozy space for yourself in the comfort of your own home! This journey will be mostly lying down. You can lie on your bed, couch, yoga mat or floor. 
We invite you to bring a blanket to cover your body and a pillow to place underneath your knees. 
Blindfolds can be helpful to go deeper into the practice (you can also use a scarf or hankerchief). 
Come with an open heart and an open mind.
It is an honor to share this practice. We are excited to dive deep and breathe with you!
In love and gratitude,
Casea + Emily
www.lionrituals.com
_______________________________________
CONTRAINDICATIONS + RELEASE OF LIABILITY
By purchasing a ticket and attending this class, I represent that I am in good health, and I will inform the course organizer of any limiting health conditions before the course begins. I further acknowledge that, if I am diagnosed with epilepsy; glaucoma; high blood pressure; any heart condition; brain/neurological condition; stroke; schizophrenia; schizoaffective, bipolar, or seizure disorders; pregnancy; and/or am a new mother or recent surgical patient, certain portions of this course may be unsuitable for me and I will consult with my medical provider before registering. Asthma is not a contraindication to this practice, however we ask that you have your inhaler as a safety precaution.
_______________________________________
By signing up for this class, you will be subscribed to our monthly newsletter where you will recieve information on our upcoming breathwork events, community workshops and classes, music releases and playlists, and more! You may unsubscribe at any time.