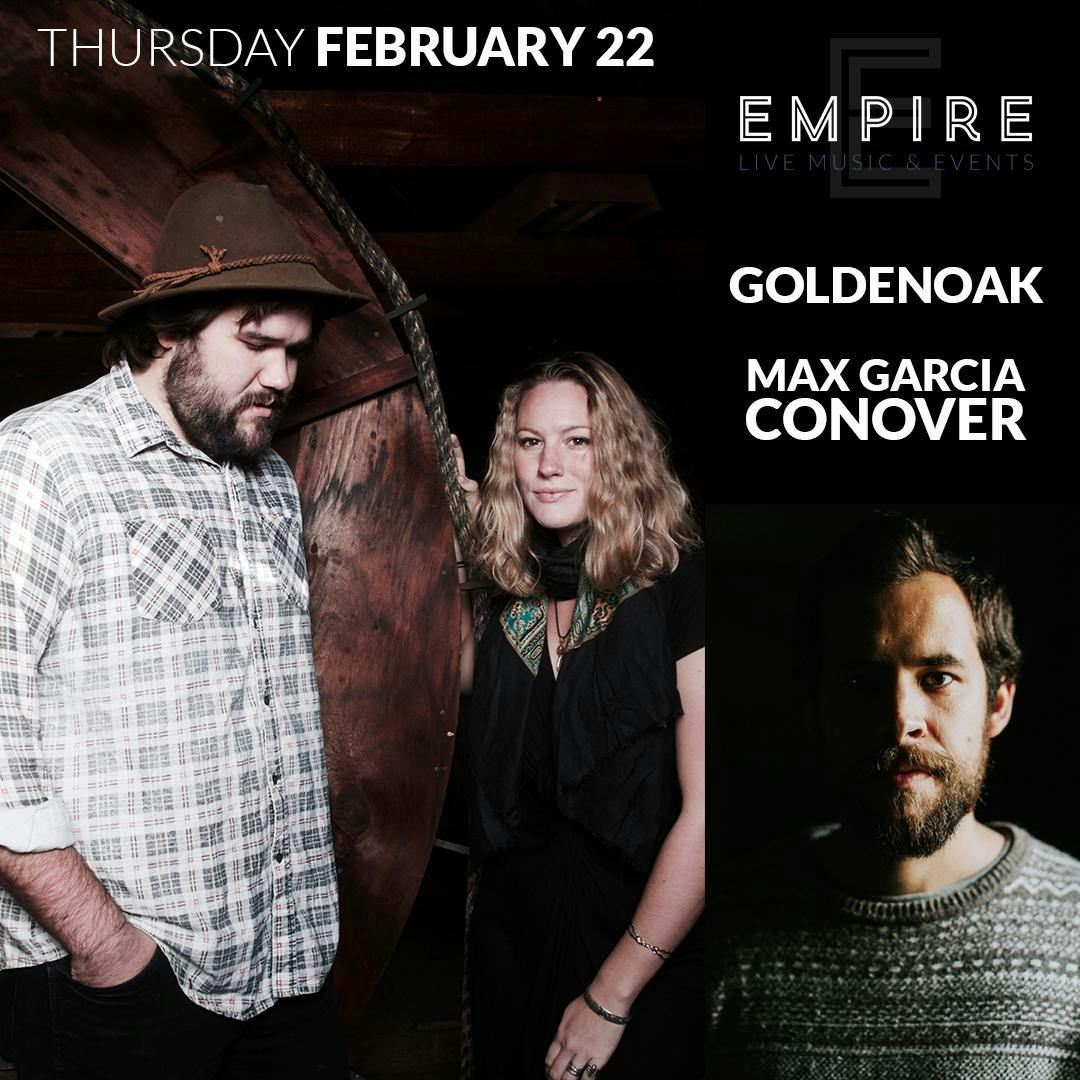 About this Event
GoldenOak is an Indie Soul-Folk band fronted by sibling duo Zak and Lena Kendall. Originally from the Sandy River Valley of Western Maine and now based in Portland, they began to write music and perform in 2014. GoldenOak released their first album, Pleasant St., in 2016 an album they co-wrote with cellist Seth Wegner. The full length album painted a landscape of the duo's childhood and their experiences growing up and leaving home. The original album with beautiful instrumentation and voice solidified the band as ambassadors of the Maine Folk Scene and earned them praise such as a nomination as "one of Portland's most important upcoming bands" by Dispatch Magazine. Over the last two years, they shared the stage with many notable artists such as Lady Lamb, The Ghost of Paul Revere, and The Mallett Brothers Band. In October 2017, GoldenOak released Foxgloves, a 6 track EP that builds on Zak and Lena's folk roots with a remarkable orchestral approach and earthy sound. The band kicked off their Foxgloves release tour with a sold out show at Portland's One Longfellow Square, and in December, Foxgloves was voted "EP of the Year" by the Portland Music Awards. Zak and Lena record and often tour with fellow musicians and band mates, Seth Wegner (cello), Max Eddington (piano), and Jackson Cromwell (percussion). Find out more at GoldenOakband.com.
Video - https://www.youtube.com/watch?v=3HJnH7Z8AbQ
Music - https://goldenoak.bandcamp.com/
Website - http://www.goldenoakband.com/
Facebook - https://www.facebook.com/GoldenOak-269662336517667/
Intigram - https://www.instagram.com/goldenoakband/
More info --> http://www.goldenoakband.com/epk/
Max García Conover is a songwriter & one-man band based in Maine. He grew up in New York and started writing songs while making his living as a busker in San Juan, Puerto Rico in 2007. He's since put out new music at a furious pace while touring North America & Europe; sharing the stage with Justin Townes Earle, The Weather Station, Frontier Ruckus, Jim Lauderdale, and many others; and releasing a new song most weeks through Patreon. 
Video - https://www.youtube.com/channel/UCYmqFf2d-gVV5_0kKCPETAQ
Music - https://maxgarciaconover.bandcamp.com/
Website - http://www.maxgarciaconover.com/
Facebook - https://www.facebook.com/maxgarciaconover
Intigram - https://www.instagram.com/maxgarciaconover/
More info --> http://www.maxgarciaconover.com/press/