Description
Royal Greetings,
You're cordially invited to the Golden Love Royalty Event on Valentines Day! The beautiful Fashion Entrepreneur and Reality TV Star Shatava Lindsey of "Ready To Love" TV Show and other surprise guests will be joining us, LIVE and in person!! Come spend an exciting evening with us for a night full of great music, delicious food, and dancing. The purpose of this event is to celebrate love, trust, and loyalty. Make sure to get your tickets early! This will be a star-studded event!

The Red Carpet & Cocktail Hour starts @ 7 pm, Thursday, 2/14/2019 - Ends at Midnight.
WATCH OUR Promo Video!! https://youtu.be/bfWdILwsJTM
Dress Code: Dress 2 Impress! Bring your dancing shoes!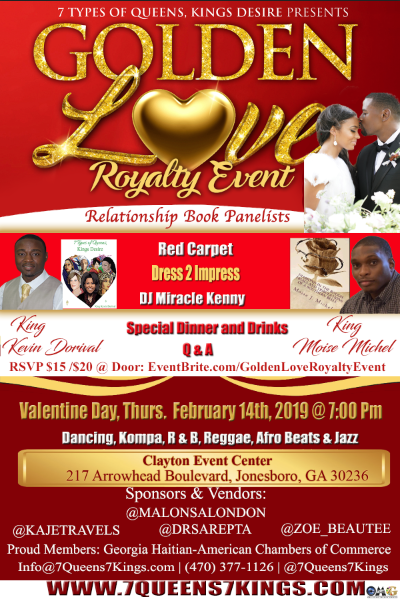 What To Expect:
Elegant Dinner

R & B Music, Kompa, Smooth, Jazz, AfroBeats, and Reggae

Golden Love & Relationship Panel Discussion with Queen Shatava Lindsey. The Authors of "A Thin Line Between Friendships & Relationships Volume 1," King Moise Michel & Queen Jeanie. King Kevin Dorival, filmmaker & author of "7 Types of Queens, Kings Desire" and "The Courage To Believe."

A lot of Fun, Dancing and Networking.
Thank You To Our Sponsors:
* @Mrs. Garcons Haitian Cakes - @MrsGarcons
* Kaje of @KajeTravel
* Dr. Sarepta Isaac - @DrSarepta
* Courage To Believe Int'l - @Courage2Believe
* Atlanta's Filmmakers Alliance - Facebook
We Love Our Supporters:
My African Waist Beads - @MalonSalondon
Proud Members of The Georgia Haitian American Chambers of Commerce
Carline of Zoe Beautee - @Zoe_Beautee
Register for the Dancing Contest and/or Speed Dating Game by emailing us: (name, age, occupation)
Follow Us On Social Media:
Queen Shatava Lindsey @IAMShatava

King Moise Michel @God_With_Many_Visions | King Kevin Dorival @7queens7kings

Hashtags: #GoldenLovePanel #GoldenLoveRoyalty #BlackLoveGold