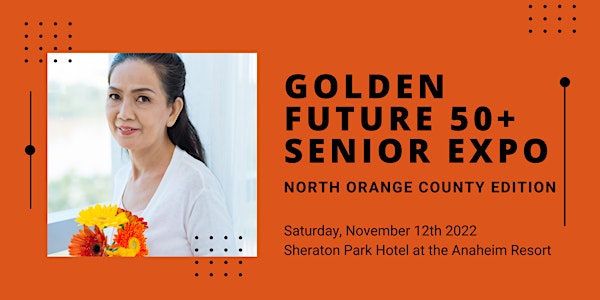 Golden Future 50+ Senior Expo - North Orange County Edition
We invite you to Come With Questions And Leave With Answers at Southern California's Premier Lifestyle, Health and Active Aging Expo.
When and where
Location
Sheraton Park Hotel at the Anaheim Resort 1855 South Harbor Blvd Anaheim, CA 92802
About this event
Come and meet the experts who can make your life Healthier, Wealthier and Happier!
The Golden Future 50+ Expo – North Orange County Edition taking place Saturday, November 12th 2022 from 9am – 1:30pm at the Sheraton Park Hotel at the Anaheim Resort (located at 1855 South Harbor Blvd, Anaheim, CA 92802) will display the most exciting and comprehensive range of products and services related to aging, retirement and improved lifestyle. This "Must-Attend" event will feature local and national businesses that will offer free samples and display the latest in innovative products and services. Learning opportunities will be around every corner: whether it be a medical breakthrough to improve your health and extend your life, volunteering or finding a new job, strategizing your finances to last through retirement, or gaining valuable advice on home improvement, aging in place or moving to a respected senior living community. We have it all!
Event Highlights Include:
FREE Admission
Complimentary Self-Parking
Complimentary Golden Future Tote Bag with Goodies
60+ Exciting Vendor Booths to Explore
Expert Speakers & Workshops to help you live your BEST LIFE
Health & Wellness Screenings to Know Your Numbers
Bingo with Cash Prizes
Hourly Door Prize Drawings That Will Make You Say WOW
Refresh Yourself with a Mini Makeover & Massage (TBD)
Entertainment Reminding You of the "Good Ole' Days"
DIY Arts & Crafts
AND Much More!
Pre-Register Today and don't miss this once-per-year event in North Orange County which will rejuvenate the mind, body and soul.
Not internet savvy? No problem! You can register at the door. This event is open to the general public and our goal is to bring another great event to SoCal Baby Boomers, Seniors, Caregivers, and Friends/Family.
Visit our website, www.GoldenFutureSeniorExpo.com approximately 5 days before the event to view the complete schedule.
Interested in reserving a booth? Contact us directly at 805-716-3303 or e-mail us at info@goldenfutureexpos.com.