| | |
| --- | --- |
| Golden Corral University Business Etiquette Dinner Tonight Dining is a Dance Look Polished Outclass the Competition 512 821-2699 Sunday AM Lesson 37.50 Austin Etiquette Food Tours | |
Event Details
University Business Etiquette Dinner Tonight 512 821-2699
Dining is a Dance Look Polished
Sunday Lesson 37.50  Outclass the Competiton
Austin Etiquette Food Tours Class Where You Eat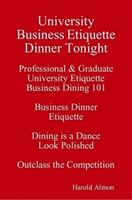 40 Minute Lessons 
One on One
Daily             10:00 AM  or 12:00 PM

Nightly          6:00 PM   or 7:00 PM 

Sun             10:00 AM  or  6:00 PM 
On Demand lessons available
University Business Etiquette Dinner Tonight  2 40 minute on demand, one-on-one, or group lessons, or semester course  8 weeks of tours, lessons, labs, consultations, and scheduled meals and gratuities. 
There comes a time to transcend dining hall behaviors and coffee shop ways, and to display business table manners - the rules of etiquette used for business dining. It is a ritual at which more than eating is done. Three course dinners are for beginners. Dining is a dance. Look polished. Outclass the competition.
Lessons or Questions Ask Harold Almon 512-821-2699   Register Eventbrite: Outclass the Competition
Save This Event
When & Where

Golden Corral
7300 I-35, Austin, TX 78745
Austin, TX 78745


Organizer
Harold Almon Etiquette and Life Skills Coach Director Career Services Professionals & Graduate Students Be at Ease School of Etiquette Austin Texas Outclass the Competition 512-821-2699
I, Harold Almon, provide  etiquette and life skills coaching, university business etiquette dinner tonight, university dining etiquette lessons, job interview dining etiquette lessons, Austin etiquette food tours - university dining club, university etiquette lessons, graduate career services, resume writing services and etiquette lessons, job sales kit preparation, and life skills etiquette guides that let professionals and graduate students link manners to etiquette, enhance performance, gain acceptance with a new perspective, and acquire soft skills keys to advance, be at ease, and outclass the competition.
Austin TX · http://baesoe.com
Golden Corral University Business Etiquette Dinner Tonight Dining is a Dance Look Polished Outclass the Competition 512 821-2699 Sunday AM Lesson 37.50 Austin Etiquette Food Tours