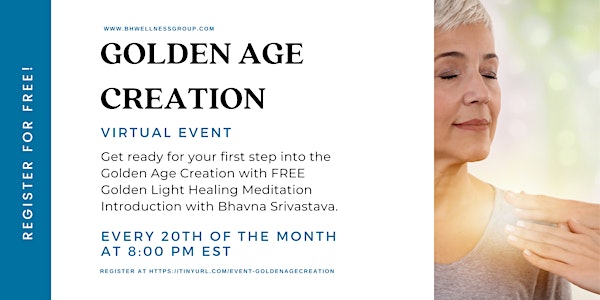 Golden Age Creation (Free Golden Light Healing Meditation)
Join the first step to Golden Age Creation and Healing Meditation for FREE!
About this event
We'd love for you to join the first step into the Golden Age Creation with FREE Golden Light Healing Meditation with Bhavna.
✨When: Every 20th of the Month at 8:00 pm EST
✨Where: via Zoom
✨Register for FREE on this zoom meeting link to reserve your slot: Register Here
What does the Golden Light do?
The power of the Golden Light gives us strength, boosts our energy, and helps us focus on life goals and achieve them. When we imagine ourselves surrounding by the Golden Light, coming down from the clouds, we allow positive universal energy to flow in our body and surround us like a protective shield. We feel the vibration of energies in our bodies and witness a change in our routine lifestyle.
What are you waiting for? Don't miss this chance! It's only held once a month.
✨Register for FREE on this zoom meeting link to reserve your slot: Register Here
Connect with us: bhavna@savingpeople.org | (+1) 774-242-2112 | savingpeople.org