Join us to unite our Asian and Black community! We must stand up together! Organized by middle schooler Ashlyn So.
About this event
Let's unite our two communities together in solidarity. The Black community and the Asian community need to come together. It is important that instead of solving our problems separately and separating our communities into two. We unite to become one and solve them together to make our voices heard and more powerful. We want to create a platform for people's stories and experiences to be told.
The rally will be held in Embarcadero Plaza at 1pm on May 22.
Please bring a sign to the rally. Masks are required for COVID-19 safety. Please help by spreading the word about this rally and share it with others.
We encourage all races and ages to join us!
Speakers Include:
Will Lex Ham: Founder of Asians In America, Community organizer, Activist, and Actor/Producer
Lateefah Simon: Akonadi Foundation
Max Leung: Activist and small business owner
Tiana Day: Activist and Youth Advocates for Change Founder
Asians With Attitude: Jenn Li & Kevin Ng
Loren Taylor: Oakland City Councilmember
Autumn Tillman: Musician
African American Affinity Group
Special thanks to the big contribution from Susan Choe (Katalyst Ventures), Jeremy Liew (Lightspeed), AI Fund, and Tillful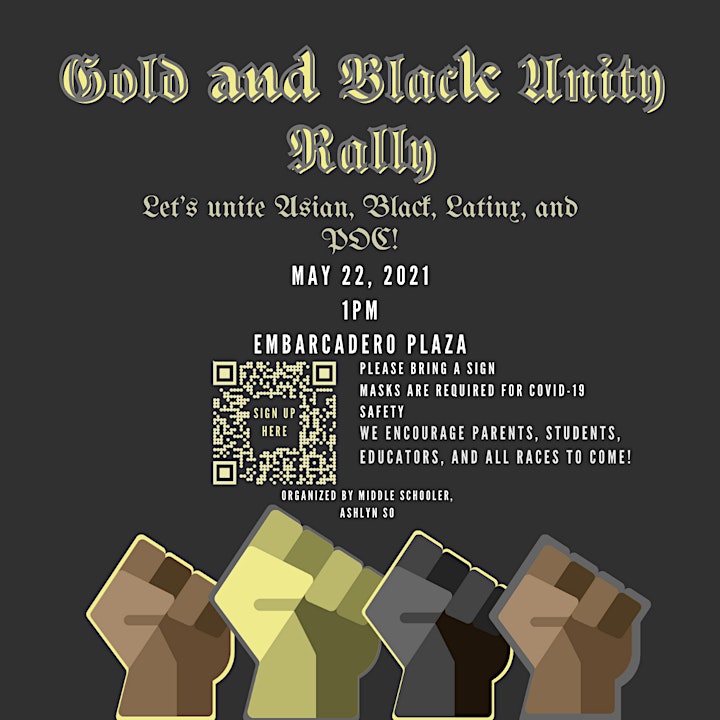 Organizer of Gold and Black Unity Rally: Let's Unite Asians, Black, Latinx, and POC!