Description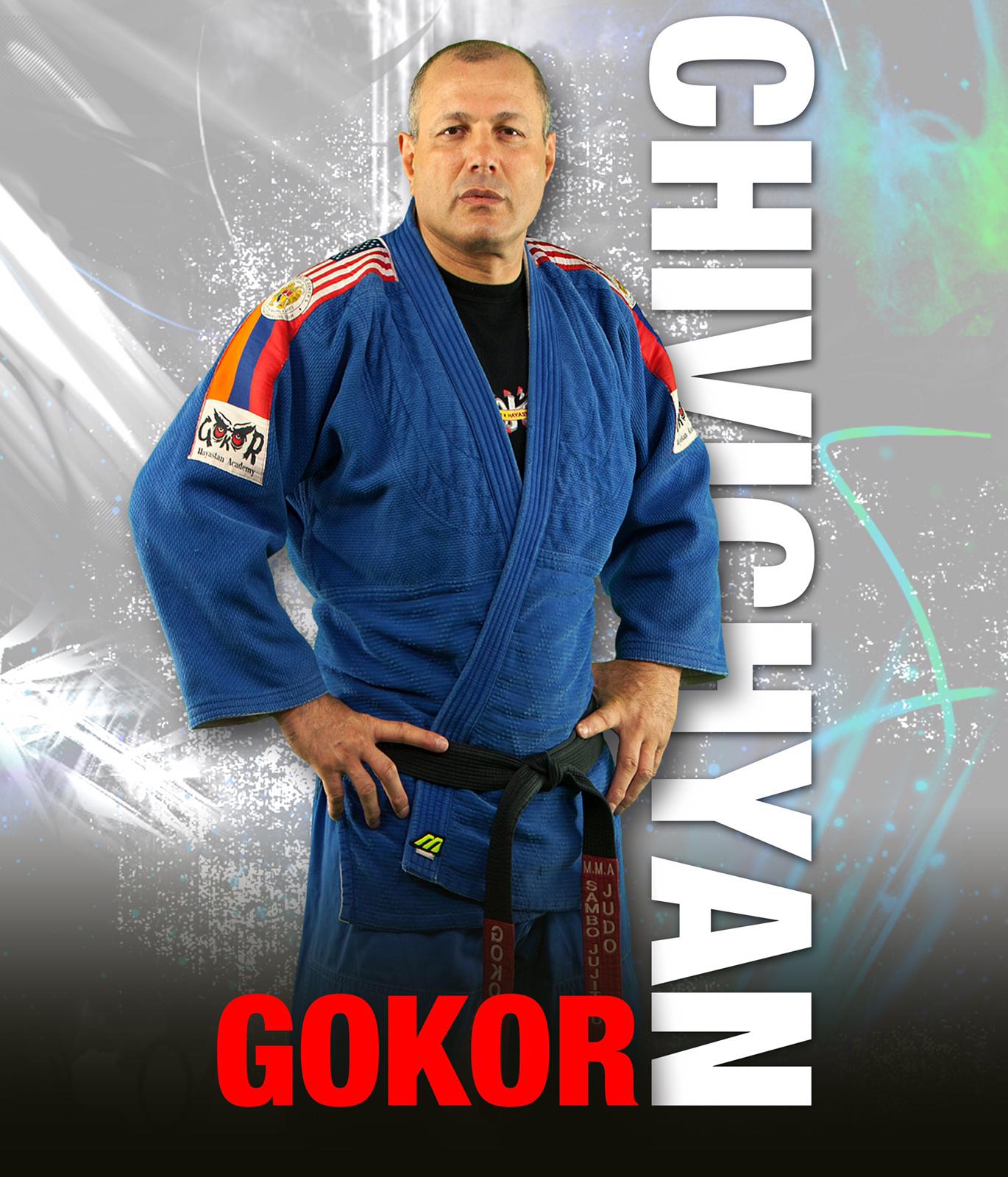 Gokor Chivichyan (born 1963) is an Armenian-American Judo, submission grappling, and mixed martial arts instructor. Gokor currently trains professional and amateur fighters at the Hayastan MMA Academy in North Hollywood. Chivichyan was born in Yerevan, Armenia.


Gokor began his training as a young child in Soviet Armenia, winning many national and international junior titles in Judo, Sambo, and wrestling. At the age of 17, Gokor relocated to Los Angeles, where he continued his training in no-gi submission grappling under Gene LeBell, a tremendous catch wrestler and America' 1st Judo champion.

Throughout the 1980s and early 1990s, Gokor traveled and competed in the Soviet Union and throughout Europe, Japan, Thailand, and Mexico. He amassed a record of over 400 wins and no losses over a career of competing in Sambo, Judo, Submission Grappling, and Mixed-Martial-Arts competitions. With the opening of the Hayastan Academy in 1991, Gokor retired from professional fighting, undefeated, and focused his time on teaching.

In 1997, Gokor came out of retirement to win a superfight organized by the World Fighting Federation. In 1998, he was named by Black Belt Magazine "Judo Instructor of the Year" and received the prestigious "Hall of Fame" spot. Since then he has produced in his school a new generation of fighters, such as Ronda Rousey, Manvel Gamburyan, Sako Chivitchian, Karen Darabedyan, Sevak Magakian, Roman Mitichyan, and Karo Parisyan, who have competed in the arena of the UFC, WEC, King of the Cage, Olympic and all National Judo Championships.

To the great surprise of many, Gokor competed again at the 2008 USJA/USJF Winter Nationals, the first National Judo Championship endorsed by both organizations. Gokor arrived unprepared for competition and without his gi; he was there to coach his team, which went on to win the overall tournament award with more gold medals than any other team. After being presented with a gi and heckled by tournament organizers and other coaches, however, Gokor agreed to participate. Competing with a pre-existing groin injury, he severely re-pulled his groin muscle in the first match (which he won), resulting in a voluntary forfeiture of his 2nd match. Due to the double elimination rules, he was allowed to continue after a brief break. Gokor agreed to continue and went on to defeat all of his opponents. He took Gold after defeating Gary Butts by uchi mata in the finals. Gokor holds an 8th degree Black Belt in Judo, a 6th degree Black Belt in Russian Sambo, and a 6th degree Black Belt in Jiu-Jitsu.
Gokor is also known for his unique takedowns, unique and never see finishing and amazing leglocks.

During the seminar, Gokor will cover Gi, No-Gi & MMA techniques.
Discussing with Gokor a few months ago, he suggested that the best will be to have a seminar that will cover Q&A. I think this is a fantastic idea since the crowd will have a chance to unlock question and doubt about the fascinating grappling and mixed martial arts universe.

Gokor will be on tour all around Europe and this will be the ONLY date available in Italy.
I look forward to seeing you on the mat next to this leaving legend.
OSS
Here few links about Sensei Gokor