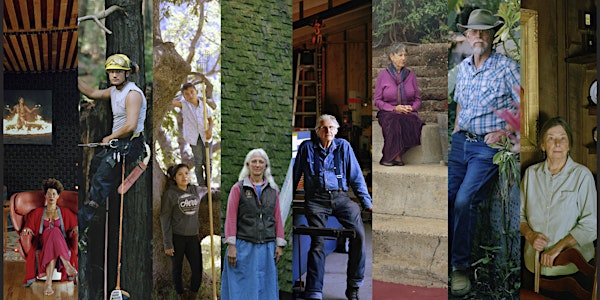 Going South - Big Sur, by Kirk Crippens
When and where
Location
Henry Miller Memorial Library 48603 Highway 1 Big Sur, CA 93920
Description
In the winter of 2017 extreme rain fell on Big Sur, California. Mountains ravaged by drought and fire could not hold the water. One of the main bridges on Highway 1 collapsed. Access to Big Sur was cut off from the north. About 30 miles to the south, the largest landslide in Big Sur history buried the highway, cutting off the road to the south. It would be more than a year before Highway 1 would reopen. During this time the 4 million tourists who visit Big Sur annually could not get in. Big Sur was empty and quiet while the locals began the rebuilding process and waited for the road to reopen.
Interested in photographing during the isolation, photographer Kirk Crippens hiked his large format camera into Big Sur. He was guided by Torre McQueen, who grew up in Big Sur, and spent the next two years exploring, meeting with the people who call the area home, and photographing. The work continued as the bridge was rebuilt and eventually the highway fully reopened in the summer of 2018.

Going South - Big Sur

A Bookpublishing Celebration.
7.30 PM Reception with the Photographer and some of the people involved in the project.
8.30 PM Kirk Crippens will take the stage to talk about the book, what inspired it and how it came to fruition. Included will also be several photographs and short films that are outside of the scope of the book.
9.15 PM Q&A
10.00 PM Conclusion

Tea, Coffee and some wine and beer will be served.
__________________________
People helpful in creating this book:

Micah Curtis
Terry Prince
Vanessa Share
Tracy Brockway
Winona Lewis
Myan McQueen
Mike Trotter
Tim Green
Rushad Eggleston
Holly Fassett
Jules Forrest
Martha Karstens
Eva Share
Magnus & Mary Lu Torén
Don and Mieke McQueen
Guy McQueen
Ivy LaVelle
Big Sur Campground employees
______________________
Kirk Crippens
www.KirkCrippens.com
Kirk@KirkCrippens.com