Description

ONLINE PRE-REGISTRATION WILL CLOSE AT 11:00PM EST ON SATURDAY! WALK INS ARE WELCOME AT GENERAL ENTRY $20.00 PER PERSON, MASTER DANCE CLASSES $20.00 EACH. REMEMBER TO SET YOUR CLOCKS FORWARD ON SUNDAY FOR DAYLIGHT SAVING TIME!! JOIN US FOR A COUPLE OF HOURS OR STAY THE FULL DAY!
Register now for the ....
Miami Going Pro Expo
Sunday, March 10, 2013
9:00am-6:00pm
Hollywood Production Building
2040 Sherman Street, Hollywood, FL 33020
Featuring presenters and choreographers from the industries of...
NFL cheerleading

NBA dance

Collegiate performance

Pageantry

Fitness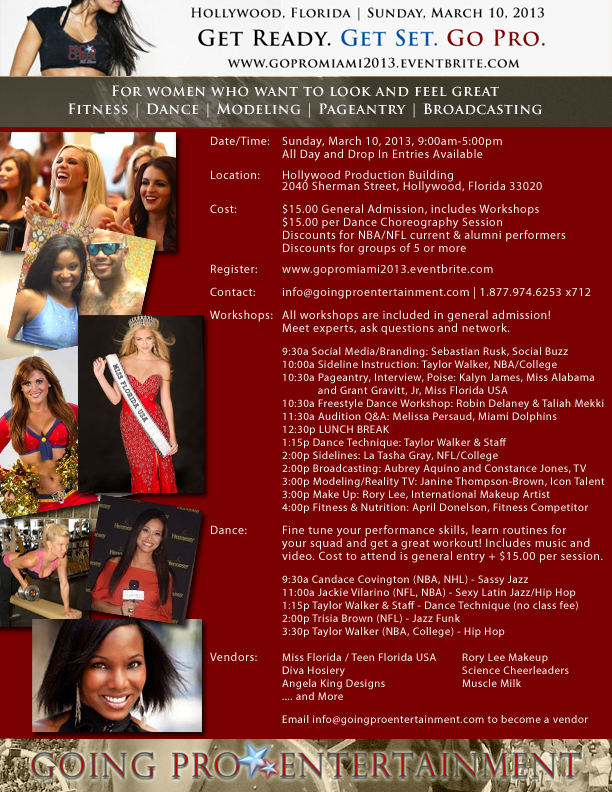 Costs ...
General Entry
$15.00 per person via online registration ($20.00 at the door)
**Current and alumni NBA and NFL performers receive a $5.00 general entry discount. Please contact Going Pro or a member of the event staff to receive the promo code.
**Groups receive $5.00 general entry discount when bringing 5 or more attendees. Send some group members to workshops and some to choreography sessions. Choose the group registration above.
Includes:
Vendors
Presentations
Dance Technique Class
Sideline Routines
Option to add Choreography routine sessions at $15.00 per routine
View Video from Recent Expos ... please wait to load.
Why Going Pro ...
Inexpensive Rates! Other conventions will charge you hundreds of dollars to attend a full weekend. Going Pro offers fabulous, fresh choreographers with quick in-and-out options or bring your team and stay the full day.
Incredible Presenters! We are more than just cheer and dance. As professional performers, our genres cross pageantry, fitness, broadcasting, modeling and more. If you are auditioning for the entertainment industry, you can learn about many options and how to make entertainment your career!
Results! Going Pro events have been held in over 15 cities since 2008. 100% of attendees have reported, "YES, this event was worth it!" and "YES, I would attend another Going Pro event!" It's time for YOU to discover Going Pro!
More Markets! Going Pro was founded in Kansas City and in four years has expanded to multiple U.S. markets and Canada. You don't have to travel far to attend a Going Pro Expo. We also schedule private team camps - so if you don't see your city or would like to host instructors, please contact Going Pro. 2012-2013 expo cities include Kansas City, Washington DC, Houston, Miami, and Atlanta through May 2013. Please visit the link below for an update on scheduling.
---
Please click on the choreographer's name for photo and background. Each choreography routine session requires a general entry fee plus $15.00 per class. Each choreography session is 90 minutes in length. Routines are 45-60 seconds in length with complimentary music files and routine videos. Some routines may have groups and formations. Please arrive 15 minutes prior to your class. Each class will begin with a short warm up and stretch. Attire should be comfortable dance/fitness wear.
All general entry tickets include access to the presentation, sideline instruction, dance technique class and vendor area. Browse vendors, get special offers and attend any of featured presentations by the industry's best! Attire should be suited to your activity. You are here to network so dress to impress!
9:30-10:15am Social Media/Branding: Sebastian Rusk, Social Buzz
10:00-10:30am Sideline Instruction: Taylor Walker, NBA - NJ & Univ. Oregon Dance Team
10:30-11:25am Pageantry: Grant Gravitt, Executive Producer of Miss Florida/Miss Florida Teen USA
10:30-11:25am Freestyle Dance Workshop: Robin Delaney & Taliah Mekki, NBA / NFL Alumni
11:30-12:15pm Interview & Poise: Kalyn James, Miss Alabama (MAO)
11:30-12:15pm Audition Q&A: Melissa Persaud, NFL - Miami
12:30-1:15pm LUNCH BREAK
1:15-2:00pm Dance Technique: Taylor Walker & Staff
2:00-2:50pm Sidelines: La Tasha Gray, NFL - Miami, Grambling State Orchesis Dance Co.
2:00-2:50pm Communication: Aubrey Aquino, NBA, NFL, TV and Constance Jones, Channel 10 News
3:00-3:50pm Modeling/Reality TV: Janine Thompson-Brown, ICON Talent, Former NBA Director
3:00-3:50pm Make Up: Rory Lee, International Makeup Artist
4:00-4:45pm Fitness & Nutrition: April Donelson, International Fitness Competitor
---
ABOUT THE PRESENTERS & CHOREOGRAPHERS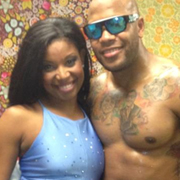 Trisia Brown - NFL Miami, Choreographer and Performer for Flo-Rida.
Trisia Brown
has 10 years combined professional dance experience as an NFL cheerleader and choreographer in Miami, where she was a four-year cheerleader and two-year captain
. She
was chosen as the 2004 ProBowl representative, appeared in four swimsuit calendars, and traveled to the Bahamas, Mexico, London and France performing as a member of their elite Show Team. From 2005-2009 Trisia was the choreographer for the NFL in Miami, and in 2010 was chosen as the head choreographer for the Pro Bowl Cheerleaders. She has over 20 years of dance and choreography experience in all disciplines and is currently the owner of a dance training school "The Studio" in
Miami
. Recently Trisia found a new home base of New York City while touring with award-winning celebrity musical artist Flo-Rida during his 2012 and 2013 tours. Trisia has choreographed performances with Flo-Rida and his team of dancers. Performances have included the MTV Music Awards, Wrestle Mania, Dick Clark's Rockin New Year's Eve in Times Square, the Ellen DeGeneres Show and more.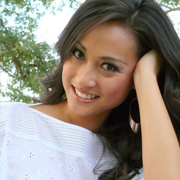 Aubrey Aquino - NBA Sacramento, NFL Oakland and NFL Arizona, Host of "On the Flipside" - Aubrey was born and raised in the Bay Area, California, and earned her B.S. in Broadcast Journalism from San Jose State University. Aubrey is a TV Reporter and Host. She is the creator and host of On the Flipside, and in Miami, Florida, her entertainment and lifestyle feature segments have been seen on Deco Drive/WSVN. Her other television projects include work with HEAT TV, The Welcome Channel and Comcast, plus she's lent her talents to E! News, Fox Sports Net and AOL.com. Over the years, she's interviewed many well-known celebrities like Hugh Jackman, Meryl Streep, Miley Cyrus, John Travolta, P. Diddy, Billy Bob Thorton, Forest Whitaker, Shaquille O'Neal, Patrick Dempsey, Serena Williams, Paris Hilton, Eva Mendes, Ne-Yo, Ludacris, Dwayne "The Rock" Johnson, Carmen Electra and Steven Tyler. In fall 2009, Aubrey decided to combine her love of hip hop with her media savvy skills to go into artist management and she represents rappers Jae Millz and Vado. An exciting accomplishment Aubrey boasts is her experience dancing for three professional sports teams. Most notably, she was a member of the Oakland Raiderettes. In her two seasons with "Football's Fabulous Females," Aubrey was featured in the Raiderettes calendars, and her experience even landed her in the video game NFL 2K3. She also had a stint with another NFL team, the Arizona Cardinals Cheerleaders. However, her first Pro Dance experience was in the NBA, as a proud member of the Sacramento Kings "FastBreak" dance team. Aubrey is also a published author, contributing her writing skills and knowledge about the world of Pro Cheer and Dance, in The Ultimate Guide to Becoming a Pro Cheerleader.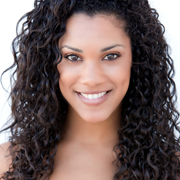 Taylor Walker - NBA New Jersey, Dance Team Director at University of Oregon.
This dynamic performer danced for the New Jersey Nets, where she was a co-captain and traveled to London and Mexico to represent the NBA. She recently held the position of Dance Team Director at the University of Oregon. Previously she was the assistant dance team coach at Hofstra University and Towson University. She has been involved as staff during NBA dance team auditions for the Portland Trailblazers and Cleveland Cavaliers. Taylor holds a Bachelor of Science in Sports Management from Towson University, a Master of Education in Physical Education from Hofstra University and is a member of the Dance Educators of America. Taylor has danced at live shows including the MTV Video Music Awards, Saturday Night Live, the Victoria's Secret Fashion Show, and the Women's World Cup. She appeared in the movies Step Up and Gotta Dance, and she was featured in Sports Illustrated Swimsuit Edition. Additionally, Taylor has experience in broadcasting and journalism including E! Entertainment, MSG Varsity and Ultimate Athlete Magazine.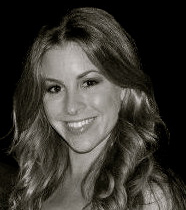 Jackie Vilarino - Director/Owner of Dance Tech Studios Miami, NBA - Miami, NFL Miami Choreographer.
Jackie is Cuban American, born and raised in Miami, Fl. She is a former Miami Heat dancer and former captain of the Miami Dolphins Cheerleaders. She has performed on stage and television including the MTV VMA's and Univision's Premios lo Nuestro with many international recording artists like Gloria Estefan, Tito Puentes Jr, Wisin y Yandel, Daddy Yankee, Jessica Simpson, Jet, and Marco Antonio Solis to name a few. Jackie has traveled all over the world on several dance tours including the USO to perform for our troops overseas. Jackie is the former head choreographer of the NFL's Miami Dolphins Cheerleaders, and has choreographed for Nickelodeon, Fox Sports, NHL's Panthers Ice dancers, music videos, recording artists such as Prince Royce, Enrique Iglesias, Pitbull, and Kelly Clarkson. She currently choreographs for television, schools and many prestigious events and has been teaching several different forms of dance for the past 11 years. She graduated from New World School of the Arts High School and from Florida International University where she earned a bachelor of arts in Dance. She is also a certified Zumba instructor.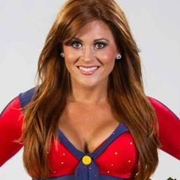 Candace Covington - NBA Sacramento, NHL Florida -
Candace aka "Can Dance" is a true West Coast girl from California and Oregon. This vibrant and enthusiastic redhead grew up dancing in studios and recreational programs. She then went on to pursue a career as a Dance Major under the direction of Cheryl Lemmer. She was Head Coach of a youth dance team, a Dance Major, and danced as a Principal "Graduate" with ZAPP Dance Company for Cindy Zreliak. Candace experienced performances during major sports events, venues, and even toured in Hawaii! Having grown up in Sacramento, California, Candace came across an opportunity to relocate. When remembering the NBA Sacramento Kings Dance Team, she looked up the audition information and went for it! She was flying back and forth for auditions and prep camps, but it was all worth it when she became a member of the Sacramento Kings Dance Team in 2004. Her career lasted 6 years with the Kings, and she received several opportunities to travel overseas for the NBA including trips to Shanghai, Beijing, Manila, Philippines, and Ghounjouh. Candace was also selected to visit Iraq and Kuwait to support the Troops. Candace has also received national recognition for her talents appearing as Maxim's Hottest Dancer, PayPerView America's Hottest Cheerleader, NPC Fitness Competitor, Zumba Teacher, Thunderbird Dance Coach, all while being a respected role model for her community. Candace is now currently in her first season as an NHL Panther Ice Dancer for the Florida Panthers. She currently works as a fitness instructor and motivational coach, a Dance Instructor, and Promotional Model. Her motto: Dream it, Believe it, Achieve it... Anything is possible to those who Believe!!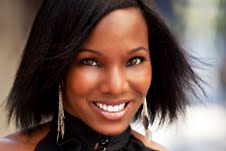 Janine M. Thompson - Former NBA Director in Miami, Founder of ICON Talent Inc
- Born in New York, Janine was raised in sunny South Florida and considers herself a Miami native. In 1995, she began her professional dancing career with the NBA's Miami Heat. After being featured in numerous music videos and leading six exemplary seasons as a Miami Heat Dancer, Janine was appointed to the position of Director/Choreographer, having served for the past 9 years. She was also the Director/Choreographer of the Miami Sol Patrol - the hip-hop co-ed dance team for Miami's WNBA basketball team. Under her direction, the Miami HEAT dance team has evolved into a talented group of multi-ethnic entertainers who have received national recognition for their accomplishments. In 2005, USA Today noted the Miami Heat Dancers as the "Best Kept Secret in the League." In 2006, the Miami Heat Dancers were crowned the Dance Bracket Champions to hold the title as the NBA's hottest dance team – an honor they have received for 4 consecutive years. In addition, the Miami Heat Dancers and the Heat Golden Oldies--who are also under Janine's directorship-- were asked to perform at the 2006 NBA All-Star game in Houston, TX, an unprecedented League request. Thompson has a penchant for spotting and developing talent as evidenced by notable HEAT Dancer alumnae who have been catapulted into the national limelight: Trista Rehn - star of ABC's The Bachelorette, Jessica Sutta - vocalist of the pop group Pussycat Dolls, Brooke Long - Suitcase model No. 15 of NBC's Deal or No Deal, Layla El - winner of the WWE's 2006 $250,000 Diva Search, Jamie Ruiz - featured on the Pussycat Dolls Girlicious, Susie Garcia - So You Think You can Dance and America's Best Dance Crew with the Fly Khicks." As if managing her own entertainment company and directing a professional dance team isn't enough, Janine can also be credited for choreographing dance routines for Latin pop sensations Carlos Ponce and Jon Secada, as well as directing the University of Miami Sunsations dance team for 8 years. She also works with various production companies as a choreographer for several commercials, music videos and industrial shows. Janine is a graduate of the University of Miami. In 1994, she earned a Bachelor of Business Administration degree in Marketing. Her creativity, professionalism and energy have transformed the Miami HEAT Dancers into one of the most elite dance troupes in all of professional sports. Her vivaciousness has allowed Icon Talent, Inc. to stand tall at the cusp of today's talent industry in becoming The True Icon of Talent and Entertainment!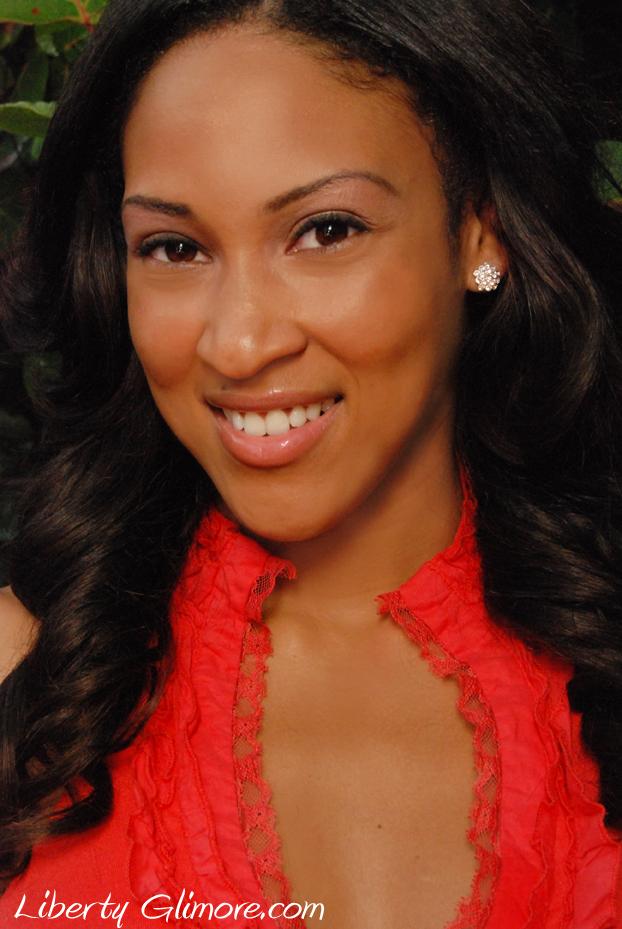 La Tasha Gray - NFL - Miami, Grambling State Orchesis Dance Co.
La Tasha's journey as a dancer began at the tender age of 3 under the artistic direction of Mrs. Dianne Maroney-Grigsby.In 1991, this rising dance star landed her first major performance at the "State Farm Bayou Classic" with the World-Famed Tiger Marching Band. Amidst thousands of adoring fans, LaTasha exemplified the poise and confidence that would lead to performing with the Orchesis Dance Company as an elementary student. As LaTasha approached middle school, her journey continued as the youngest member of the Dynamic DuMaine Dancers at Grambling Laboratory High School. During this period, she served as captain for two years and was recognized as an All-American by the National Dance Association for 6 years.
Bound for success and with a heart of determination, she resumed her dance career at "The Place Where Everybody Is Somebody- Grambling State University." While attending Grambling State University as an accounting major, she cultivated a lifetime of experiences. Her most noted campus involvement was the Orchesis Dance Company. While being a member of this organization, she served as captain in 2005-2006. Gray's travels exposed her to a new avenue of professionalism. She witnessed the excitement of professional dance and prepared to take her career to the next level. Upon graduation, La Tasha relocated to South Florida to start a career in marketing/sales with a major confection company. In April 2007, LaTasha's world began to suddenly change. She attended the Miami Dolphins Cheerleaders preparatory class for aspiring cheerleaders. In this class, she was the only one selected to advance to the semi-final round without participating in the preliminaries. After weeks of hard work and dedication, she was finally selected as one of the fabulous Miami Dolphins Cheerleaders. For the 2008-2009 football season, she was named Captain and Miss October 2008/Miss September 2010 for the MDC calendar. La Tasha is now a Registered Nurse in Miami. She will be presenting sidelines during the Miami Expo.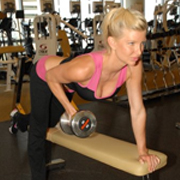 April Irene Donelson – Fitness Presenter, FSU Featured Twirler. Beginning dance and gymnastics at the age of 3, April went on to achieve her childhood dream of becoming Florida State University's Feature Twirler. Her position included performances in all major away games and FSU Bowl Appearances, including the Fiesta Bowl, Sugar Bowl, and Orange Bowl. Ms. Donelson was awarded the Medal of Honor on behalf of the Marching Chiefs in 2000. Previously featured on the ESPN 2 Series Nationals, April is an internationally ranked Top 15 Fitness competitor. Since 2008, she has served on the executive board for the Leading Ladies League Inc., a non-profit organization which fosters volunteerism, fellowship, and mentoring services for at-risk women, adolescent girls, and children. She was a 2011 Committee Member for Fashion for Charity, the Film Recording and Entertainment Council's Star Gala 2011-Present, also hosting on-air promotions, and Luminaire Awards Gala for Life Alliance Organ Recovery Agency at the Miller School of Medicine at the University of Miami Host Committee. April is proudly "Powered by Pasha's" Pasha's Healthy Mediterranean Cuisine, working together to promote healthy living and nutrition, as well as total wellness and leadership through her partnership with Exhale Spa at the Epic Hotel and Residences, and as an Iron Flower Fitness Ambassador. Also an accomplished Sales and Marketing Executive with a background in the luxury real estate, multimedia, and tourism markets, Ms. Donelson was honored to have been selected and featured within Brickell Magazine's "Top 20 under Forty" for Miami Executives. April currently serves as Vice President of National Accounts for Haute Media Group, operating the Miami, San Francisco, New York City, and Los Angeles markets through both luxury and print and digital platforms, with Haute Living Russia launching Fall 2013. April will host a Going Pro Expo workout and present tips in fitness and nutrition.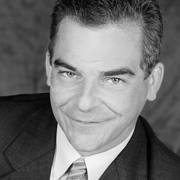 Grant Gravitt, Jr. - Television Producer, Executive Producer of Miss Florida USA and Miss Florida Teen USA Pageants. Grant was truly born in pageantry. The Gravitt family company, Tel-Air Interests, Inc., produced televised segments for Miss Universe and Miss USA from 1960 through 1986. His early days were filled with pageant queens and pageantry. Today Mr. Gravitt is an Emmy Award winning Television Producer entering his eleventh year as executive producer of Miss Florida USA and Miss Florida Teen USA Pageants and the accompanying televised special. His involvements in leadership and philanthropy have been well noted in South Florida. Mr. Gravitt has been a board member of several local, regional, and national organizations such as The New World Symphony, The American Cancer Society - Florida Chapter, and The American Red Cross. He is the only winner of the prestigious Price Waterhouse Young Professional of The Year Award in both Dade and Broward counties. This award honors community leadership and professional honors for those under the age of 40.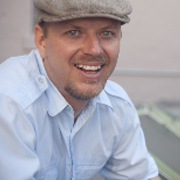 Sebastian Rusk - Social Media Expert. Sebastian has developed a very unique approach to creating buzz and making noise for brands via social media. His roll as an influencer and personality for brands has enabled him to influence those around him. His forte of being able to make his crazy ideas a reality, are what make SocialBuzzTV.com a reality today. It is no mystery why Sebastian is referred to as "a walking billboard" and the "Creator of Buzz". SocialBuzzTV.com was conceptualized and founded by Sebastian Rusk in March of 2010. With 12+ years of experience in Marketing and Online Ad space, Sebastian has a real knack for not only 'thinking outside the box', but showing there can be reasonable thinking INSIDE that box! He has a passion for Social Media, creating "buzz" for brands and spreading the word on the power behind this different kind of technology; which has been the driving force to launch SocialBuzzTV.com (bow tie and all) In addition Sebastian is the host of SocialBuzzONAIR. The show focuses on Social Media news, discussions and interviews with influencers within the Social Media space. Sebastian resides in Miami, FL, and is a full-time dad to 11 year old daughter Kayla. Sebastian's presentation will address using Social Media to brand yourself in the entertainment business, do's and don'ts of social media - especially when judges and directors have access to your profiles - and how to effectively network utilizing social media.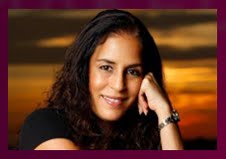 Rory Lee - CEO of MakeupByRory, Inc, International Makeup Artist.
Rory's company is a global company of freelance hair, makeup, and wardrobe stylists. Rory's love of fashion and entertainment coupled with her strong corporate leadership skill has resulted in coordination of diversified assignments that ensure a seamless production. She started in the freelance Cosmetics Industry working in the bridal business and from there it quickly spread into fashion shows, commercials, pageants, music videos, magazines and feature film. As an international makeup artist, Rory has worked extensively in fashion & entertainment, television, film, music, sports and print. She works in the capacity of department head, key or even assistant. Rory's production work experience has served Corporate Clients and Celebrities from around the world. Her work can be seen in various parts of the world including: the United States & Puerto Rico, Bahamas, Italy, Nigeria, Kuwait, India, Bulgaria, Mexico, and South America. Rory works well under pressure in demanding and time-sensitive environments. She provides experience working in professionally diverse, multi-ethnic environments. She is creative with new opportunities and adapts quickly. Rory is able to work within line producer's budget, by controlling expenses. Rory is not only a makeup artist, but she serves as a consultant, trainer and educator. She is assertive and a proven leader with transferable skills.
OUR GIRLS
was founded by Rory, which is a non profit to enrich and empower young women via innovative makeup artist workshops.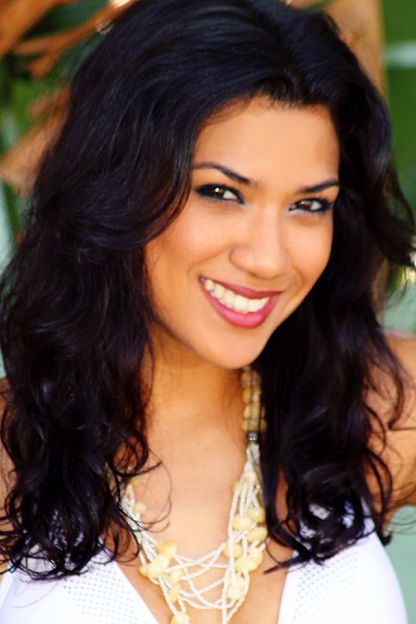 Melissa Persaud - Alumni NFL Cheerleader - Miami. Melissa was born and raised in Miami and earned her degree in Psychology and Pre- Physical Therapy from the University of Miami. She is a first generation American with an ethnic mix of Indian, Chinese, Lebanese and Scottish. Her dancing career began at the age of 9 with training in ballet and jazz. As a member of a group performing group at her high school she received 1st place trophies for best group routines, as well as best duo from the American Dance Association. She continued dancing as a University of Miami Sunsation during her freshman year of University. In 2009, she auditioned and successfully joined the Miami Dolphins Cheerleaders. She has traveled to Cuba, Mexico, and has lived in India for two months as an IPL Cheerleader. During her tenure as an NFL Cheerleader, she couraged a career switch to Marketing. Since then, she has worked in Marketing for a real estate investment firm, Vita Coco Coconut Water, and currently is the Team Marketing Manager for Muscle Milk – Florida.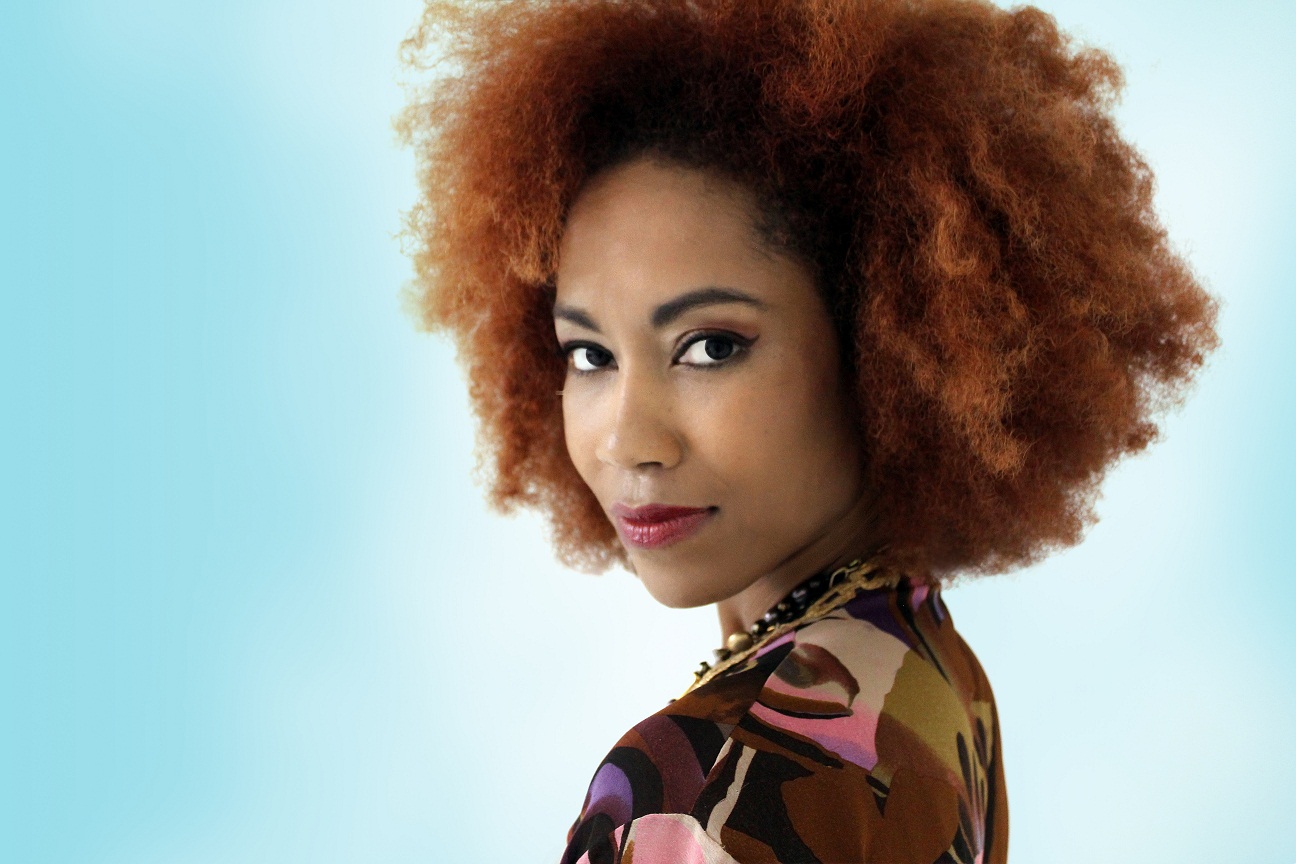 Kalyn Chapman James, Miss Alabama 1993 (MAO), Miami Entertainer and Model.
Kalyn is a native of Mobile, Alabama with a Bachelor of Science in Psychology and a minor in Sociology from the University of Alabama at Birmingham. An accomplished dancer and choreographer, Kalyn studied tap, jazz, ballet, modern, and acrobatics, and hip-hop dance since the age of nine at Sheffield School of Dance (Mobile, Alabama), Broadway Dance Theater in New York and Millennium Dance Center in Los Angeles. Kalyn was the spokesmodel for the UPN network in Birmingham, Alabama, and served as a television journalist on The Fox Sports Network's show Behind the Game. Kalyn is the first and only African-American woman to be crowned Miss Alabama (1993) where she placed as a top ten semi-finalist in the 1994 Miss America Pageant. She danced professionally for the Universal Dance Association, and Hollywood Studios (formerly Disney/MGM) in Orlando, Florida. Kalyn has worked in the arts since moving to Miami in 2003. She worked as a teaching artist for Arts for Learning Miami where she instructed after school programs in some of Miami's most underserved communities including Wynwood and Overtown and at Girl Power in Liberty City. Kalyn has taught dance classes at In Motion and DancExchange studios. She is the emcee of the annual Hip Hop for Health Competition which encourages young students to live a healthy lifestyle through dance, nutrition and fitness. She performed in the MTV Video Music Awards, the Latin Video Music Awards, the Latin Billboard Awards, and danced and choreographed for the Univision and Telemundo Television Networks in Miami. She has worked extensively as an events emcee, a print and television model appearing on the pages of Glamour, Ebony, Essence, Jet, and O Magazine and has been featured in national commercials for Crocs, Hershey's Air Delights Chocolate Candy, Old Navy and Walt Disney World. She currently teaches fitness classes at Ironflower Fitness Miami. Kalyn has been a supporter of Young Arts, City Year, and was also a gold member of Honey Shine, an Alonzo Mourning Charity. She is currently Corporate Sponsorship Coordinator for the Adrienne Arsht Center, where she secures funding to support the Center's education and outreach programs. "The arts gave me the confidence to push past boundaries that existed in my small hometown in southern Alabama. They opened the doors that would change my life forever and gave me a voice to reach thousands of students about the importance of education during my tenure as Miss Alabama. I've participated in the growth of Miami's art scene and I am looking forward to sharing all that this wonderful city has to offer in the arts and culture. Wonderful things are happening here and I am proud to be a small part of making sure our community knows all about it!"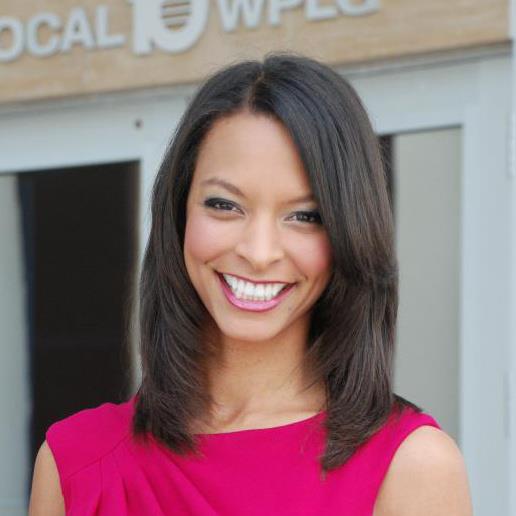 Constance Jones - WPLG Channel 10 News Anchor. Constance gained her current position on local news in April 2008. She came to South Florida from KOCO-TV in Oklahoma City, Oklahoma. Prior to KOCO, she worked as an anchor/reporter at KETK-TV in east Texas. Her career started while she was hosting and producing films at the Educational Video Network. The Oklahoma National Association of Black Journalist and the Texas Associated Press have recognized Constance for excellence in news reporting. Constance received her journalism degree from the Dan Rather School of Communications at Sam Houston State University. While in college, she interned at KXAN in Austin and KTRK in Houston. She was awarded the Dan Rather internship, which landed her the opportunity to work at CBS News in New York. Through that experience, she was able to spend time at CBS Evening News, BET Nightly News, 48 Hours and MTVu. She also spent time studying in Romania. Along with her passion for journalism, Constance adores crafting! She runs an own online shop at called Huggabeans, where she sells hand crafted baby products. Constance was raised in a military family, which sent her traveling throughout the United States and around the world. Her mother is German and her father is a retired Army First Sergeant. Constance is a proud member of the National Association of Black Journalists and Alpha Kappa Alpha Sorority, Inc.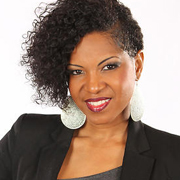 Robin Delaney - NFL Alumni - San Francisco and Oakland, NBA Alumni - Northern California, ABA Dance Director. Robin has cheered, taught and choreographed professionally since 1993. Her cheer and dance career began with the United Spirit Association's cheer and song staff. She has also danced on every pro dance team in the Bay Area including three years with the Warrior Girls, two years with the Gold Rush, two years with the Saberkittens where she completed her last year as Line Captain, and finally two years with the Raiderettes where she won the prestigious "Dancer of the Year" award her Rookie season and completed her final year cheering as Co-Captain. Having choreographed for pro teams such as the Kings Dancers, Gold Rush, Saberkittens and Warrior Girls, Robin has an extensive understanding of what it means to be a team member and what it's like to cheer professionally on many levels. Currently Robin travels across the nation and abroad with Ronnie Reddicks, LaFemme Panache, a management/dance company where she is a featured dancer for several cover bands. Robin is currently the director of the ABA Aftershock Dancers and in 2011 directed the ABA Richmond Rocket Girls, where she won Administrator of the Year in the Pacific Northwest conference. Her passion for working with the youth, coupled with her experience in professional dance and teaching, brings a dynamic element to her teaching style.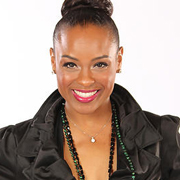 Taliah Mekki, NFL Alumni - San Francisco and Oakland, NBA Alumni - Miami. Taliah has an extensive dance background which includes cheering professionally for the Warrior Girls, San Francisco Gold Rush Cheerleaders, Oakland Raiderettes and the Miami Heat Dancers. This year she will be assisting the Aftershock Dancers and providing her dynamic and edgy style to the repertoire. Taliah is a San Francisco State University Alum with a degree in kinesiology and a fitness instructor at several gyms in the Bay Area. She also travels around the country and abroad as a featured dancer for Ronnie Reddicks, LaFemme Panache.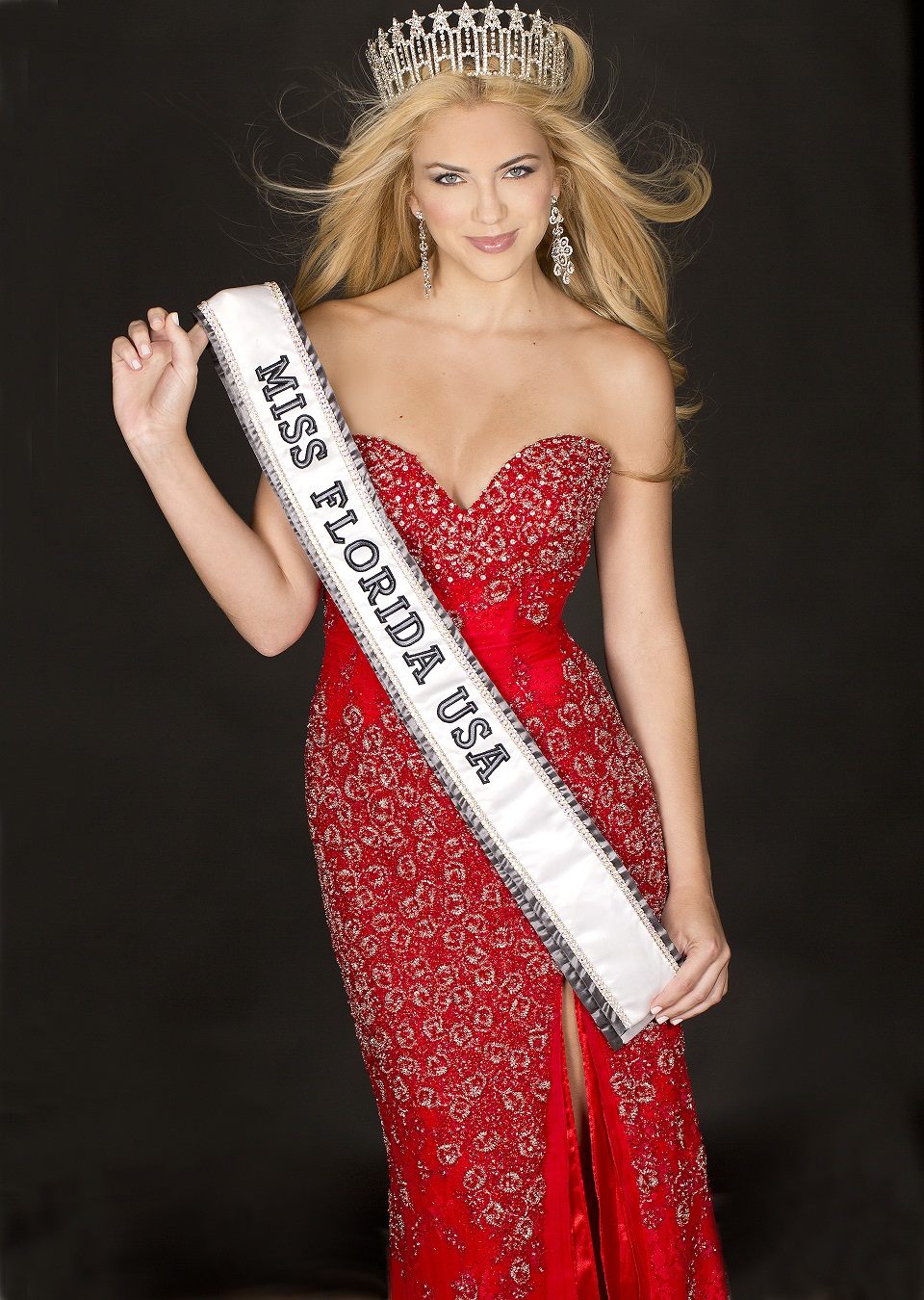 Michelle Aguirre, Miss Florida USA 2013.
Please welcome Michelle Aguirre, a Hialeah native and Miami Dade College student, crowned Miss Florida 2013. Aguirre, 19, will now represent Florida in the Miss USA Pageant in the spring of 2013. She qualified by winning Miss Broward Fair USA. Michelle will appear at the Going Pro Expo Miami on February 16!
---
GO WILD! WEAR BY ANGELA KING DESIGNS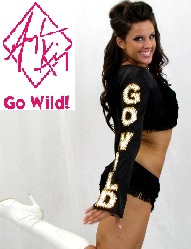 Go Wild! Wear by Angela King Designs is your premier source for today's hottest styles in professional cheerleading and dance. Whether you are looking for audition outfits, rehearsal wear, a performance costume, or accessories, AKD's Go Wild! collection includes the most sought after designs in the industry. Select from a wide range of fabrics including solids, sparkle and sequins, and embellish with rhinestones, logowork, embroidery and more. Their unique designs and 20 year history in the pro-cheerleading industry includes major brands in the NFL, NBA, NHL, UFL, and beyond. Service is top notch, with alumni pro cheerleaders representing multiple major markets in the United States, Canada, United Kingdom and other international territories. Don't wait! Now's the time to experience perfection. Visit www.gowildwear.com.
SCIENCE CHEERLEADER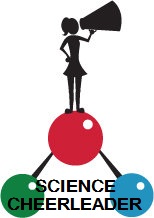 Darlene Cavalier is a Philadelphia NBA alumni dancer who founded the Science Cheerleader to unite the citizen's desire to be heard and valued, the scientist's growing interest in the public's involvement, and government's need to garner public support. The Science Cheerleader features cheerleaders and dancers who work in or study science, math, engineering, health and other related fields. Launched in 2010, the Science Cheerleaders performance team has rocked the industry with live performances, ground breaking online videos and even shattered a world record! The Science Cheerleaders have performed in the Philadelphia, New York City, St. Louis, Las Vegas, Dallas, Washington, DC and other cities across the United States. Submit your application to join the performance team by visiting www.sciencecheerleader.com.
GOING PRO ENTERTAINMENT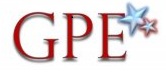 Going Pro Entertainment is the premier resource for professional cheerleading and dance services. Developed by former pro dancers from all United States sports leagues, GPE provides exclusive services in audition coaching, team consulting and choreography, and alumni talent management. GPE events feature choreography and mentorship by Pro Cheer All Stars in multiple cities, including Phoenix, Los Angeles, Reno, Denver, Kansas City, Chicago, St Louis, Omaha, Oklahoma City, Houston, Atlanta, Indianapolis, Cincinnati, Minneapolis/St Paul, New York, Philadelphia, Baltimore, Washington DC, Virginia Beach, Charlotte (NC), Miami, and Orlando. Visit www.goingproentertainment.com orwww.procheerallstars.eventbrite.com.
Are you interested in reaching women over the age of 18 who are in the industries of fitness, dance, pageants, modeling and entertainment? Showcase your business at the Going Pro Expo for $100.00. Space is limited! Contact Laura at 1-877-974-6253 x712 or info@goingproentertainment.com.