Going Horizontal Madison: Skills and practices for self-organized, less hie...
Description
Going Horizontal: Skills and practices for self-organized, less hierarchical organizations
Kickoff Sept. 18 @ 6:30 pm
Full days Sept. 19 & 20, 2019, 8:30am - 4:30pm
SHARED ECONOMY PRICING AVAILABLE
Coffee, tea, healthy snacks and lunch included
---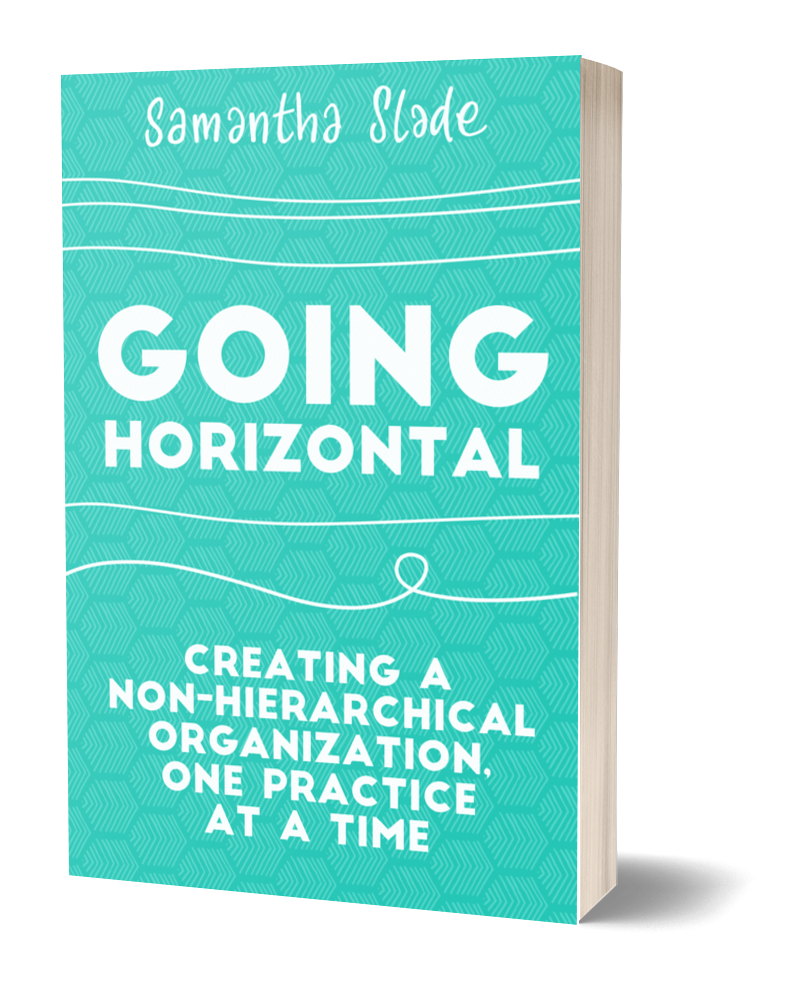 Develop and expand horizontal ways of working across 7 domains of practice. Rooted in real organizational experiences – tried, tested and compiled at Percolab and other organizations around the world – you will live the experience of truly working with shared leadership and acquire practices and tools that can immediately be put to use in your context. Based on the book Going Horizontal, recently published by Samantha Slade, details practical shifts in practice that can transform the ways you engage at work.
We are living in times that invite us to straddle both vertical and new horizontal leadership paradigms. Major shifts in mindset out of a vertical culture are happening, and there are organizations globally which are beginning to evolve into more collaborative, agile and horizontal workplaces. Organizations need teams who are more empowered, engaged and autonomous while staying connected to the purpose and strategy of the organization.
Perhaps you have already started working horizontally in some ways. This training will strengthen, accelerate and deepen what you have begun. You will learn practices to help you where you are stuck.
Shifting mindsets is your biggest lever of system change, and the community of people propelling this change is quickly spreading across the globe. Come meet and join them.
The training team


Samantha Slade, author of Going Horizontal, is an international social designer and co-founder of Percolab, an international co-creation and co-design firm with offices in Montreal and Western Europe. She works with organizations ranging from US startups to the European Commission, pioneering culture-driven practices and operational tools for the future of work.
Paul Messer Trained as an industrial designer. Paul applies design thinking to everyday life. As a graphic facilitator and expert in visual thinking, Paul creates on the spot visual maps to support group innovation and co-design. Creator of Visual Thinking Lab workshops and coaching to support visual thinking in working in complexity and business strategy.
Mary Michaud, Founder of NaturaLeverage, is your local host. NaturaLeverage is a Madison firm that builds organizational resilience to address 21st Century challenges.
Libby Bestul specializes in employee engagement, having served the University of Wisconsin-Madison's School of Human Ecology in myriad outreach and educational capacities.
Ed Fraunheim is Senior Director of Content at Great Place to Work US. Calling San Francisco home, Ed published "A Great Place to Work For All" in 2018. He has worked on content development and research, now overseeing content to advance the company mission of supporting great workplaces.
If you have questions about this training, please contact us: inquire@naturaleverage.com.