Going Global Series: Getting into Global Companies and Int'l Organizations
GIPA's Going Global Series: Getting into Global Companies and International Organizations
About this Event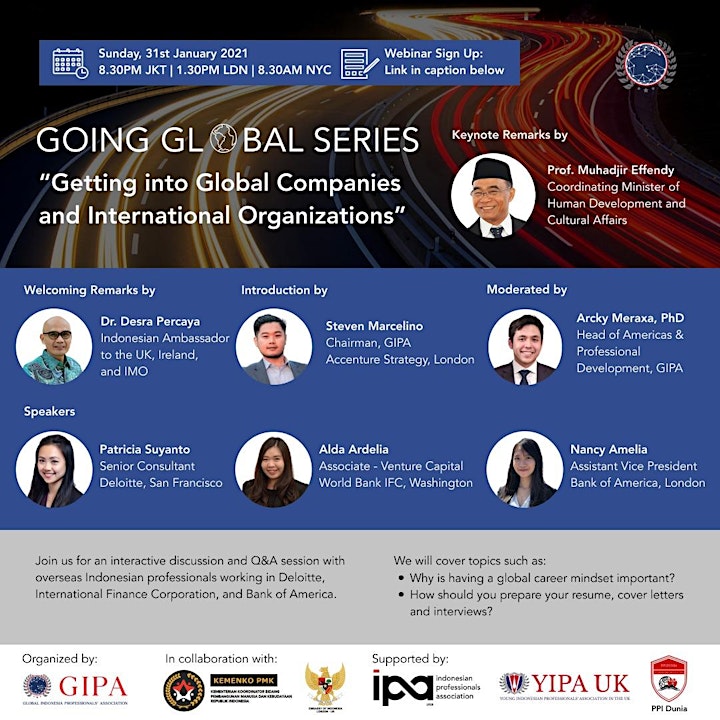 Going Global Series (GGS) focuses on market-relevant career insights and personal experiences to encourage Indonesians overseas and back home to go global in terms of their professional career directions. GGS aims to inspire more Indonesians to kick start their journeys becoming next global leaders as part of GIPA's drive to further Indonesia's human capital development from abroad.
This session aims to shed lights on how Indonesians can start a successful career in leading global multinationals and non-government organizations (NGOs). This interactive discussion will cover the following topics:
Why having a global career mindset is very important?
How do you get jobs in top global companies or non-government organization; in a globally competitive market?
How should you prepare your resume cover letters and interviews?
How to tackle difficult interviewing process that requires rigorous preparation?
First-hand inputs from professionals in top global companies and non-government organizations
Event Details
Date: Sunday, January 31st, 2021
Time: 8.30 PM JKT | 1.30PM LDN | 8.30AM NYC
Joining instructions will be sent through email.
Speaker Bios
Patricia Suyanto | Deloitte Consulting, San Francisco
Patricia is a Deloitte Advisory Senior Consultant within Deloitte Forensics in San Francisco, specifically in Information Governance and eDiscovery. In her line of work, she focuses on helping large companies promote efficiency and increase profitability through problem solving. Patricia has engaged with various industry clients which includes the financial services and healthcare sector. She holds a double degree in B.S. Business Administration, concentrating in Finance & Management Information Systems from Questrom School of Business - Boston University. Patricia is also an Executive Board Member of Indonesian Professionals Association, San Francisco (IPA-SF). In her free time, she enjoys cooking and hiking.
Alda Ardelia | World Bank - International Finance Corporation, Washington DC
Alda is a Venture Capital Associate at International Finance Corporation (IFC) World Bank Group, the largest global development institution focused exclusively on the private sector in developing countries. She is focusing on disruptive technologies, accelerator, VC, and growth equity investments across Central Eastern Europe, South East Asia, and Middle East and North Africa (MENA). Prior to the IFC, she worked in various financial institutions and start-ups with transaction experience in health tech, fintech, and blockchain. She also led the banking and payment business development team in Tokopedia. She started her career in a fast-track program at DBS Corporate Banking group specialized in working capital and trade finance. She holds an MBA from Rotman - University of Toronto, and a Bachelor of Economics from University of Indonesia. In her free time, she enjoys Zumba, diving, and traveling.
Nancy Amelia | Bank of America - Merrill Lynch, United Kingdom
Nancy is a Software Engineer at Bank of America based in London, United Kingdom. She graduated from University College London (UCL) BSc Computer Science in 2018. Her work mainly revolves around building trading applications for credit desks, specialising in credit derivatives products such as CDS Index, Options and Tranches. She has previously done two internships, one with Prisma Link Indonesia, a payment gateway company and the second one with Bank of America Merrill Lynch as a Summer Technology Analyst. Outside of work, She's YIPA UK Operations director. In her free time, she enjoys doing various activities such as practising yoga, playing piano and dancing. She finds philosophy and psychology very intriguing.
T. Arcky Meraxa , PhD | Head of Americas Region and Professional Development Center of Excellence at GIPA
Arcky is responsible for covering GIPA's outreach in the Americas region and for spearheading a center of excellence on professional development. Within his capacity at the CoE, Arcky develops programs targeted for Indonesian students and professionals to enhance their career trajectory. These programs are rolled out at various professional hubs across the globe and best practices are shared across the network. Arcky also co-founded and leads the Indonesian Professionals Association in New York since 2017. Arcky has a doctorate degree in Economic Geography and International Business and he has previously taught at the State University of New York US and Singapore campus for business and international trade programs. Arcky currently works as the Director of Strategic Initiatives and Model Governance within the risk function of American Express, New York.
Global Indonesia Professionals' Association (GIPA) aims to serve as the partner for Indonesia's economic diplomacy efforts by working with our affiliated Professionals Hubs to develop talented Indonesian professionals and executives across G20 and ASEAN countries. To that end, we are inaugurating a new webinar series focused on bringing firsthand knowledge and experience to students and young professionals:
For more information please contact us at council@gipa.co
Stay safe and look forward to seeing you there!
Best regards,
GIPA Team