Description
Going Beyond Ideas ---アイデアをアクションに
グッド・アイデアを思いつくのは容易いけど、行動に移し、 ずっと続けていくにはどうすればいい?
と思ったことはありませんか。これは、新しい発想や行動で、 今世界で起こる様々のチャレンジに立ち向かう人を紹介するイベントで す。ゲストは、その道の先駆者から、 まだプロジェクトを立ち上げたばかりのチャレンジャーもいます。 クリエイティブなアイデアを温め、行動に変え、 挑戦し続けるゲストの体験談を伺います。短いトークの後、 参加者とともに、新雪にシュプールを描くがごとく前進する間に起こる悲喜こもごもの出来事をシェアしていただきます 。人にインスピレーションを与え、自分もやる気になり、いっしょに学びにつなげませんか?
シリーズ第2回目は、Rab Paterson, Hitomi Patersonご夫妻によるログハウスの暮らし:夢から実現へです。
多くの人がエコなログハウスでの暮らしを夢に見るのではないでしょうか。このプレゼンテーションでは、ラブとひとみ夫婦が、東京から埼玉県西部の飯能市のアルプスの山麓で、エコなログハウスに住みたいという夢を実現したことをお届けします。この家は、カナダの持続可能な森林から収穫されたダグラス・ファー・ログと地元産のスギ・ヒノキから作られた注文住宅で、独自にデザインしたものです。この章では、彼らがこのような発想をしたのか、なぜ彼らがハンドカットのログスタイルに定住したのか、そして彼らがいかにして山に低エコフットプリントの生活空間を創出するためのアイデアを計画し、進めたのかを説明します。そして彼らが成功した事と、途中で起きた間違いをピックアップし、この過程で学んだことに基づいて、将来のためのさらなるアイデアへ導いていきます。
パタソン ラブは、東洋大学-UCLAエクステンションセンター(グローバル教育)の主任インストラクターであり、アップルコンピューター社の優秀な教育者部門に属し、Googleイノベーター&トレーナー、日本の最初のGEGである西東京Google エジュケーターグループの創設リーダーです。遠い昔 はるかかなたの国で彼...は グラスゴーのクライド川で造船に携わっていたので、道具の扱いや木材を使ったものづくりには慣れていました。
パタソン ひとみは、埼玉県日高市のアリサン有限会社の商品開発、PR&イベントマネージャーで、開催されるイベントの有機食品祭りや農家市場の設立、食品展示会、商品の開発に携わっております。
会費: 当日は軽食とお飲み物をご用意してお待ちしております。 受付にてお志し2,500円をお支払いただけますようお願いいたします。トークは、英語と日本語でなされます。
場所:CTW表参道  東京都渋谷区神宮前5−12−7 
時間:19:00ー21:00 (受付開始:18:45)
RSA JFN Official Website www.thersajapan.org
RSA JFN Facebook www.facebook.com/rsajfn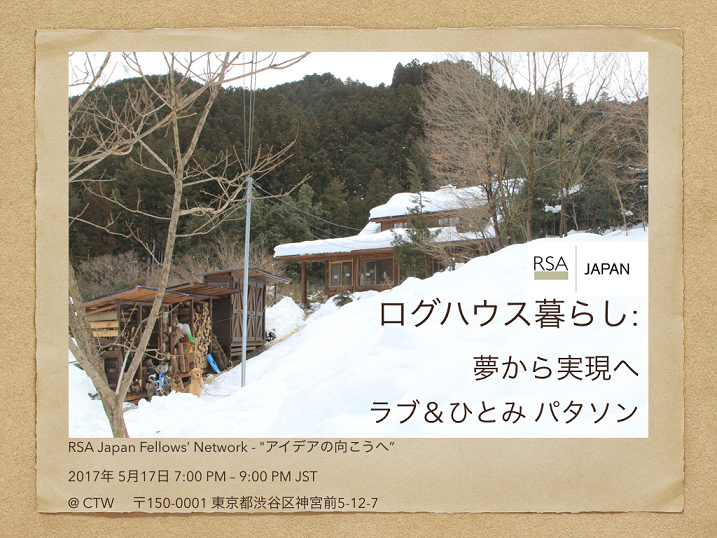 --------------------------------------------------
Announcing RSA Japan Fellows' Network new event series: "Going Beyond Ideas"
Anyone can have a good idea. But how do you bring it alive, and keep it alive?
This series of events is for anyone searching for new ways to think and act in response to the challenges of today's world. Participants will range from established pioneers and trail-blazers to those just starting out on the entrepreneurial path. Each session, there will be a short talk from someone who has brought their creative idea to life, who will share their experiences of building and sustaining a new venture. There will also be plenty of time for meeting and chatting with other guests about the joys and pitfalls of striking out on untrodden paths.
Come ready to inspire and be inspired, to share and to learn!
Vol.2:Loghouse Living: From Dream to Reality! by Rab and Hitomi Paterson
For many people, the idea of living in an eco loghouse in a rustic setting is just a pipedream. This presentation shows how Rab and Hitomi Paterson took that dream and made it a reality as they moved from Tokyo to the foothills of the Japan Alps in Hanno in western Saitama where they now live with their family in a semi-self built, environmentally friendly, eco loghouse. The house is made from Douglas Fir logs harvested from a sustainable forest in Canada and some locally sourced Japanese Cedar and is of their own design. In this session they explain why they made this move, why they settled on a handcut log style, and how they planned and proceeded with their ideas to create a low eco footprint living space in the mountains. They will highlight the successes they had and the mistakes they made along the way, and finish with some of their further ideas for the future based on what they learned in this process.
Rab Paterson is the Principal Instructor at the Toyo University-UCLA Extension Center for Global Education and is an Apple Distinguished Educator and a Google Innovator, Trainer and a Founding Leader of the West Tokyo Google Educator Group, the first GEG in Japan. A long time ago in a country far, far away... he also used to make ships on the River Clyde in Glasgow, so he is very handy with tools and used to working with wood.
Hitomi Paterson is an Events Manager for Alishan Organics Center in Koma, Saitama where she organises and runs organic food festivals and farmers markets held at Alishan's barns, cafe, deck and garden spaces. She also works on Alishan's social media promotions, works the Alishan booth every year at the Foodex Expo in Makuhari in Chiba, and travels to research other food expo's in the U.S. and she is interested in promoting healthy food consumption and lifestyles.
Venue: CTW Omotesando, 5 Chome-12-7 Jingumae, Shibuya, Tokyo 150-0001
Time: 19:00-21:00 (Reception: 18:45)
A light buffet and drinks will be served.
A contribution of Y2500 will be requested, to cover the cost of food and drink.
Please note: The talk will be given in both English and Japanese.
Further information:
www.thersajapan.org
www.facebook.com/rsajfn

"Going Beyond Ideas" Dates for 2017 :
* March 7th
* May 17th
* July 11th
* September 12th
* November 14th