Description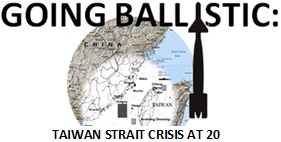 In June 1995, Taiwan's President, Lee Teng-hui, visited Cornell University to give a speech on democracy. The People's Republic of China (PRC) responded with a series of coercive military actions which precipitated a major crisis in the Taiwan Strait. Beijing viewed the prospect of an internationally recognized Taiwanese democracy as a severe threat to its legitimacy and panned President Lee's visit as a reversal of perceived American commitments to respect its version of the "one China" policy. Over the next several months, China conducted provocative nuclear tests, amphibious military exercises, and missile firings into Taiwanese waters. Finally, in March 1996, as the crisis approached a boiling point, the U.S. Government rushed two aircraft carrier battle groups (and other military forces) to the area in the largest show of force Asia has seen since the Vietnam War. This conveyed strong U.S. support for Taiwan's democracy and defense, and helped defuse the crisis.
In the wake of this historic event, the PRC began to rapidly build-up its military capabilities for a future Taiwan conflict scenario. For its part, the U.S. increased strategic dialogues, training exchanges, and arms sales to Taiwan. Now, 20 years after the Crisis, the military and political calculus across the Taiwan Strait has changed. China is far better able to execute military operations across the Strait, but Taiwan is also better prepared to defend itself. Recently, China has abducted Taiwanese citizens abroad, limited Taiwan's participation in international organizations, and conducted threatening military exercises. Given the trend lines before us, it is ever more important to evaluate the 1995-1996 Taiwan Strait Crisis, and explore its implications for the future of the Asia-Pacific.
This conference will bring together a distinguished group of experts for a timely discussion on China's behavior before, during, and after the Crisis, with a special focus on the Chinese military. Panelists will also examine the ways in which U.S.-Taiwan relations were strengthened after the 1995-1996 Taiwan Strait Crisis, and address some of the outstanding weaknesses which remain.
(image source: Bruce A. Elleman, The Naval War College Newport Papers 38: High Seas Buffer, Map 9, pg126)
*This event will stream live, follow @Project2049 and #Straitcrisis20 and #P2049Live for more analysis.
1:30 - 1:45 PM
Opening Remarks: "Reflections on the Third Taiwan Strait Crisis"
Randy Schriver
President & CEO, The Project 2049 Institute

1:45 – 2:00 PM
Keynote Remarks: "U.S.-Taiwan Defense Relations"
Abe Denmark
Deputy Assistant Secretary of Defense for East Asia, Department of Defense
2:00 – 3:00 PM
Panel One: "China's Response: Military Developments and Strategy"
Amy Chang
Former Staff Director, Asia and Pacific Subcommittee, House Foreign Affairs Committee
Ian Easton
Research Fellow, The Project 2049 Institute
Shirley Kan
Former Staff, Specialty in Asian Security Affairs, Congressional Research Service
Moderator: Rachael Burton
Research Associate, The Project 2049 Institute
3:00 – 4:00 PM
Panel Two: "Shifts in U.S.-Taiwan Relations After 1996"
Carolyn Bartholomew
Vice Chairman, U.S.-China Economic and Security Review Commission
Tiffany Ma
Senior Director for Political and Security Affairs, The National Bureau of Asian Research
Mark Stokes
Executive Director, The Project 2049 Institute
Moderator: Rupert Hammond-Chambers
President, U.S.-Taiwan Business Council