Going Back to Work, Working Moms Panel - Shedding light on all things mater...
Description
Tuesday, September 26, 2017 | 6pm - 8pm | Prime and Provisions
For the first time ever we are proud to produce a Working Moms Panel just for you! Join us as we host a panel of speakers shedding light on all things maternity leave and returning to work. We know it can be a challenge to get all your ducks in a row, so these experts will arm you with all of the knowledge you need about HR protocol, insurance, breastfeeding/pumping tips and overall emotional preparedness. This is your time to get all your questions answered. Plus, enjoy small bites and mingling with fellow working moms. All attendees will go home with packets of information and some extra goodies to make maternity leave a bit more fun!
6-6:30pm Mingling and Drinks/Apps
6:30-7pm Speakers
7-7:30pm Q+A
7:30-8pm Mingling and Drinks/Apps
Panelists include:
Liz Jones, Account Manager | Alliant Insurance Services
Sarah Levine-Miles, Therapist, LCSW | Sarah Levine-Miles, LLC
Meredith Lewis, Vice President, Human Resources | Golub Construction
Elizabeth Sjoblom, RN, BSN, IBCLC | The Lactation Partners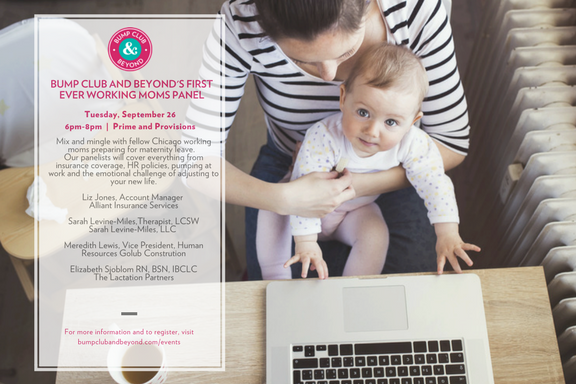 BCB VIPs log into app for the VIP discount. In order to use the VIP rate, you must be a registered Bump Club and Beyond VIP.