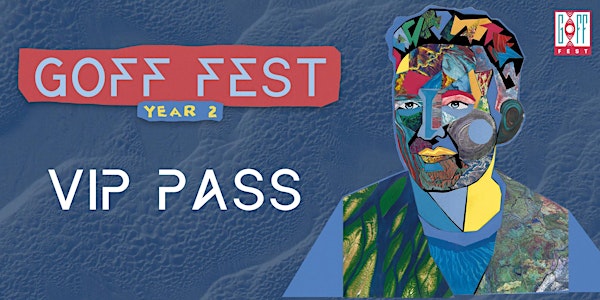 Goff Fest VIP Pass
Goff Fest VIP Pass
Refund Policy
Contact the organizer to request a refund.
Eventbrite's fee is nonrefundable.
About this event
Attend all ticketed Goff Fest events and receive a personalized Goff SWAG bag (an overall $100 value).
VIP Passholders also get in Free to ahha Tulsa throughout the weekend of Goff Fest.
Pass Pick-Up Locations: Don't forget to keep a copy of your purchased pass, digital or paper, and sign in to any one of our Goff Fest table locations:
GOFF FEST REGISTRATION TABLE LOCATIONS & HOURS:
Thursday, December 1
Center for Architecture and Design - Tulsa Foundation for Architecture and AIA Eastern Oklahoma Offices (633 S Boston Ave, Tulsa, OK 74119) from 5:00 p.m. - 6:30 p.m.
Chamber at Tulsa Club Hotel (115 E. 5th Street, Tulsa, OK 74103) from 7:00 p.m. - 8:30 p.m.
Friday, December 2
Tulsa Artist Fellowship x Flagship (112 N Boston Ave, Tulsa, OK 74103) from 5:00 p.m. - 8:30 p.m.
Saturday, December 3
Spotlight Theater (1381 Riverside Dr, Tulsa, OK 74127) from 10:00 a.m - 11:30 a.m.
Tulsa Club Hotel (115 E 5th St, Tulsa, OK 74103) from 1:30 p.m. - 2:30 p.m.
ahha Tulsa (101 E Archer St, Tulsa, OK 74103) from 8:00 p.m. - 10:30 p.m.
ABOUT GOFF FEST
With the support of the Tulsa Artist Fellowship, Goff Fest was created from the vision of artist Karl Jones and filmmaker Britni Harris who felt Goff's work was underappreciated and hoped "to share an interest in Bruce Goff's story with a wider regional and national audience."
Organized by the Goff Center of the Continuous Present (GCCP)*, the festival will be held in various venues throughout Tulsa and film screenings, panel discussions, exhibitions and a Goff Ball.
ABOUT GCCP and ORGANIZING SPONSORS
The Goff Fest is proudly organized by the Goff Center of the Continuous Present (GCCP) and is made possible by the generous support of its partners and sponsors, the Tulsa Artist Fellowship, Tulsa Foundation for Architecture, AIA Eastern Oklahoma, The Tulsa Club Hotel, Elote Cafe and Catering, Ross Group, Shuffles Tulsa, Tulsa Spotlight Theatre, Friends of Kebyar, Price Tower Arts Center, Tulsa Historical Society, OATH Law, Studio 66, H.O.P.E. Testing, Oklahomans for Equality and AHHA.
The Goff Center of the Continuous Present's mission is to promote beauty in all its strength by encouraging the mysterious, the uncomfortable, and the disobedient aspects of art and architecture.
MORE ABOUT BRUCE GOFF
Bruce Goff, who passed in 1982, lived a life charged with unabashed creativity while also being shrouded in controversy. Having grown up in Tulsa, his work in architecture began at the young age of twelve when he apprenticed for the architectural firm, Rush, Endacott and Rush. Goff's philosophy embraced the individual, the mysterious and the "continuous present"–a term coined by Gertrude Stein that he often used to describe his design style where the past and present merge into a continuous stream without beginning nor ends.
Mentored by Frank Lloyd Wright during his early years, Goff was one of the rare architects he admired for his creativity and independent ethos.
Goff's contentious exit from the University of Oklahoma, where he taught and served as the Chairman for the School of Architecture, and the ongoing debate of the design ownership of the Boston Avenue United Methodist Church were filled with whispers of unacceptance for Goff's eclectic designs and homosexuality in the conservative backdrop of mid-century Oklahoma. Even fifteen years after Goff's death, Goff's masterpiece design, Shin'en Kan, was destroyed from intentional arson.
Today, a group of Goff advocates aims to change the discourse, to open dialogues of truth and celebrate the life and work of America's best unknown organic architect.