GODZILLA: THE JAPANESE ORIGINAL – 60th Anniversary Restoration!

Multiple Dates
Event Details
The Frida Cinema celebrates 60 years of the Granddaddy of all Japanese Film Monsters - GODZILLA!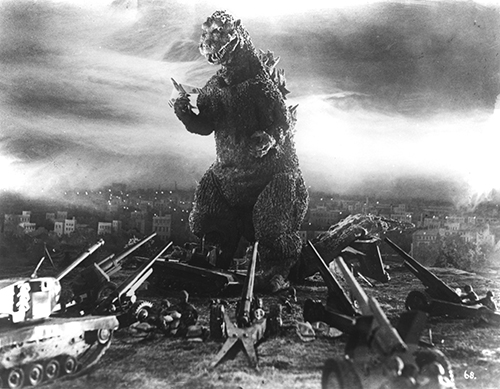 Fresh from its monster run at NY's Film Form, Rialto Pictures' stunning DCP restoration of Godzilla: The Japanese Original comes to The Frida Cinema as you've never seen it before: uncut, undubbed, and in a stunning and painstakingly-restored digital presentation!
Deafening footfalls echo in the blackness. An ear-crushing wail. Then a title card rises, three katakana characters proclaiming the arrival of Japan's doomsday beast: GOJIRA.  Given Godzilla's prevailing repute as a campy icon and comic superhero, the original Japanese version of his first film - dramatic, dark, and thoroughly cautionary - is a revelation even today when viewed at a distance of 60 years. Outside of Japan, Godzilla remains an underrated and often misunderstood film, lumped in alongside Western giant-monster movies of the same period.  And although hundreds of people contributed to the film's success, from low-echelon gofers to the special-effects crew, the sure guiding hand of director Ishirô Honda is most evident throughout the picture, conducting something akin to an orchestra of drama and horror storytelling, stark visual style, and ominous sound and music, all of which meshes together and plays out like a grand nightmare.
"PICK OF THE WEEK! There's a new Hollywood Godzilla on the way, but Honda's brooding 1954 masterpiece can't be topped! It's a gripping war film that depicts shocking carnage and destruction, and a social melodrama rooted in the anxious and doom-haunted quality of postwar Japanese life. Its black-and-white cinematography by Masao Tamai is varied, careful and sometimes spectacular. A one-of-a-kind experience all the way through, one that stands the test of time." – Andrew O'Hehir, Salon
"MAGNIFICENT! VISIONARY! THE GREAT POST-WORLD WAR II MOVIE MONSTER! Belongs with — and might well trump — the art films Hiroshima, Mon Amour and Dr. Strangelove as a daring attempt to fashion a terrible poetry from the mindmelting horror of atomic warfare." – J. Hoberman, Village Voice
"STILL THE MOST AWESOME! POP CULTURE'S GRANDEST SYMBOL OF NUCLEAR APOCALYPSE!" – Owen Gleiberman, Entertainment Weekly
Godzilla®, Gojira and the character design are trademarks of Toho Co., Ltd. ©1954 Toho Co., Ltd. All Rights Reserved.
Organizer
The Frida Cinema
The Frida Cinema is an 501(c)(3) not-for-profit arthouse cinema, dedicated to enriching, connecting, and educating audiences through the art of cinema.  Visit us at thefridacinema.org, and join our Facebook family to keep posted on our screenings, events, and Membership specials and promotions.
GODZILLA: THE JAPANESE ORIGINAL – 60th Anniversary Restoration!