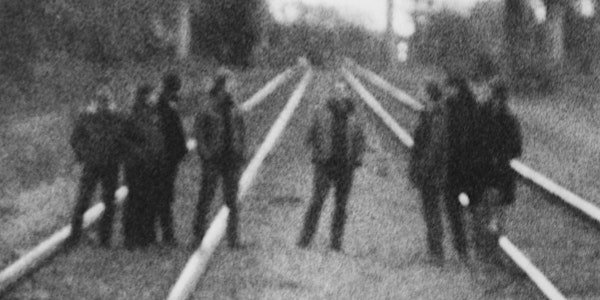 Godspeed You! Black Emperor
Event Information
Performers
Godspeed You! Black Emperor
Location
The Academy of Music Theatre
274 Main Street
Northampton, MA 01060
Godspeed You! Black Emperor at The Academy of Music -- Northampton, MA
About this event
As of April 3rd, 2022 the Academy of Music Theatre no longer requires proof of COVID vaccination or negative test results. While mask-wearing is not required at this time, we still strongly encourage wearing a mask when not actively eating or drinking to protect yourself and others.
You can read the theatre's full Health and Safety Guidelines here. This policy is subject to change.
"Their records since 2012 have been rendered with a combustible mix of force and detail, allowing Godspeed to lift their insurgent ideas rather than be saddled by them. G_d's Pee AT STATE'S END! not only epitomizes this new dynamic but also emerges as a timely career triumph. The four suites of music here sound incredible, capturing the grandeur, aggression, and power of their symphonic punk with perfect clarity."
Pitchfork (8.1)
"A ferocious, thrilling blast of energy... impossibly dramatic music with a symphonic sense of scale. Though Godspeed works with specific structural parameters – long compositions, gradual builds and titanic, cathartic climaxes – it finds untapped expressive possibilities. This excellent record from this one-of-a-kind project might require time for its lengthy pieces to sink in, but the stirring and emotionally resonant music more than rewards the effort."
Mark Richardson, Wall Street Journal
"STATE'S END is a tumultuous record for tumultuous times, but there's a piece of galvanising beauty for every moment of crushing dread... Godspeed's new album articulates dark times, but it also presents the countermovement with breathtaking power."
NME ★★★★
"Twenty-seven years on from their formation, their ability to convey the spectrum of both emotional and political feeling through the raw power of music remains unparalleled."
Clash
"There are few outfits better suited to produce an album during a global pandemic than Godspeed You! Black Emperor... [Producer] Jace Lasek has done a tremendous job making the band's seventh full-length come to brilliant, vibrant life. On G_d's Pee AT STATE'S END! Godspeed has created a perfect soundtrack for these strange times."
The Skinny ★★★★
"The last twelve months have felt very Godspeed You! Black Emperor. As does this record... For all the existential dread contained therein, G_d's Pee… also includes moments of elegiac beauty, as on shorter tracks "Fire At Static Valley" and the exquisite "OUR SIDE HAS TO WIN (for D.H.)". Resisting social media and releasing just two grainy press shots in a quarter of a century, Godspeed remain wary of the mainstream. But as the world spins inexorably towards tipping point, they've never sounded as central to their times."
Kerrang!
Performers
Godspeed You! Black Emperor
Date and time
Location
The Academy of Music Theatre
274 Main Street
Northampton, MA 01060
Refund policy