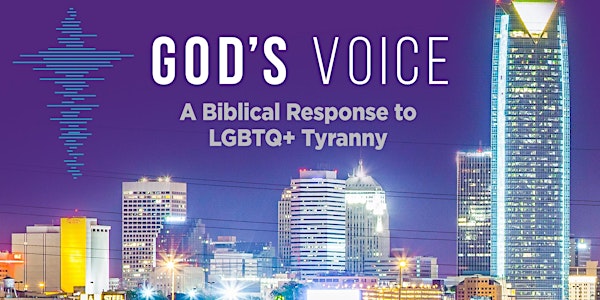 God's Voice 2022
Christian Conference providing "A Biblical Response to LGBTQ+ Tyranny".
When and where
Location
First Southern Baptist Church 6400 South Sooner Road Oklahoma City, OK 73135
About this event
Why God's Voice?
GOD'S VOICE Conference was first launched in February 2019 as a biblical response to the queering* of the church of Jesus Christ and to the encroachment of the false narrative of "LGBTQ+ Christianity" into conservative Christianity through the REVOICE conference.
However, as the LGBTQ+ activist movement has grown extreme and gained political power, its voice and actions are impacting every level of society, with devastating consequences -- especially for Christians.
That's why GOD'S VOICE 2022 will present "A Biblical Response to LGBTQ+ Tyranny."
From therapy bans to Amazon censorship, from Drag Queen Story Hours to children seeking surgical "gender transitions," from making LGBTQ+ behaviors equal to race and gender through the so-called "Equality Act" to lawsuits against evangelical believers, from radical activism at Christian colleges to incremental activism through devices like REVOICE, the LGBTQ+ activist movement is revealing itself as a tyrannical force that threatens morality, biology and our God-given rights to religious freedom and free speech.
Join us May 6 and 7, 2022, in Oklahoma City as leading Christian experts reveal these threats in detail and explain how you and your church can stand at a time of LGBTQ+ tyranny. Plus, you'll hear powerful, biblical teaching and encouragement for the battle as together we stand on the inerrant, unchanging, and life-transforming power of the Word of God!
What the church needs now is GOD'S VOICE!
 "But this command I gave them: 'Obey My voice, and I will be your God, and you shall be my people. And walk in all the way that I command you, that it may be well with you.' " Jeremiah 7:23"  
By attending this event, you agree to abide by our Attendance Agreement.
PRESS/MEDIA: Before registering, if you are with a recognized press or media service and would like to come to cover the God's Voice Conference, please email Godsvoice19@gmail.com for approval and additional instructions.