God's Elect Ladies Women's Conference 2019
Description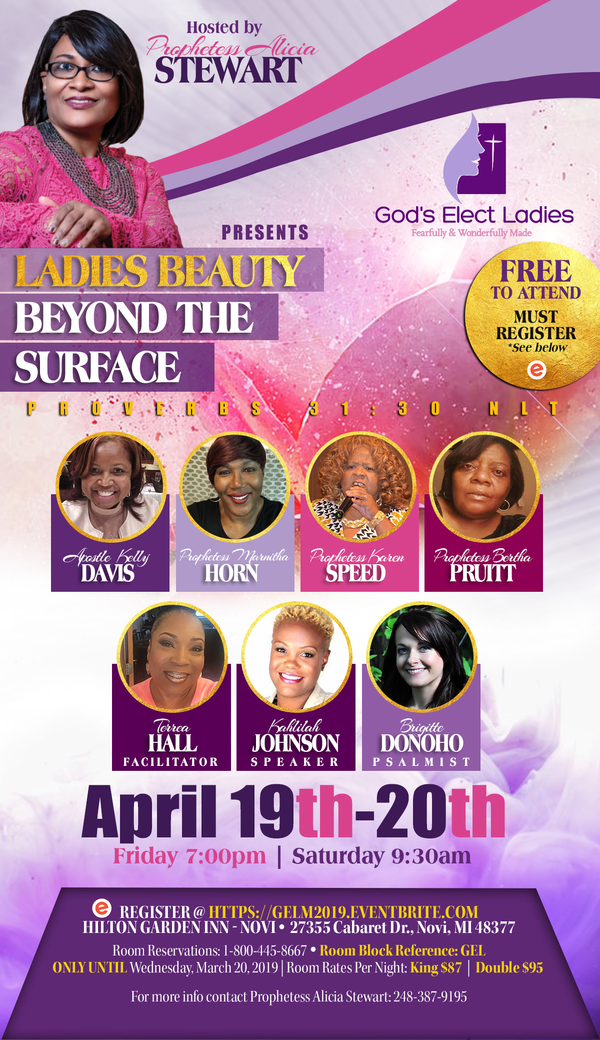 This conference is geared towards Refueling, Refreshing & Restoring women by affirming their true beauty resides in the woman who has the fear/reverence of the Lord reigning in her heart, God honors her & blesses her with a special grace; He releases a high value upon them that should never be compromised, along with many benefits bestowed upon them, therefore they shall be admired and praised in a proper prospective.
In many instances we as women are the GEL that holds everything & everybody together, carrying the title of a strong woman, super-woman, a woman who has it all together at all times; who can she turn to or talk to without feeling diminished because she doesn't have it all together, she is overwhelmed, etc. masking behind a smile of contentment, thinking no one needs to know her struggles, shortcomings, disappointments, fears, etc. that might take away from the appearance of a strong woman having weaknesses...
We are joining forces in the mighty name of Jesus Christ of Nazareth & the fire of the Holy Ghost to permanently demolish every masquerade, every word curse, generational curse, every evil altar, cycles, every assigned destiny altering demon, etc. that every woman will leave Refueled, Refreshed, Restored & Free to Be...
We welcome the Holy Spirit to come in & change trajectories of people lives! Keep this conference, every speaker, every participant, the venue, finances, resources, traveling mercies, and unity in your prayers.
Thank you, love you to life!
Prophetess Alicia Stewart