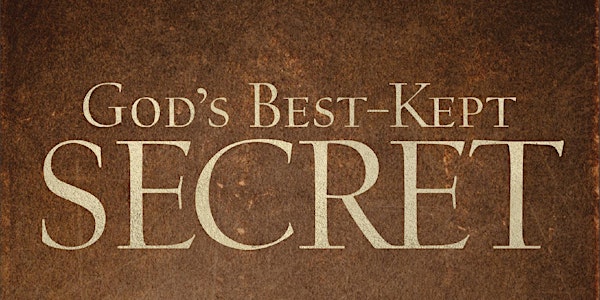 God's Best-Kept Secret Conference - Charlotte or Online-Live
When and where
Location
Grace Life International - Charlotte 1337 Hundred Oaks Drive Suite EE Charlotte, NC 28217
Refund Policy
Contact the organizer to request a refund.
Description
For many of us, the attempt to live for God can leave us feeling burdened rather than free. Yet that's not the kind of life God intends for us to experience. What if he never meant for us to try so hard? What if overcoming sin or loving others doesn't rely on our own self-discipline? What if suffering isn't designed by God to teach us lessons? What if we could feel closer to God without doing anything?
In this Conference based on the book, God's Best-Kept Secret, the founder of Grace Life International explodes our preconceived notions of living the Christian life, freeing us to stop just going through the motions and to experience true fulfillment. Illuminating commonly misunderstood Bible verses, Mark Maulding will show us that following God is not as complicated as we often make it out to be. And, in fact, the answer to our struggles has been hiding in plain sight all along.
BENEFITS
Are You Ready to Trade The Exhaustian of Try Harder Christianity for Trust Him Christianity?
What if Christianity is Easier when Built on the Three Pillars of The New Covenant?
What if Christians Don't Have a Civil War Raging Inside?
What Do We Have That's Better Than The 10 Commandments?
Did You Know Your Three Unknown Lies Can Control You?
Schedule:
FRIDAY | 6:30 PM - 9:30 PM (Doors open 30 mins. prior)

SATURDAY | 9:00 AM - 3:00 PM (1 hour lunch break - bring your lunch)
Book Provided:
Each individual and each couple will receive one copy of God's Best-Kept Secret but you don't need to read it before the conference. If attending online, the sooner you register, the sooner we can mail you the book and you must register no later than Friday, November 1st if you want it before the conference.
*Already have a book? There's no discount but you can give away the one you receive from the Conference!
Contact Kathy@gracelifeinternational.com for details on a discount group rate for 3 or more. Seating is Limited Register Now!
Guests may attend in-person or live online. Connection instructions are included with registration.