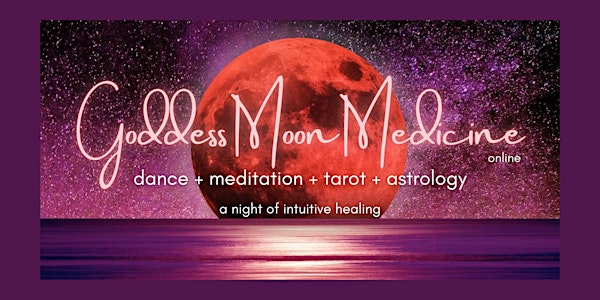 GODDESS MOON MEDICINE
Goddess Moon Medicine Wellness Night - Presented by Sacred Revolution
About this event
Goddess Moon Medicine Night
Join the Sacred Revolution tribe every new and full moon, for a deliciously unique and healing self-love experience you'll never forget!
The only mind, body, and soul wellness event of its kind.
WHEN:
Every new and full moon
WHERE:
online - zoom
PRICE:
donation
WHAT YOU GET:
1. de-stressing fusion belly dancing
2. tarot card reading
3. current astrological forecast
4. relaxing guided meditation
5. an accountability family with open discussion
WHAT YOU LEARN:
1. genuine self-confidence
2. how to manifest abundance and release with joy
3. how to use movement as medicine to heal
4. how to use astrology to benefit your life
5. the art of mindfulness
*No dance experience necessary.*
We meet online once a month on Zoom in the comfort of your own home. The entire event runs for approximately 1hr and 15 mins. You will receive a link to the private zoom room in the email you registered with.
#SelfLoveGoals