Introduction to Goddess Metatreiya Energy with Tammy Majchrzak & Linda Trent
About this event
"Creation is only made possible through the unity, power and majesty of Divine Love" - Archangel Metatron & Goddess Metatreiya
Join us for a free live Zoom gathering to introduce Goddess Metatreiya Energy.
Please self register using this zoom link :
https://us02web.zoom.us/j/7752314506
The Goddess Metatreiya frequency, part of the Metatronia Divine Metaphysics offerings, brings a connection to the most Divine Feminine frequencies.
Her energy is ancient, as old as the Universe, yet as vibrant as the stars. It is very new in relation to our connection with her and the light dynamic application itself.
"Her light is very much involved in the nurture aspect of the human vessel. Especially emotions, mental body, physicality, body, trauma, abuse, Fertility, women's health, Divine Feminine vibration, Conception, Reproduction, Pregnancy, Hormonal Balance, personal light counsel, sexuality, nurture, Menopause and so much more.
It is not just limited to the feminine aspect of being. She shines through to aide all aspects relating to Divine Feminine in its true, natural, pure and divine organic state. She also assists with the animal and plant kingdom and for all life situations. Her energy is open to all".
Working deep into our biophysical matrix, so we sense the codings of light through our electromagnetic vibration, Goddess Metatreiya, working alongside Archangel Metatron, brings nurturing bliss to the human vessel.
It will also assist you in feeling that beautiful sacred Goddess frequency.
During the Zoom session we will open with her divine connection. A unique experience for each divine Soul. We are going very much with divine flow here, and are extremely excited about this live gathering!
With Goddess Metatreiya there are distant energy sessions, a distant Attunement and also the opportunity to become a Goddess Metatreiya Energy Trainer through the Metatronia Metaphysician training.
Within the Zoom session, let us first open the vessel to her light and see what journey unfolds.
Hosted by Tammy Majchrzak, Ascension Metaphysician (https://www.Metatronia.com) & Linda Trent (https://www.lindatrent.com)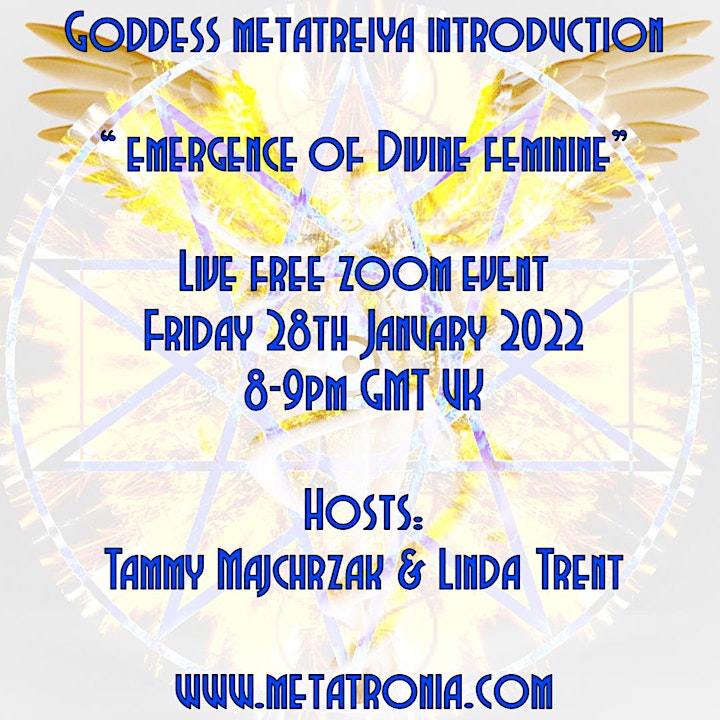 Organizer of Goddess Metatreiya - Emergence of Divine Feminine" - Introduction
Tammy Majchrzak is the Founder of Metatronia Therapy and the Metatronia Foundation of Light (MTFOL). The MTFOL is an accredited and approved global Training organisation. Metatronia is Source vibration and is here at this time to assist mankind's light evolution. Tammy is a Spiritual Teacher, Ascension Dynamics Facilitator & Lightworker Mentor. She offers attunements, guidance, training, light transformational coaching, workshops, channelled information, meditations, products and much more. The MTFOL offers global support for Metatronia Therapists and Lightworkers. 
www.mtfol.co.uk - www.metatronia.com