Goddess Drag Brunch is Pittsburgh's new favorite Brunch featuring local, national, and televised talent!
About this Event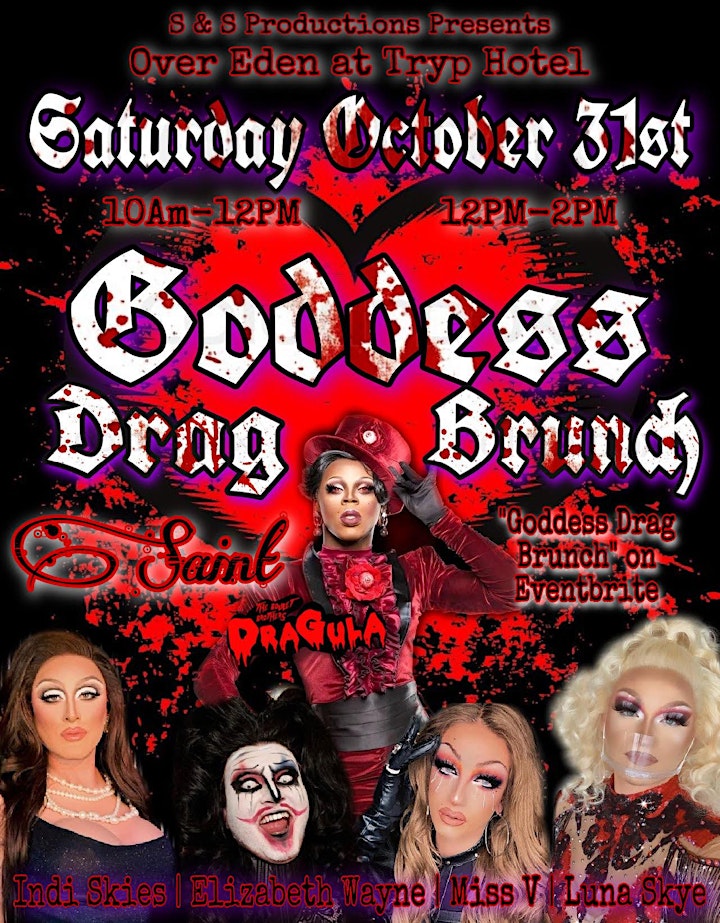 Its Our HALLOWEEN EXTRAVAGANZA
Goddess Drag Brunch is a new Pittsburgh favorite featuring a variety of entertainers from the local area and special guests from across the nation!
Your Host Luna Skye & Indi Skies bring you Goddess Drag Brunch Saturday October 31st with performances by:
Saint - The Dream Demon from Dragula season 3 & Dragula Resurrection - New York NY
Elizabeth Wayne - A Creature of Fright, our local Dragula Promoter and Host - Pittsburgh PA
Check Elizabeth out on Instagram!
Miss V - Beauty & Grace , she very well could be Miss United States. Pittsburgh PA
Check Miss V out on Instagram!
Indi Skies - Mountain States National Showgirl at Large 2015 , Utah Native. Cohost for the Show - Pittsburgh, PA
Luna Skye - New girl on the block & The Shows event Producer, Host, and Organizer - Pittsburgh Pa
Meet & Greet with Saint will be available for purchase at the venue before the show.
Goddess Drag Brunch takes place at Over Eden located on the rooftop of the TRYP Hotel on 40th street in the historic neighborhood of Lawrenceville. Parking will be available on site at the hotel and overflow lot at the corner of Almond Way and Foster Street.
Your Goddess Drag Brunch ticket includes entry to the show, a small brunch buffet, and parking. Our buffet will consist of eggs, bacon , and breakfast potatoes. Alcoholic beverages are available from the bar for guests 21+ with legal ID.
You must purchase a minimum of 2 tickets to reserve your table. Tables are able to accommodate parties of 2 to 10+ people. Please email us if you have a party larger than 10 people, or for parties needing to pay separately but wish to be seated together.
We take your health and safety very seriously. Social distancing and mask ARE REQUIRED. Mask must be worn for entry to the building and anytime you are NOT seated for the duration of the event.
Tipping will be permitted for the queens with limited bill exchange available prior to the start of each show. Virtual tipping will be available as well through CashApp, Venmo, PayPal and links for the entertainers will be posted at the event.
We can't wait to see you there! Follow us on Facebook for all the latest updates!!
- Luna Skye and Indi Skies
S&S Productions