Location
Topanga Beach
2CQ9+C5 Topanga, California
Topanga, CA 90265
Goddess Energy to Raise Your Vibes as we come together to create Intention Candles, heal with Crystal Reiki, and Enjoy Grounding in Nature.
About this event
Bring your crystals and a friend and enjoy an afternoon of crystal reiki on the beach with award-winning author and Reiki Master Athena Bahri of Crystal Reiki Healer for 90 minutes of chakra healing, and positive vibrations, Create your own Intention Candles, experience Crystal Reiki, and we set Empowering Intentions with the powerful energy of Mother Nature, Crystals, Intention, and Reiki coming together in a magical setting for the New Moon!
Athena infuses Guided Meditation, Crystals, and Reiki to realign the chakra system, stimulate the flow of Chi, and release stagnant energy in the chakras to ensure you are in the highest vibration. This gentle yet powerful healing session creates shifts within your energy centers in a safe and loving environment, allowing your body, mind, and spirit a profound healing experience.
On the beautiful setting of Topanga Beach, just north of the Lifeguard building, we will meet for 90 minutes together with our favorite Goddesses in spiritual conversation, create Intention Candles to take with you, Crystal Reiki healing, tips to raise your vibration, chakra balancing, and experience divine healing energy as you ground yourself in nature.
This session empowers you and your intentions under the New Moon energy, where we will create your own Intention Candle to take with you, meet the author and healer for spiritual guidance, Crystal Reiki Healing, and closes with a Reiju Blessing for your highest good.
*Open to all ages, colors, creeds, disabilities, genders, and everyone in between. Reiki is a blessing to be enjoyed by all. Bring your favorite person. Each person requires a ticket. Limited space available. Blessings!
What you receive:
• 45 minutes New Moon Ritual
• Spiritual Conversations with like-minded souls and friends.
• Create an Intention Candle to take home.
• 30 minutes of Crystal Reiki Healing Meditation
•Chakra Balancing
• Reiju Blessing
• Water
•Gift Bag with Spiritual Tools
Optional Items to bring:
• Your Crystals to be Reiki Infused during the Reiki Healing
•Comfortable clothing, sweater
• Your Favorite Person
• Your smiles!
Location Details:
• Located at Topanga Beach north of the Lifeguard building.
• Follow the Blue path to the designated space.
• Easy parking on the street or in the lot at Topanga Canyon and PCH, nearby restrooms.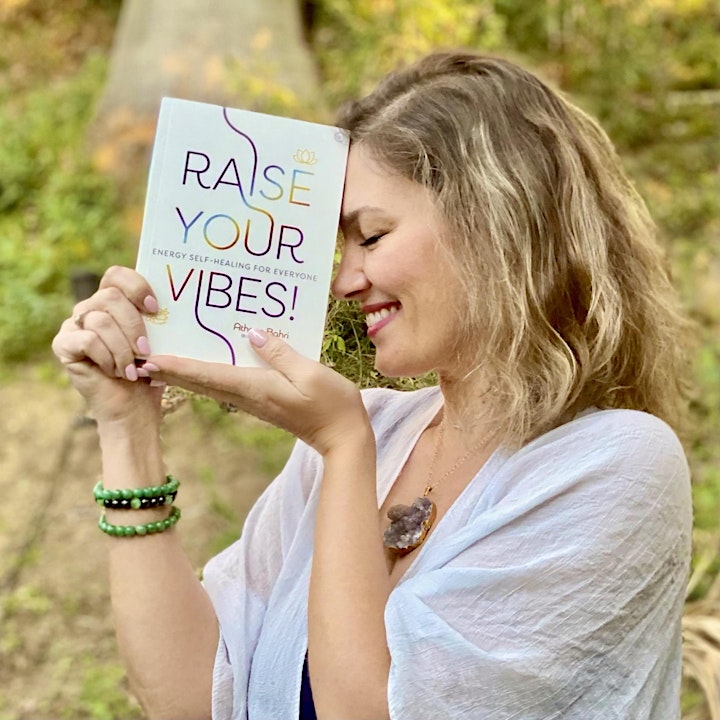 Athena Bahri is a certified Reiki Master, Crystal Reiki Master, chakra healer, and the creator of Crystal Reiki Healer, one of the fastest-growing online presences in the field raising the energy vibration for all beautiful souls searching to better their lives. In addition to creating content for Instagram, YouTube, and her website www.CrystalReikiHealer.com , Athena hosts her own TV show "Raise Your Vibes" airing every Sunday on KP Media TV, contributes to podcasts and radio shows, teaches online and in-person courses, hosts workshops internationally, and performs Reiki healing locally in California as well as reaching people around the globe via distance healing. Find out more in her award-winning book Raise Your Vibes! available on Amazon and in all good bookshops.