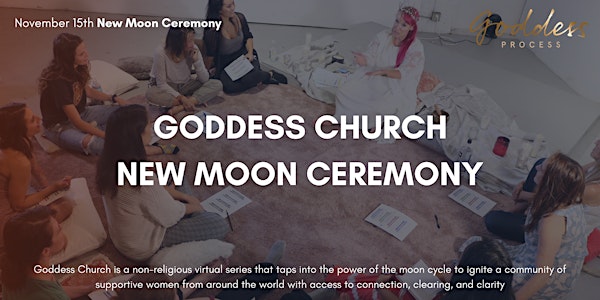 Goddess Church: New Moon Ceremony
Goddess. I acknowledge you for bringing your whole self into the way you show up in your life, work, and love.
By Goddess Process by Amber J Lawson
Date and time
Starts on Sunday, November 15, 2020 · 10am PST
Refund Policy
Contact the organizer to request a refund.
Eventbrite's fee is nonrefundable.
About this event
Goddess Church is a non-religious virtual series that taps into the power of the moon cycle to ignite a community of supportive women from around the world with access to connection, clearing, and clarity.
Goddess Church is a two-part series.
We use the new and the full moon cycles when the universal pull is most potent.
Part 1: New Moon: November15th, 10am - 12pm PST ON ZOOM
Your potential is as infinite as your divine worth, and your existence is as important as the moon is here on the earth.
While the fiery Sun fertilizes lands of dormant potential with its life-promoting energy, the Moon follows a feminine cycle of endless renewal, endings, beginnings. Despite the Sun's dominant gravitational pull, the Moon's impact on ocean tides is twice as strong. As Goddess Women, we can cultivate the inherent energy in this ebb and flow, in a manner that lets us rise and ride with the waves of life.
In that spirit, I invite you to our next Goddess Church event on November 15th PT 10AM, which is part of a two-part series that uses the new and the full moon cycles when the universal pull is most potent. Both events are a time for intentional gathering as we move into the final chapters of this chaotic year.
The New Moon is a powerful time for us to rise above confusion and manifests our deepest desires with unequivocal clarity. We will plant the magical seeds of tomorrow's dreams, and merge our divine energies to manifest the sweet harvest of our Goddess-given success.
The New Moon represents an ideal moment for pragmatic action that invites future progress; if only we cast aside the illusions and plans that haven't worked in our favor.
Over the next 14 days following the New Moon event, we'll observe how the divine process inevitably unfolds and manifests itself in each of our lives.
We then convene again at the Full Moon in an event to release what no longer serves us, so we can accept the limitless blessings we truly deserve. Whether you are looking to break out of a relationship, find your true love or pursue your dream job, this is the time to adjust your sails and move toward to reach your goal.
The Full Moon is a dynamic occasion brimming with creative energy, which we can harness to bring about healing, beauty and boundless love. It is a time to release the memories, people, habits and situations that longer serve us, so you can make room for new exciting blessings and experiences.
As the vibrant reflection of the Sun's Solar energy bounces off the Moon to the Earth and intensifies everything around us, your intuitive awareness rises to a level defined by personal breakthroughs, shedding of the old, and welcome emergence of the new.
This event gives you a chance to share what holds you back in a supportive space, wipe your slate clean and enter the sphere of unlimited possibilities with a clear vision and inner harmony.
If you're like us, and you're craving connection and community from other women, join us for Part I on Sunday, November 15th, at 10am PT to set intentions for the next moon cycle.
If you have questions or need support around anything, please reach out goddessprocess@gmail.com I'm here with you.
Amber J
Are you craving connection? Do you feel rudderless in this murky season?
Are you seeking direction & hope in this time of uncertainty and unrest and confusion? Goddess Church is a perfect place to open up to look within and to allow your path to be illuminated. Goddess Church is for women who are exhausted, who are juggling 1 million things, and don't have time for themselves. Especially in a pandemic, back to school, back to work, distance learning, distance meetings, zoom after zoom, feeling unsupported, and alone, lonely, sad, broken and exhausted!
Goddess Church is a virtual space to come together with like-minded women:
to take a pause
to take a breath
to be guided
to allow yourself time and space
to check in with your truth what you truly want need and desire in order to ask your family your partners, your coworkers and the universe for what you want and need
You, goddess, deserve to have what you want, and need...period. Goddess church provides:
CLARITY
CLEARING
COMMITTED ACTION
Facilitated by Amber J. Lawson
Amber J is a woman of action when Covid-19 hit she sprung into action with her female founding partners to create and launch Comedy Gives Back: Laugh Aid raising over $550,000 for the comedy community in a 8 hour live stream featuring Adam Sandler Jimmy Fallon Whitney Cummings and 90 additional comics.
Amber J has been at the cutting edge of the digital landscape being honored as Cynopsis Women in Digital Entrepreneur of the Year, Top 50 Women in Digital, PGA Top 25 in Digital, and the NATPE Luminary Award digital media maven Amber J. is on a mission to do good at scale as the founder/CEO of Good Amplified (XPRIZE, Make-A-Wish) www.goodamplified.com Lawson is the co-founder & CEO of The Emmy & Streamy Nominated and IAWTV best live event Winner, Comedy Gives Back, taking care of our own! Check out www.comedygivesback.com
Amber J is committed to women achieving their goals focusing on career transitions including our unique needs and challenges as powerful business women. She is a sought after speaker at corporations and events she hosts webinars and an intensive mastermind process to create clarity in your goals, accountability and inspiration around what YOU want to achieve in your life. THAT is GODDESS PROCESS www.goddessprocess.us