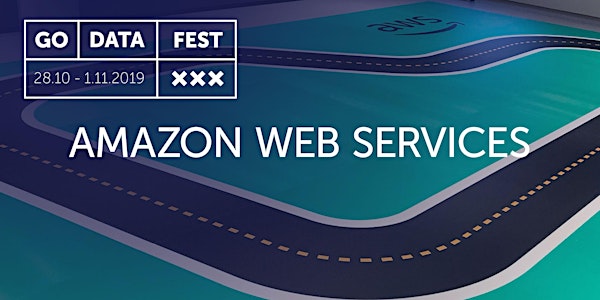 GoDataFest - Amazon Web Services
Learn all about building scalable data infrastructure and machine learning applications on AWS.
Date and time
Monday, October 28, 2019 · 8am - 6pm CET
Location
GoDataDriven 202 Wibautstraat 1091 GS Amsterdam Netherlands
Refund Policy
Contact the organizer to request a refund.
Eventbrite's fee is nonrefundable.
About this event
Join Amazon Web Services, Binx.io and GoDataDriven for an exciting day jam-packed with the latest and greatest AWS has to offer around data and machine learning.
09:00 Opening Notes
09:15 Machine Learning in the Real World - Guy Kfir
10:00 Revving up with Reinforcement Learning – Ricardo Suerias (AWS) & Diederik Greveling (GoDataDriven) [Handson]
An introduction to AWS DeepRacer and how it will enable you to get started with Reinforcement Learning.
including coffee break at 10:45
11:45 Setting up a Data Hub on AWS - Martijn van Dongen
How to set up a high-volume and scalable data platform on AWS.
12:45 Lunch
13:15 Machine Learning Industrialization - Zhe Sun (AWS Professional Services)
To overcome the challenges of productionizing models from a PoC, AWS Professional Service team introduces a framework to deploy models faster and more manageable. Services such as AWS CodePipeline, AWS CodeCommit, AWS CodeBuild, AWS CloudFormation, Amazon Sagemaker, AWS Step Functions, AWS Lambda, AWS Glue, Amazon DynamoDB are used. We will bring this to life with one or two case studies (by AWS).
14:15 Elastic Kubernetes Service - Thijs Elferink [Handson]
Learn about Amazon Elastic Kubernetes Service (Amazon EKS, a services that makes it easy to deploy, manage, and scale containerized applications using Kubernetes on AWS.
15:15 Formula One Race Insights in Real-Time with Serverless Machine Learning - Luuk Figdor (AWS Professional Services)
F1 pushes limits of both humans and technology. Long gone are the times when people could analyze race data without the use of technology, but now being competitive requires moving beyond past event analysis into live insights and predictions. To satisfy this demand, F1 decided to employ cloud-native technologies using AWS. Machine learni­ng models created in AWS SageMaker and hosted on AWS Lambda allows F1 to pinpoint how a driver is performing, if they are pushing the car over the limit, and how their battle against other drivers will end.
These insights are immediately shared to fans all over the world through television and digital platforms. In this talk we will dive deep into the serverless machine learning architecture used for the application.
Attendees will learn about common pitfalls in serverless machine learning applications and how to overcome them. Lastly, we will walk through various tips and tricks for deploying machine learning models in AWS Lambda that will allow you to rapidly develop and deploy your machine learning application in truly serverless manner.
16:00 Racing with the DeepRacer [Handson]
Doing laps with the DeepRacer with pre-trained models or a model that you trained yourself on the DeepRacer console.
18:00 Dinner
19:00 AWS Meetup
In the evening a Amazon Web Services Meetup takes place, more info and registration for this: https://www.awsug.nl
To this event, a code of conduct applies: https://www.godatafest.com/code-of-conduct
About the organizer
Increase your speed of AI innovation and learn to operate faster and smarter with ease. Since 2009, GoDataDriven has been providing services and solutions for modern organisations to realise true business value from Data & AI.