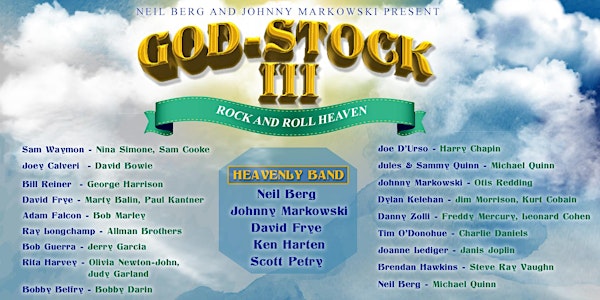 GOD-STOCK III-ROCK & ROLL HEAVEN produced by NEIL BERG & JOHNNY MARKOWSKI
God-Stock III- Rock& Roll Heaven produced by Neil Berg/Johnny Markowski once again benefitting Rockland's main food pantry, People to People
When and where
Location
Rockland GAA 160 Old Orangeburg Road Orangeburg, NY 10962
Refund Policy
Contact the organizer to request a refund.
Eventbrite's fee is nonrefundable.
About this event
"GOD-STOCK III: ROCK & ROLL HEAVEN" TO FEED THE HUNGRY SET FOR SEPT 24TH
The biggest music event of the year is going to be "God-Stock III: Rock & Roll Heaven," Sept 24th and at the Rockland Gaelic Athletic Association (GAA) in Orangeburg, NY.
Like God-Stock I and God-Stock II, this year's event pays homage to performers who have passed on. It brings out the talents of Rockland's top singers and musicians, many of who are known regionally and nationally, each honoring a past legendary musical icon, while raising funds to feed Rockland's hungry through People to People. The event is presented by Broadway's award-winning composer and theatrical producer Neil Berg and the New Riders of the Purple Sage's Johnny Markowski.
In two years, God-Stock has become the "go-to" musical event of the year. In the past, performers like Neil Berg, Rita Harvey, Joe D'Urso, Tim O'Donohue, David Frye, Joanne Lediger, Bobby Belfry, Bill Reiner, Dylan Kelehan, Bob Guerra, Danny Zolli, Adam Falcon, Alice Leon and Jules and Sammy Quinn appeared. They performed songs by John Prine, Janis Joplin, Judy Garland, Joe Cocker, David Bowie, Glenn Frey, Freddy Mercury, Amy Winehouse, Bob Marley, Jerry Garcia and many more. There was even an appearance by Steven Maglio who offered a spot-on performance as Frank Sinatra!
The 2021 house band featured Neil Berg, Johnny Markowski, Ken Harten, Ryan Ball and Scott Petry!
With the past two concerts being so successful, this year's event is being expanded in size to seat over 320 people on Saturday, September 24th with a Showtime of 4pm.
"We are so pleased to be able to stage this event and raise money to feed the hungry in our community," said show co-producer Neil Berg. "People to People has been the leader in the fight against hunger in Rockland County for years. Every performer is honored to be able to help People to People in its efforts on behalf of Rocklanders in need."
In the coming weeks, information on the performing lineup for each concert will be announced as well as details on how to get tickets for and how to sponsor "God-Stock III: Rock & Roll Heaven." "God Stock II sold out last year. We anticipate the same thing for this year's shows which means great visibility for People to People and all the event sponsors," said Berg.
"I can't tell you how thrilled we are to be working with Neil and Johnny and the great lineup of singers and musicians again," said Diane Serratore, CEO of People to People. "Sadly, hunger isn't going away but thanks to incredible events such as this, we're able to raise awareness of the issue of hunger and raise funds to help our neighbors in need put food on their tables."
Mark your calendars for September 24th. It's sure to be a musical day to remember!
Here's a video clip of the positive energy and good vibes generated at the 2021 event that features Danny Zolli and the entire ensemble performing "With A Little Help from My Friends."
https://youtu.be/9taVYBz-geA
GODSTOCK III SPONSORS:
Dynamic Productions USA